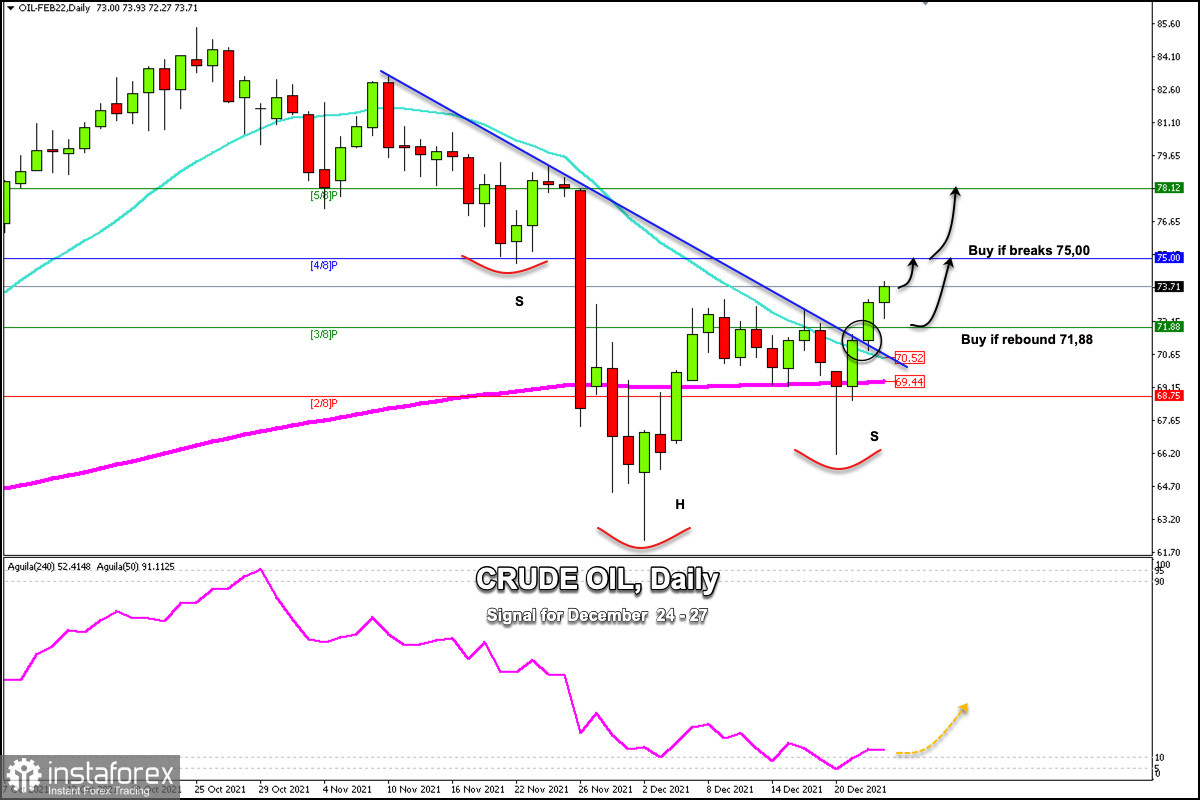 The price of crude oil is trading above the 21 SMA located at 70.52 and above the 200 EMA (69.44) with a very strong upward bias. WTI is rising for four consecutive days, having fallen to the low of 66.12 on December 20.
On Wednesday, WTI broke the downtrend channel formed since November 4. Given that it is now consolidating above this level, it is likely to reach the key level of 75.00 and up to 5/8 Murray at 78.12 in the next few days.
On the daily chart, we can see the formation of a technical pattern called shoulder head shoulders (SHS). The potential of this technical pattern is bullish, so WTI could continue with the bullish trend in the next few days until it covers the GAP that left around 84.00.
For the bullish outlook to remain intact, crude must trade above the psychological level of 70.00 and above the SMA of 21 located at 70.52. On this condition, WTI could reach resistance levels of 75.00 and up to the psychological level of 80.00.
Investors will continue to exercise caution due to the uncertain impact of the omicron coronavirus variant on the global economic recovery. It should also be noted that the low liquidity of the market can cause spikes in the price of crude, these usually occur around Christmas and New Year's Eve.
Our trading plan is to buy at the current price levels or wait for a correction towards the SMA of 21 located at 71.88. Our target can be located at the 4/8 of Murray at 75.00. If this level is broken, we can continue buying with targets at about 78.22.
The eagle indicator is moving around the oversold zone and showing a positive signal for the next few days.
Support and Resistance Levels for December 24 - 27, 2021
Resistance (3) 76.06
Resistance (2) 75.00
Resistance (1) 74.36
----------------------------
Support (1) 72.32
Support (2) 71.09
Support (3) 70.06
***********************************************************
A trading tip for CRUDE OIL on December 24 - 27, 2021
Buy above 73.71 or above 71.88 (21 SMA) with take profit at 75.00 (4/8) and 78.12 (5/8), stop loss below 73.15.