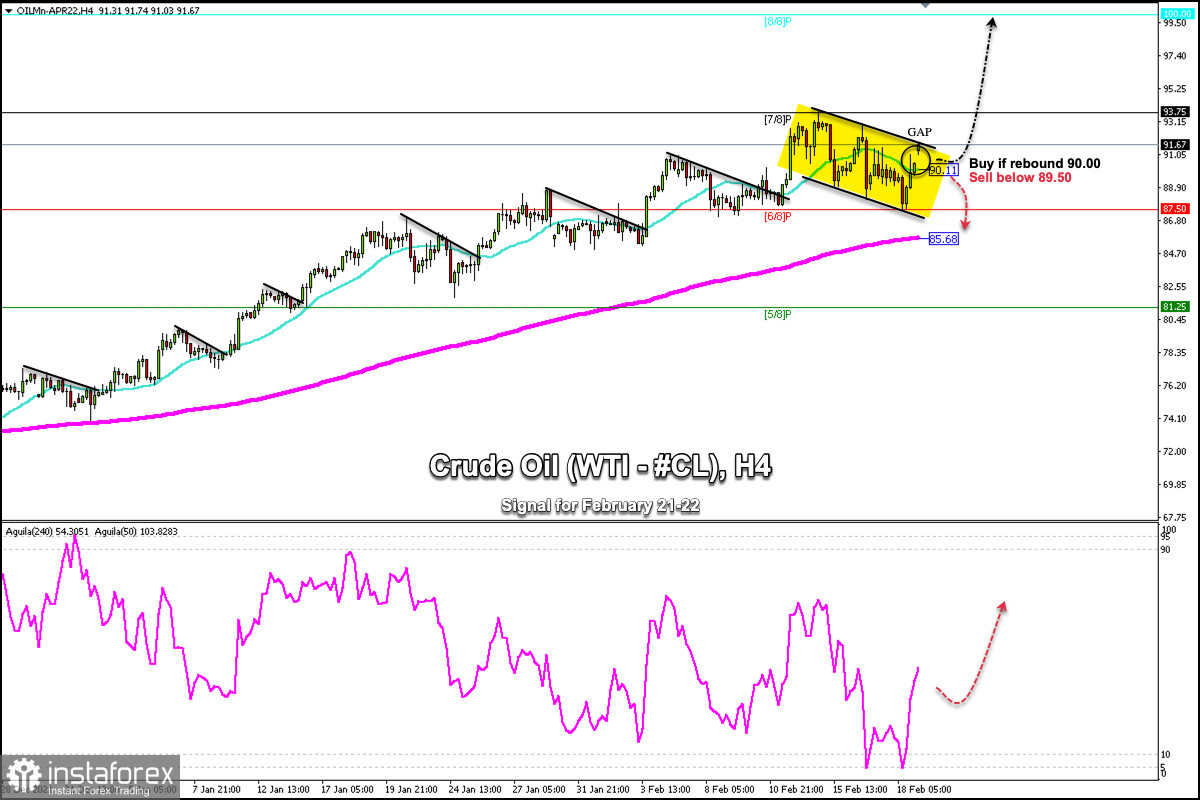 On Friday, Crude Oil (WTI - #CL) fell to support of 6/8 Murray around 87.50. From that level, it is rebounding and is now approaching the top of the downtrend channel formed on the 4-hour chart (91.80).
The negative climate in the markets continues to predominate among operators. The futures of the main Wall Street indices have fallen more than 2.8%. A recovery is expected in the next few days which could favor crude oil.
On the other hand, possible supply problems could increase in the event of an armed conflict on the Ukrainian border. If this happens, it could give WTI a strong upward movement and could reach the psychological level of $100.00.
On the contrary, the normalization of production in several countries of the Organization of Petroleum Exporting Countries and allies (OPEC +) is a factor that can weaken the price of crude oil or WTI could remain at current levels and fall towards the 200 EMA around 85.68.
The short-term outlook for oil could be determined by the development of the war scenario between Russia and NATO, which are constantly being threatened and that makes investors nervous.
In the next few hours, we expect a technical correction towards the 21 SMA around the psychological level of 90.00.
A technical bounce around this zone will give us an opportunity to buy WTI with targets towards 7/8 Murray at 93.75. If this zone is broken, it could go as high as 8/8 Murray around $100.00.
Conversely, if bearish strength prevails below 89.50, it will be a clear opportunity to sell with targets towards 6/8 Murray at 87.50 and up to the 200 EMA around 85.68.
Support and Resistance Levels for February 21 - 22, 2022
Resistance (3) 95.45
Resistance (2) 93.24
Resistance (1) 91.86
----------------------------
Support (1) 89.65
Support (2) 87.50
Support (3) 86.06
***********************************************************
Scenario
Timeframe H4
Recommendation: buy if rebound
Entry Point 90.00
Take Profit 93.75; 100.00
Stop Loss 89.20
Murray Levels 100.00 (8/8), 93.75(7/8), 87.50 (6/8), 81.25(5/8)
***************************************************************************