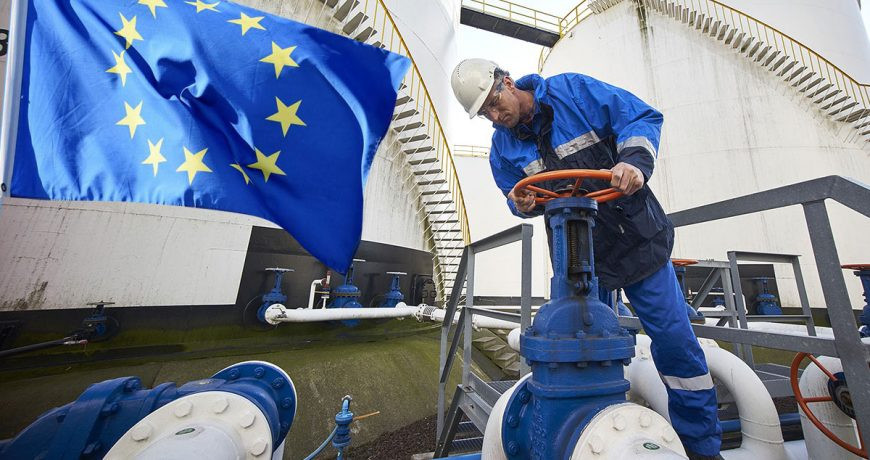 The exchange price of gas on the ICE Futures platform jumped to $1,600 during trading on Thursday, June 30. Natural gas futures quotes continued to rise on July 1.
On the New York Mercantile Exchange, natural gas futures for August delivery were trading at a price of $5,882 per million BTU, having risen by 8.44%at one point.
The last time such a sharp jump in gas prices was observed in Europe was on March 10, when military actions on the territory of Ukraine and expectations of stopping the pumping of raw materials through its territory provoked strong volatility in the auction. Gas prices in Europe jumped so sharply on Thursday due to the fact that the supply situation in the euro region is not just not improving, but is deteriorating many times.
The Swiss company Nord Stream AG, which was created to manage the Nord Stream gas pipeline, is going to disconnect both of its threads. The official reason is the planned annual repair of the pipeline, more precisely, preventive maintenance, including testing of mechanical components and automation systems. All this will take place from July 11 to July 21. At the same time, Nord Stream AG noted that there is no surprise in this, the shutdown has been agreed with all partners.
In connection with this shutdown, we recall that in June, the Russian gas giant Gazprom reduced gas supplies to Europe via the Nord Stream gas pipeline by 60% due to difficulties in repairing equipment caused by sanctions. In Germany, amid this shutdown, the government sounded the alarm and was forced to switch to the second (penultimate) level of the emergency gas plan.
The alarm of the German authorities is more than understandable. If supplies via the Nord Stream do not return to the previous level in July, then electricity will rise three times in price in Germany and a number of industrial sectors will stop, which is disastrous for the German economy.
The export terminal of liquefied natural gas in Texas Freeport LNG, on which almost all hopes were pinned by Europe, has been closed after the fire since June 8 and, according to the latest news, is delayed with the opening for another month. According to Bloomberg reports, from now on Freeport LNG intends to partially resume work only in October. It is one of seven US gas export companies. It accounts for 15% of American external supplies of liquefied natural gas.
In addition, alarming notes are increasingly being heard in the reports of European politicians about the obvious shortage of natural gas reserves in their countries. For example, Richard Prokypcak, CEO of the state-owned company Slovak Gas Industry, said that gas supplies from Russia to Slovakia are gradually decreasing. So, over the past two weeks, Gazprom has greatly (namely halved) reduced the export of Russian gas to Slovakia.
Similar complaints are heard from Austria. To date, the Austrian gas storage facilities are only 44.7% full. However, by winter the country intends to increase this figure to 80%, as stated by Energy Minister Leonore Gewessler. According to her, at the moment Austria is in an extremely tense situation due to the lack of reserves of natural gas.
Recall that gas quotes in Europe updated historical highs in early March for four consecutive days due to fears of a ban on the import of Russian energy resources. The price record was reached on March 7 and amounted to an unthinkable $3,892, and the estimated price at the end of that day was $2,560.7 per thousand cubic meters.
Fortunately for European consumers, the quotes later moved to a steady decline. Already on June 6, for the first time in three months, the cost of gas in Europe dropped below $900 per 1 thousand cubic meters.
To date, the cost of gas in Europe is steadily rising again, which is facilitated by a sharp reduction in energy supplies from Russia. And these supplies are being reduced more and more. That is why today there are no prerequisites for a strong reduction in gas prices on the European market.