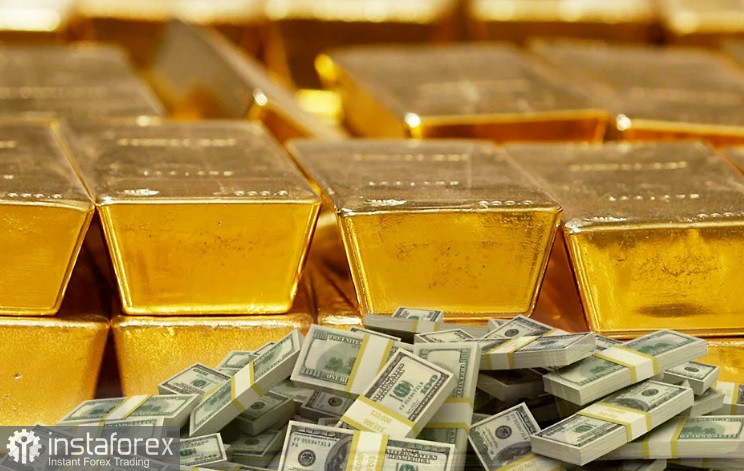 The gold market rebounded from its low after the US inflation data was released yesterday, which rose by 9.1% in June.
Some investors have been disappointed by the recent price action as gold is traditionally seen as a hedge against inflation.
However, some analysts noted that the relatively disappointing gold price action makes sense on a broader market scale.
Although gold is oversold, a price test at $1,680 per ounce cannot be ruled out.
Gold continues to show relative strength compared to other assets, especially in the face of strong US dollar momentum.
Despite the price rally, economists see the precious metal generally struggling as a hedge against inflation because markets do not view inflation as a long-term threat as the Federal Reserve raises interest rates aggressively.
Even though inflation is rising, the Federal Reserve's determination to bring it down causes real yields to increase, which in turn causes break-even to fall. In two years, break-even rates, the difference between nominal and real yields, fell at the fastest rate across the curve.
According to Ole Hansen, head of commodity strategy at Saxo Bank, the discrepancy between inflation and annual break-even is less than 4%. At the same time, the five-year break-even hovered around 2.6%.
Katherine Judge, senior economist at CIBC, believes that inflationary pressures will continue to ease as the Federal Reserve tightens interest rates aggressively.
Colin Cieszynski, chief market strategist at SIA Wealth Management, said the wide-ranging drop in commodity prices, with copper falling to multi-year lows, suggests recession fears are replacing inflation worries.
However, the question remains whether the recession will cause enough destruction of demand to affect severe problems with global supply. It will determine how sustainable inflation will be until 2023.
Economists noted that the global economy is facing fundamental supply-side problems.
On Tuesday, the Organization of the Petroleum Exporting Countries (OPEC) said it forecast oil demand to rise to 102.99 million barrels per day.
The outlook suggests that oil supplies may remain tight next year as non-OPEC production growth, impacted by Russia's losses, lags behind demand growth.
Oil is not the only market facing rising demand and weak supply. Copper prices have fallen sharply recently, but inventories are at historic lows.
As of the end of June, the London Metal Exchange (LME) had only 696,109 tonnes of registered copper in inventory, according to inventory data. Analysts say this is the lowest level this century.