The GBP/USD pair is being supported by the weakness of the US dollar, as it remains under pressure from a probable fiscal stimulus package to help the economy and also by some reports such as ADP on Wednesday added to the concerns recent market reports on the potential economic consequences of the continued rise in new coronavirus cases in the United States. Disappointing data in the United States is supporting all crosses with the dollar.
On a technical level, you can see on the 4-hour chart, that GBP/USD is with strong bullish momentum, at this time of writing the analysis, it is trading above 6/8 Murray, a key level. We hope it will continue to rise to the 7/8 of murray area of the 1.3550.
The immediate support for the pair is found at 1.3427 (6/8). This level will be a good point to buy with targets up to 1.3550, a break below that area, we could expect a correction to the next support of 1.3350 (EMA 21) on 4-hour charts.
Our recommendation is to buy, only if the pair remains above 1.3427 with 1.3550 targets, however, if GBP/USD makes a correction below 1.3427, we could sell with targets up to the 21-day moving average in the area. of 1.3350. This level will be a good point to buy again.
A bounce around the 1.3350 and 1.3305 area will be a good time to buy, as there is strong support at 1.3305 that coincides with the 5/8 Murray. The eagle indicator in 4-hour charts is giving a bullish signal.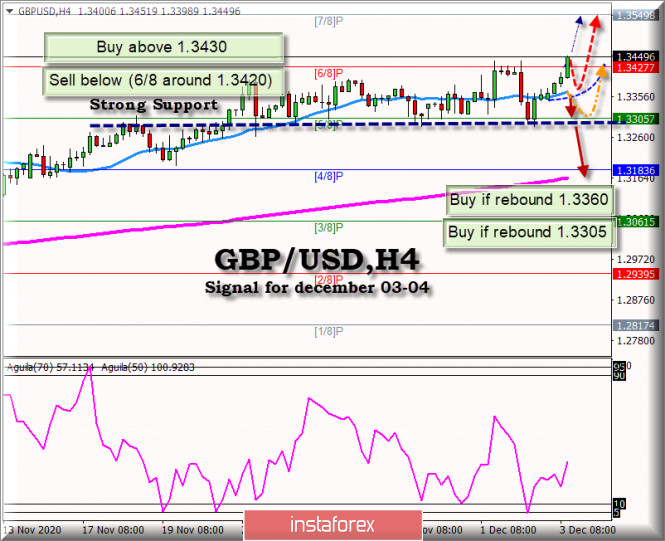 Trading tip for GBP/USD for December 03-04
Buy above 1.3427 (6/8 of murray) with take profit at 1.3550 (7/8), and stop loss below 1.3390.
Buy if the pair rebound around 1.3360 (EMA 21) and 1.3305, with take profit at 1.3430 (EMA 21), stop loss below 1.3305.
Sell if the pair breakout to 1.3427, with take profit and 1.3305, Stop loss above 1.3465.