EUR/USD
Markets already have ideas about tomorrow, when the ECB is expected to announce new measures to ease monetary policy. As usual, exaggerated expectations include lowering the rate, compensating banks for the negative impact of negative rates, launching an asset purchase program on the regulator's balance sheet ... Of course, all measures, even if they were discussed in the working order, cannot be introduced immediately. Up to the point that nothing can be changed at all but only announce imminent changes tomorrow. The reaction of the euro can be completely unpredictable here. From rise to fall. As an effect of deceived expectations and as a work ahead of schedule.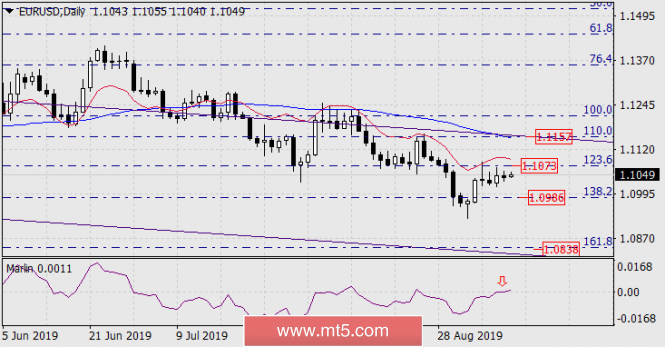 From the technical side, the euro remains unchanged from yesterday, the control levels are not broken, and this facilitates the practical task; if the price consolidates above the upper level of 1.1073 - the Fibonacci level of 123.6%, the price will go to the magnetic point of 1.1157 formed by the coincidence of the Fibonacci level of 110.0%, the price channel line and the MACD line on the daily chart. Such a development of the situation is partly indicated by the Marlin oscillator of the daily TF - its signal line has not yet reversed from the boundary with the growth territory.
The price drop below the Fibonacci level of 138.2% (1.0986) opens the way to a fall in the area of the Fibonacci level of 161.8% and the lower line of the price channel, to the area of 1.0838.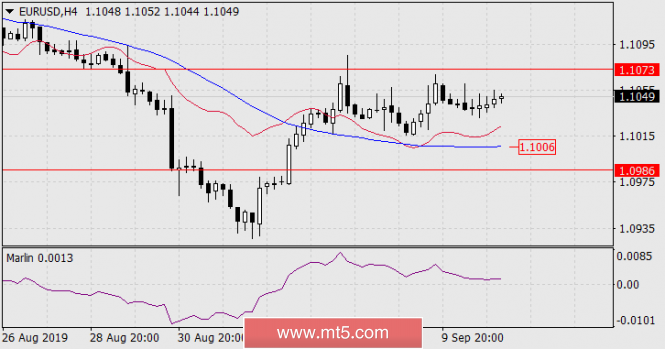 On the four-hour chart, the price also remains in a neutral situation, but here the Marlin oscillator came even closer to the trend change line.