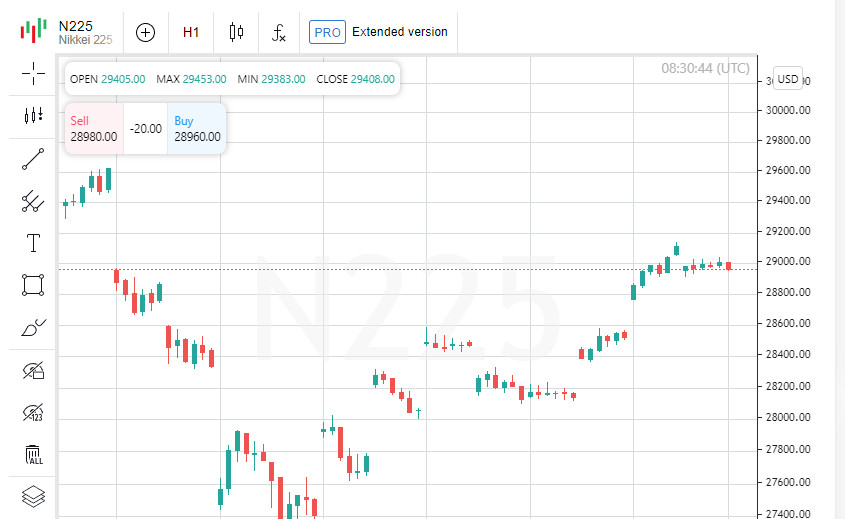 The volume of GDP in July-September increased by 4.9% compared with the same period last year, which was the weakest rise in a year, according to data from the State Statistical Office of the PRC. Many experts predicted a slowdown in the growth of the Chinese economy in the third quarter, but it turned out to be more significant than expected. The consensus forecast of experts interviewed by The Wall Street Journal envisaged an increase in China's GDP by 5.1%.
The volume of industrial production in the PRC in September increased by 3.1% in annual terms after rising by 5.3% a month earlier. Analysts on average had forecast an increase of 4.5%. September growth was the weakest since July 2020.
Nonetheless, retail sales in the country last month beat analysts' forecasts and increased 4.4% compared to the same month in 2020. Experts surveyed by Trading Economics, on average, expected retail sales growth to accelerate to 3.3% last month from 2.5% in August.
The Hong Kong Hang Seng index by 8:30 GMT + 3 fell by 0.5%, the Chinese Shanghai Composite fell by 0.4%.
Tech company values fall: Meituan declines 2.9%, Tencent Holdings Ltd. dropped 1.4%, Alibaba Group Holding Ltd. fell by 1%.
At the same time, oil and gas stocks traded in positive territory in Hong Kong on Monday amid the continuing rise in oil prices, CNOOC Ltd. (+1.5), PetroChina Co. Ltd. (+ 1.4%), China Petroleum & Chemical Corp. (+1.3).
Japanese Nikkei 225 at 8:40 GMT + 3 decreased by 0.2%.
Technological Panasonic Corp. shares declined on the Japanese stock exchange. (-0.6%) and Sony Group Corp. (-1.7%), but shares of automakers Nissan Motor Co. are getting more expensive. Ltd. (+ 0.5%) and Mitsubishi Motors Corp. (+ 1.6%), Toyota Motor Corp (T: 7203). (+ 2.2%).
South Korean indicator Kospi dropped 0.2% by 8:45 GMT + 3.
Chip manufacturers SK Hynix Inc. and Samsung Electronics are down 1.2% and 0.5%, respectively; the country's largest automakers Kia Corp. and Hyundai Motor Co. Ltd. grow by 0.5%.
Australia's S & P / ASX 200 adds 0.3%.
Mining Shares Rising: Rio Tinto Ltd. - by 2%, Fortescue Metals Group Ltd. - by 1%, BHP Group Ltd. - by 0.9%.