GBP/USD
Analysis:
In the dominant rising wave of the British currency since mid-March, a correction has been developing in the last 3 months. It has the form of a horizontal stretched plane. The direction of short-term trends is set by the incomplete bearish section algorithm from June 10. The middle part of the wave (B) does not look complete at the time of analysis. The structure lacks the final part (C).
Forecast:
In the coming sessions, the price is expected to move mainly in the lateral plane. After contact with the support zone, there is a high probability of a rebound to the area of the calculated resistance. Then you should wait for a return to the downward rate.
Potential reversal zones
Resistance:
- 1.2590/1.2620
Support:
- 1.2520/1.2490
- 1.2440/1.2410
Recommendations:
Today, short-term purchases with a reduced lot are possible in the pound market. After the price reaches the calculated resistance, it is recommended to look for signals for the reversal of trading positions.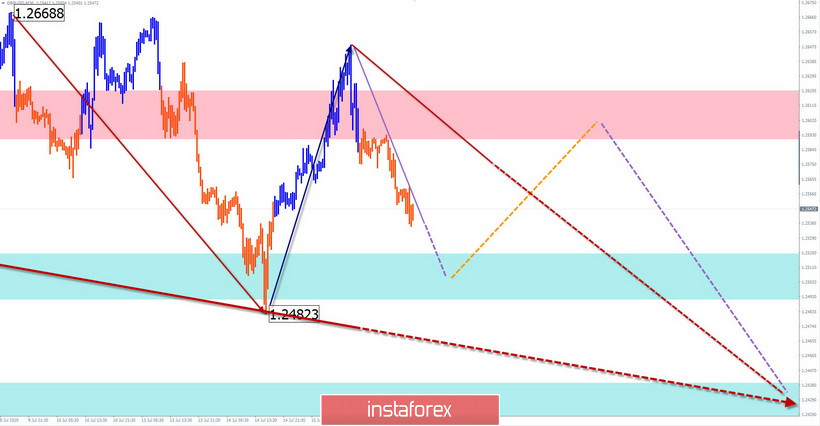 AUD/USD
Analysis:
The rising wave from March 19 dominates the chart of the Australian dollar. Since June 9, the pair's quotes have been adjusted. The form of correction most closely resembles a shifting plane. The middle part of this wave (B) continues to form.
Forecast:
Today, the pair's market is likely to see a general upward price movement. In the upcoming session, you can expect a short-term decline to the support zone. The active growth phase is expected by the end of the day.
Potential reversal zones
Resistance:
- 0.7050/0.7080
Support:
- 0.6970/0.6940
Recommendations:
Trading the "Aussie" today is only possible with an intraday style. Sales are risky and not recommended. The main attention is offered to pay for the pair's purchases.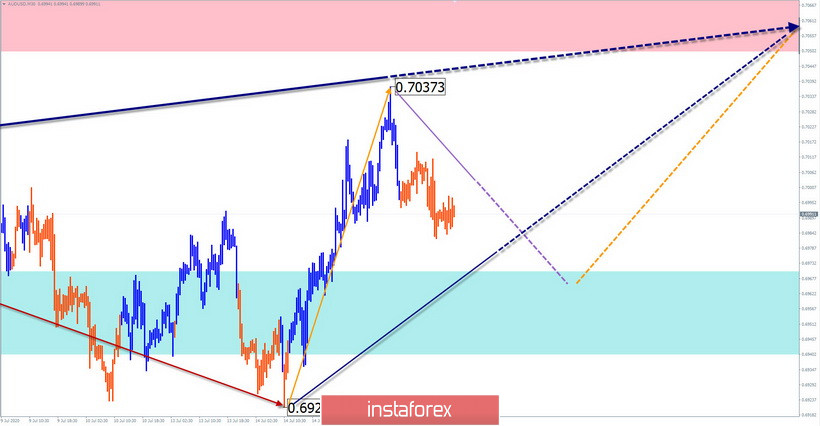 Explanation: In the simplified wave analysis (UVA), waves consist of 3 parts (A-B-C). The last incomplete wave is analyzed. The solid background of the arrows shows the formed structure, and the dotted one shows the expected movements.
Note: The wave algorithm does not take into account the duration of the tool movements in time!