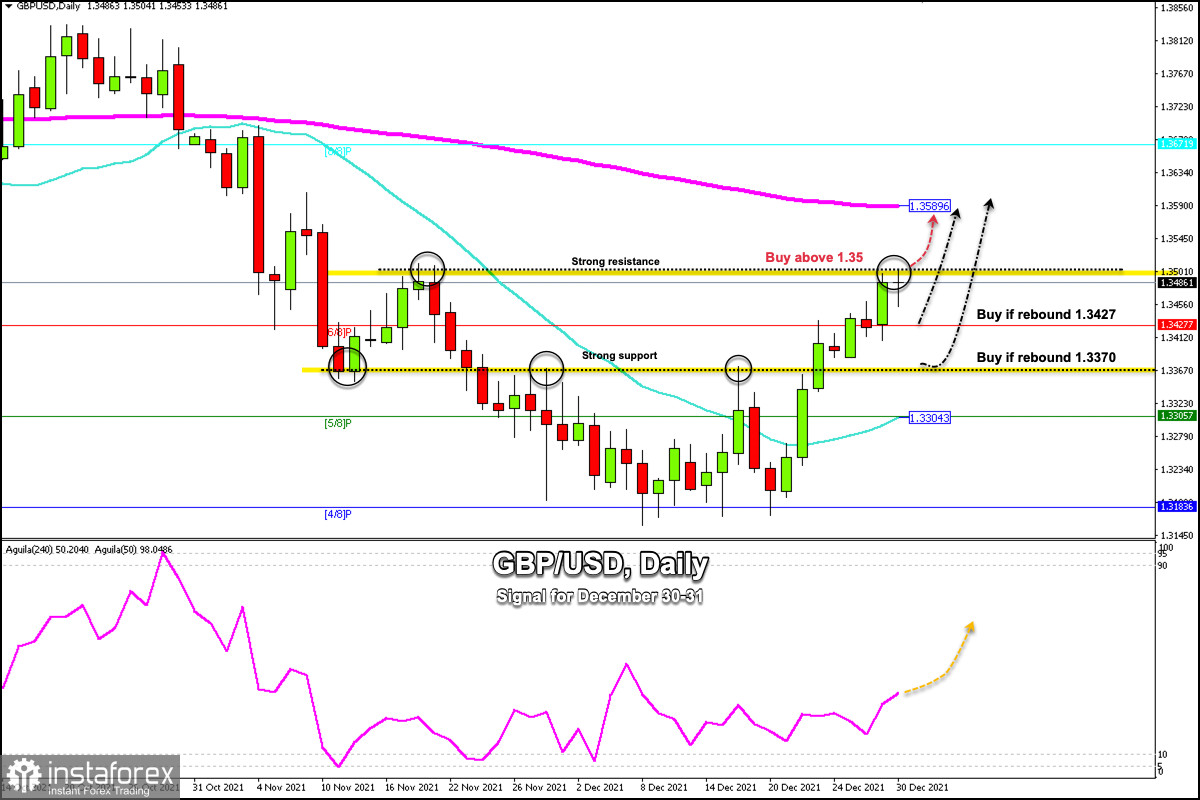 The British pound has reached a key resistance and a psychological level around 1.3500. The GBP/USD pair was last trading around this price level on November 18.
As the 1.35 level represents a strong resistance for the British pound, it is expected that below this zone there will be a technical correction towards 6/8 Murray around 1.3427. On the contrary, if the pound closes daily above 1.3500, it is more likely that in the next few days it can reach the EMA 200 located at 1.3590.
On the daily chart, the zone near 1.3370 can be seen as strong support and the 1.35 zone as a strong resistance for the British pound. In view of the low trading volume of the market, a technical correction towards the support at 1.3370 is likely. We can sell and buy within these ranges of prices between 1.3500 – 1.3370 until the market defines its next move.
Since the British pound reached the support level of 1.3183 (4/8), there has been a strong bullish movement for eight days. It is now approaching the key level of EMA 200 located at 1.3590.
If in the next few hours the pound breaks the area of 1.35 and consolidates above this level, it is likely that it can test the strength of this moving average. If it surpasses this level, it is likely to reach 8/8 of Murray around 1.3671.
The Eagle indicator is giving a positive signal and any technical correction is likely to be an opportunity to buy as long as it remains above the 21 SMA located at 1.3304.
Our trading plan is to keep an eye on the key level of 1.35 if it manages to break this zone, we can buy with targets at the 200 EMA at 1.3590. On the other hand, a technical bounce in the zone of 1.3427 will be a new opportunity to buy the British pound.
Support and Resistance Levels for December 30 - 31, 2021
Resistance (3) 1.3596
Resistance (2) 1.3555
Resistance (1) 1.3521
----------------------------
Support (1) 1.3464
Support (2) 1.3427
Support (3) 1.3373
***********************************************************
A trading tip for GBP/USD on December 30 - 31, 2021
Buy in case of a rebound off at 1.3427 (6/8) with take profit at 1.35 and 1.3589 (200 EMA), stop loss below 1.3390.