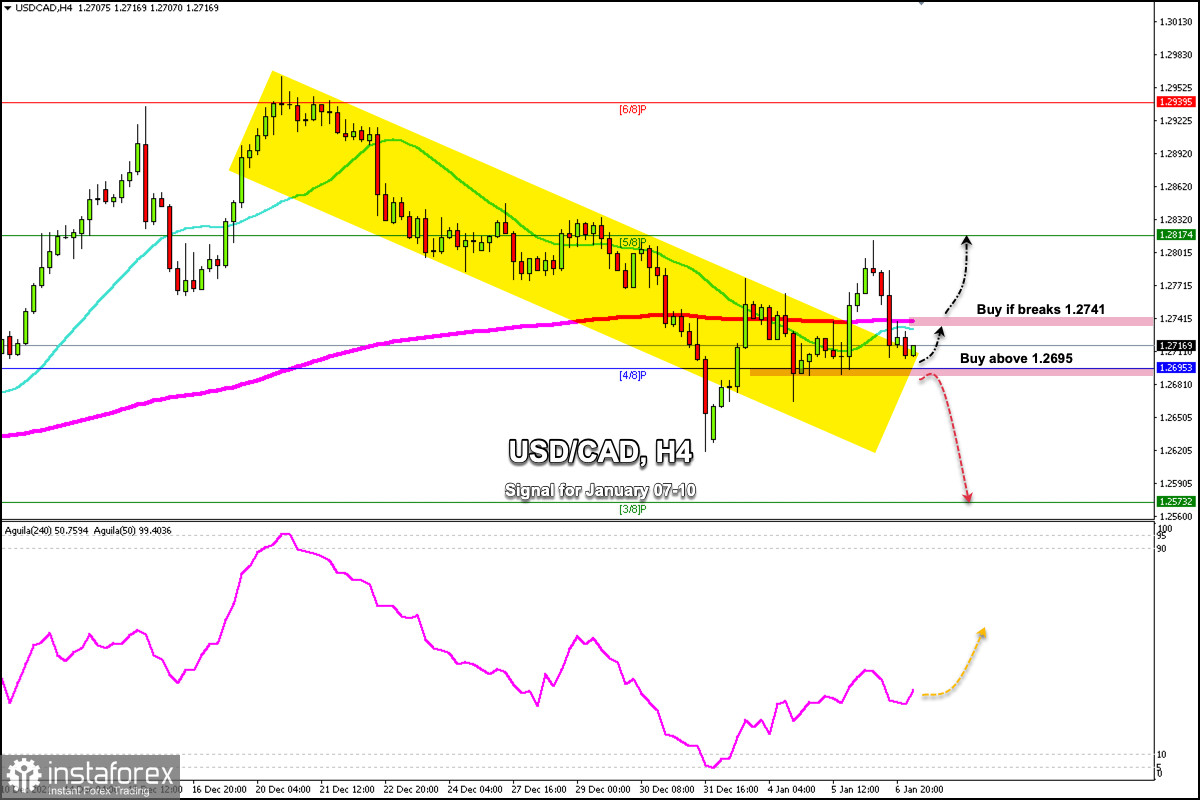 USD / CAD is trading sideways within a relatively tight range of 1.2705-1.2740. It is now trading below the SMA of 21 and the EMA of 200 located around 1.2740 exerting downward pressure. The immediate support is located at 4/8 of Murray at 1.2695.
The loonie has been strengthening in recent days due to optimism in oil prices that reached the level of 80.22. USAD/CAD is likely to continue consolidation below the 200 EMA in the next few hours. We must wait until the American session when the Canadian employment data and the US non-farm payroll data will be released.
We must watch the level of 4/8 Murray. Tis is a pivot point for the Canadian dollar to develop a short-term trend. As long as it remains above 1.27, the loonie will retain its weakness and could test the strength of the 200 EMA (1.2817).
A breakout and consolidation above 1.2750 could be a clear sign of an uptrend and further weakness would be expected in the Canadian currency towards the zone of 1.2817.
On the contrary, if the Canadian employment data is favorable and the US data are worse than expected, USD/CAD could break below 1.2690 and a fall to the 3/8 Murray support at 1.2573 is expected.
Support and Resistance Levels for January 07 - 10, 2022
Resistance (3) 1.2817
Resistance (2) 1.2789
Resistance (1) 1.2747
----------------------------
Support (1) 1.2682
Support (2) 1.2640
Support (3) 1.2575
***********************************************************
Scenario
Timeframe H4
Recommendation: buy above
Entry Point 1.2695
Take Profit 1.2740 (200 EMA), 1.2817 (5/8)
Stop Loss 1.2655
Murray Levels 1.2817 (5/8), 1.2939 (6/8)
***********************************************************
Scenario 2
Recommendation: buy if breaks
Entry Point 1.2741
Take Profit 1.2817 (5/8)
Stop Loss 1.2705
Murray Levels 1,2695 (4/8) 1.2573 (3/8)
*********************************************************