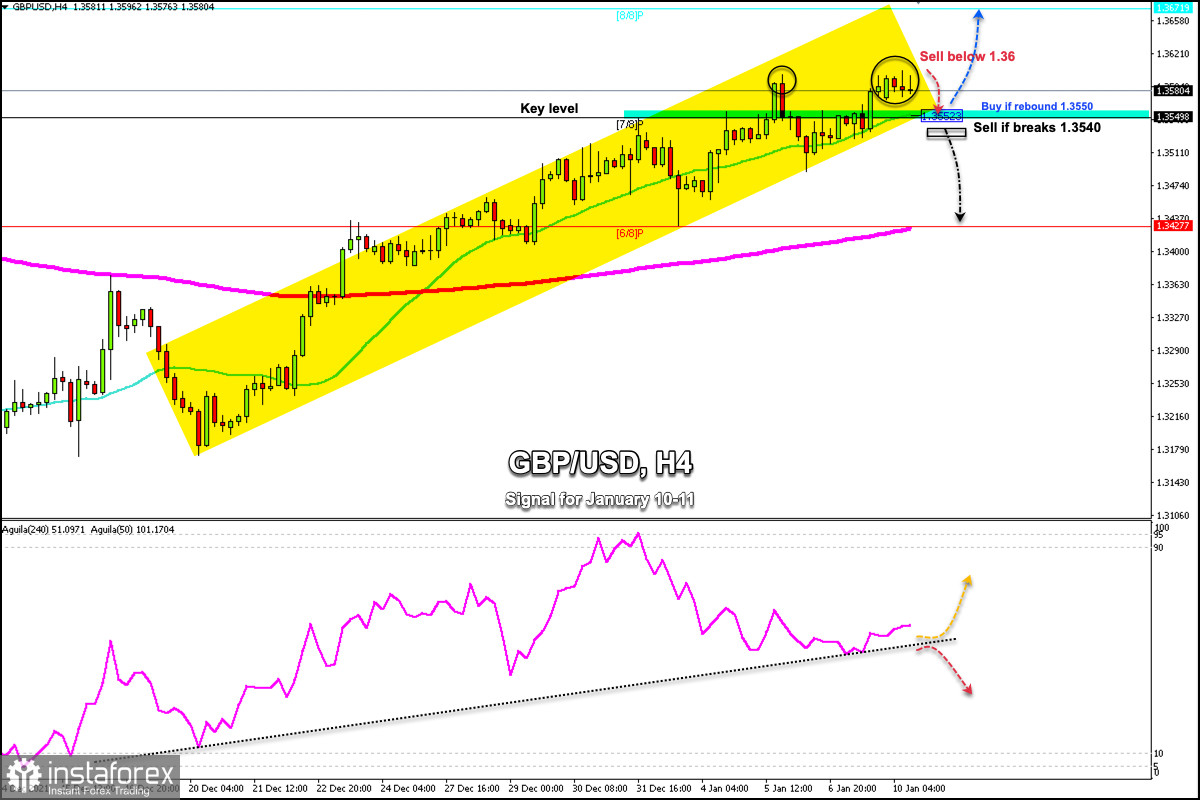 GBP / USD failed to consolidate above the key 1.3600 level. The pair is currently trading below this level around 1.35 80, an increase in Treasury bond yields and the strength of the dollar could cause it to make a downward correction towards the 21 SMA located at 1.3552.
On the 4-hour chart, we can see that the British pound has formed a double top pattern. The last candles are showing indecision in the market. As long as the pair remains below 1.36, there could be a correction towards 7/8 Murray at 1.3549.
The uptrend channel formed on December 20 is still prevailing. As long as the British pound is within this channel a bounce around the bottom of the channel at 1.3550 could provide an opportunity for a further bullish move targeting 8/8 Murray at 1.3671.
Conversely, a break of the uptrend channel on the 4-hour chart below 1.3545 could be the start of a technical correction and a trend reversal. The decline could accelerate towards the 200 EMA and 6/8 Murray, both sit at the same level of 1.3476.
The eagle indicator is giving a neutral signal for now there is no clear signal to the downside. Since December 30, the market volume has been decreasing, this could be a factor against the pound. We could wait for a downward confirmation to sell if the breaks the zone of 1.3540.
The market sentiment report compared to last month there has been a significant change. The percentage of traders who are buying GBP / USD has fallen by -38.17% which now we see an increase in sales. The current number of traders who are selling the British pound is 56.34% this means that the British pound could find a good support around 1.3427 where the EMA 200 is located and could again resume its uptrend.
Support and Resistance Levels for January 10 - 11, 2022
Resistance (3) 1.3671
Resistance (2) 1.3639
Resistance (1) 1.3612
----------------------------
Support (1) 1.3550
Support (2) 1.3498
Support (3) 1.3427
***********************************************************
Scenario
Timeframe 4-hours
Recommendation: sell Below
Entry Point 1.3600
Take Profit 1.3550 (21 SMA), 1.3427 (6/8)
Stop Loss 1.3639
Murray Levels 1.3549 (7/8), 1.3671 (8/8)
***********************************************************
Alternative scenario
Recommendation: sell if breaks
Entry Point 1.3540
Take Profit 1.3500, 1.3427 (6/8)
Stop Loss 1.3579
Murray Levels 1.3427 (6/8) 1.3305 (5/8)
*********************************************************