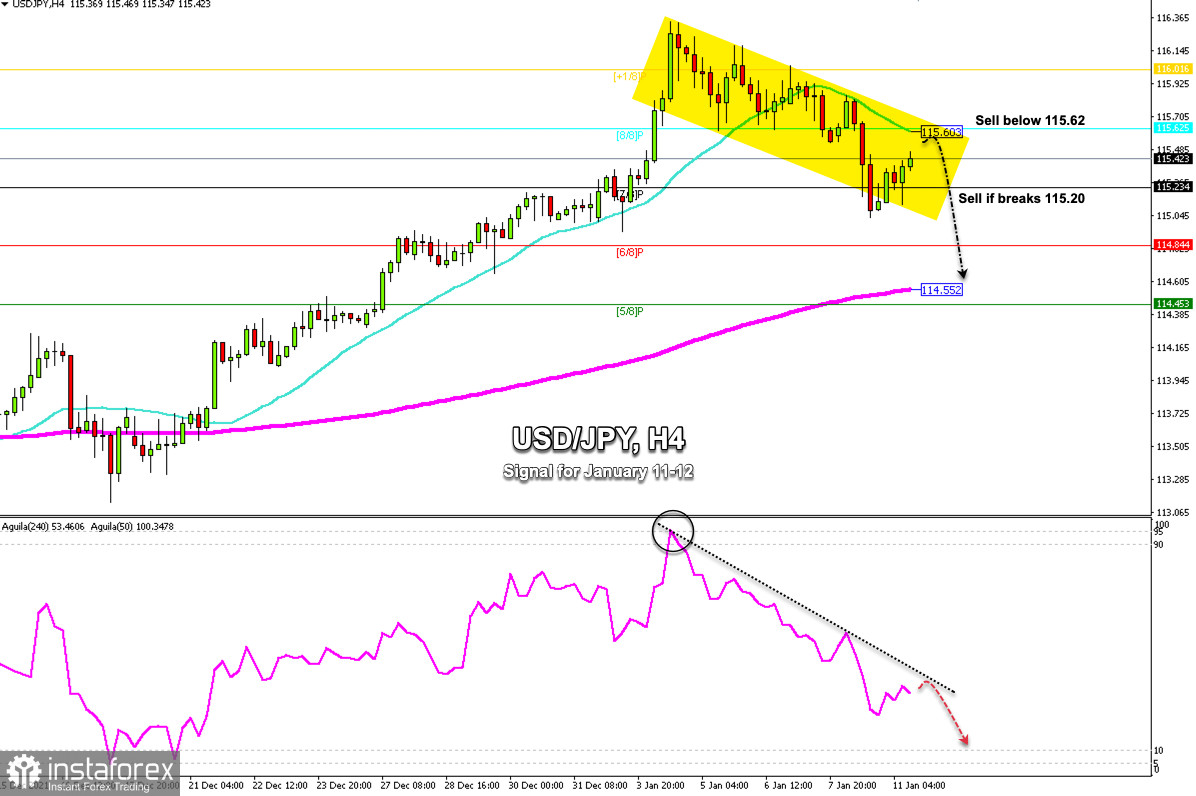 USD/JPY is trading below the 21 SMA and below the strong resistance of 8/8 Murray located at 115.62. After having found support at the psychological level of 115.00, USD/JPY started a technical rebound and is now approaching resistance at 115.62.
This zone of 8/8 (115.62) is expected to be strong enough to stop the upward movement of the yen in the next few hours. If it fails to break down and consolidate above 115.62, it could be an opportunity to sell below the 21 SMA targeting 115.20 and the price could eventually fall towards the 200 EMA located at 114.55.
In the esrly American session, the dollar index (USDX) is rebounding after having found support at the 95.73 level. USDX has strong resistance at the 200 EMA located at 96.04. If it fails to overcome this level, it is likely to fall again. The Japanese yen cold take advantage of this fall. So, USD/JPY could resume its downward movement.
The latest FOMC minutes show that the Fed could continue to tighten its monetary policy faster than planned, which could favor the US dollar. A possible first interest rate hike is expected in March. Analysts are anticipating four interest rate hikes through the end of 2022.
Amid the form US dollar, the yen might lose its key level of resistance 116.00, surpassing this level quickly. The currency pair could reach the psychological level of 120.00 in the medium term.
Our trading plan is to wait for it to reach this resistance zone of the 21 SMA (115.62). A consolidation on the 4-hour chart below this zone could give us an opportunity to sell in the next few hours.
Support and Resistance Levels for January 11 - 12, 2022
Resistance (3) 116.27
Resistance (2) 116.01
Resistance (1) 115.64
----------------------------
Support (1) 115.33
Support (2) 114.84
Support (3) 114.45
***********************************************************
Scenario
Timeframe 4-hours
Recommendation: sell Below
Entry Point 115.62
Take Profit 115.00, 114.84 (6/8), 114.55 (200 EMA)
Stop Loss 115.97
Murray Levels 115.62 (8/8) 115.23 (7/8) 114.84 (6/8)
***********************************************************