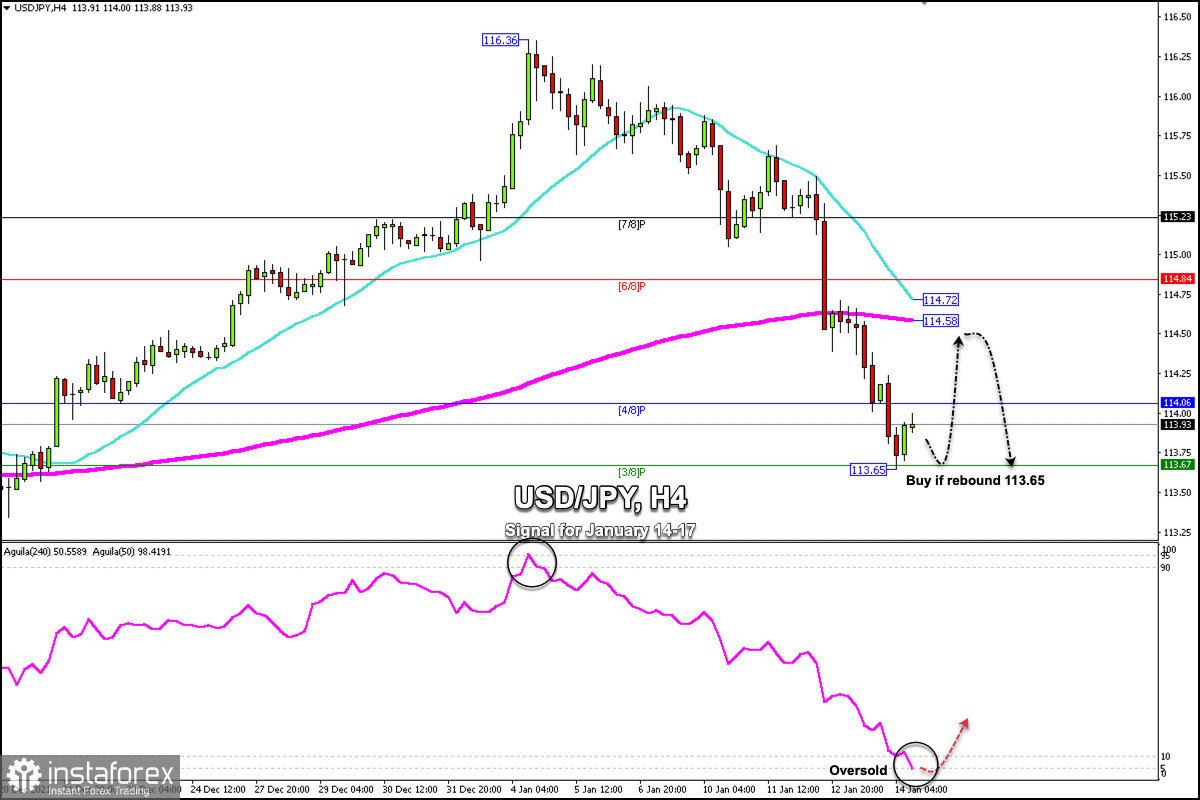 USD/JPY fell to support 3/8 Murray around 113.65. Investors are currently flocking to safe-haven assets in the face of weak expectations from the Fed chairman and the US dollar's decline since earlier in the week.
In a few hours, the US retail sales report will be published. This data is likely to support the US dollar if the result is above 0.2%. Favorable data could weaken the Japanese yen so that it will be able to bounce above 113.67 with targets towards the 200 EMA located at 114.58.
USD/JPY has been in a downtrend since the 200 EMA was broken on January 12. Now the short-term outlook has turned to the downside. The yen is expected to continue to strengthen and could drop to the key level of 112.50 in the medium term.
A technical bounce towards the 200 EMA located at 114.60 will give us an opportunity to sell and the downtrend could resume. If USD/JPY fails to break the 200 EMA, it could be the start of another bearish move and the price could reach the support zone between 113.65 and 112.50.
The downside pressure could ease when the Japanese yen can trade back above 114.52. A daily close above this level could go looking for the 115.00 psychological level and the currency pair could climb as high as +2/8 Murray at 116.40.
The eagle indicator has touched the 5-point level which represents extremely oversold market. An imminent technical bounce is likely in the next few hours which could give us a buying opportunity as long as USD/JPY remains trading above 3/8 Murray around 113.65.
Our trading plan is to wait for a consolidation above 3/8 Murray to buy with targets at 114.06 (4/8) and 114.58 (200 EMA). If the yen breaks this level, we should avoid buying and wait for a consolidation of the next support level around 113.28.
Support and Resistance Levels for January 14 - 17, 2022
Resistance (3) 114.28
Resistance (2) 114.06
Resistance (1) 113.87
----------------------------
Support (1) 113.47
Support (2) 113.28
Support (3) 112.89
***********************************************************
Scenario
Timeframe H4
Recommendation: buy in case of rebound
Entry Point 113.65
Take Profit 114.06 (4/8), 114.58 (200 EMA)
Stop Loss 113.20
Murray Levels 113.67 (3/8) 114.06 (4/8) 114.84 (6/8) 115.23 (7/8)
***********************************************************