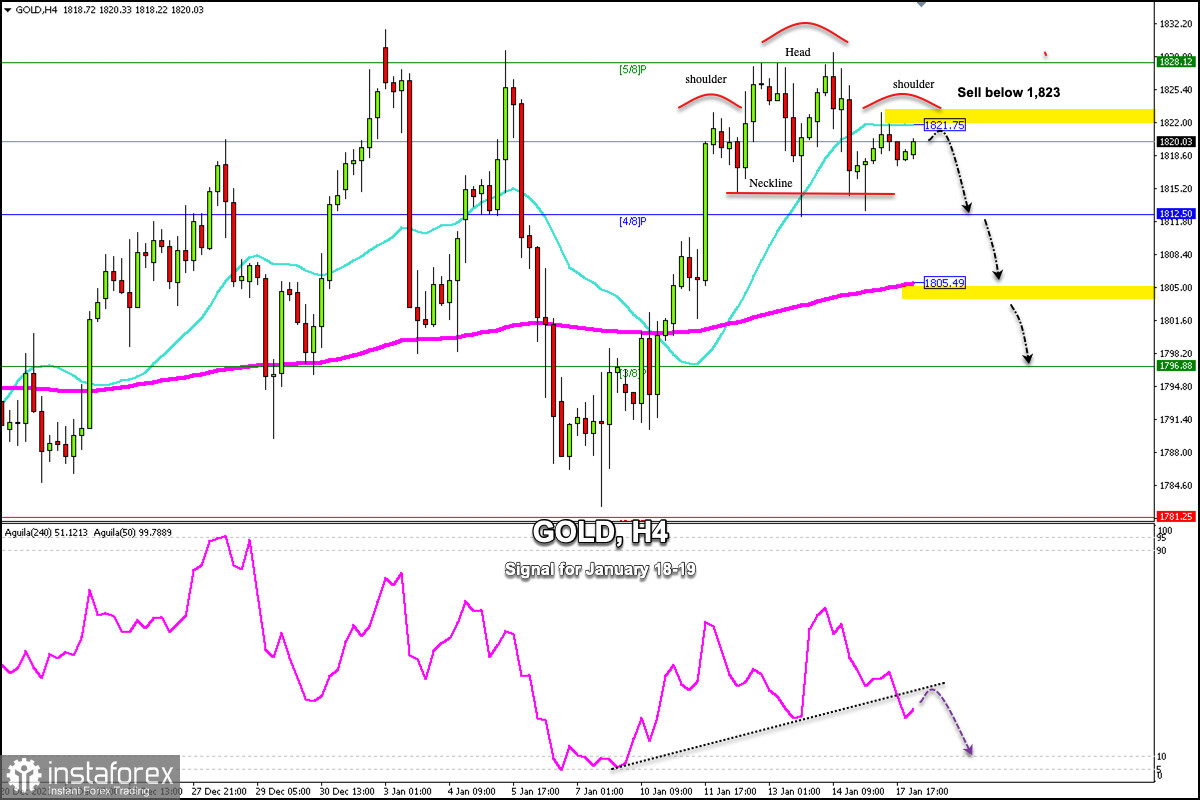 Gold price is trading at 1,820 below the 21 SMA and above the 200 EMA. The short-term trend for the XAU/USD pair is completely sideways, the 21 SMA has become its immediate resistance.
From a technical point of view, XAU/USD is making a multi-day consolidation. According to the 4-hour chart, a shoulder-head-shoulder pattern is in progress. This last shoulder is forming and a break of the neckline below 1.815 is expected.
A sharp break below the neckline of the technical pattern will confirm a probable bearish move with targets around 3/8 of Murray at 1,796.
The resistance of 5/8 Murray has turned out to be very strong. On several occasions, gold has tried to consolidate above this level and failed to break it. If in the next few days, the break above 1,830 is confirmed, it will leave the way open for further rallies with a possible target in the zone of 6/8 Murray around 1,843.
In the opposite direction, a return below 1,812 (4/8) would put the zone of 1,805 at risk. The 200 EMA is giving gold a bullish bias, the break will lead to a bearish extension, with a possible target near 1,796 (3/8) and up to 2/8 Murray at 1,781.
If the 10-year US Treasury bond yield falls below 1.7%, it could allow the price of gold to rise. On the other hand, if the bond yields rise or trade around its high from last week, it is likely to affect the strength of gold and a drop to the psychological level of 1,800 could occur.
The eagle indicator is trading below an uptrend channel and the market is likely to remain negative as we could expect gold to drop below the 21 SMA in the next few hours.
Support and Resistance Levels for January 18 - 19, 2022
Resistance (3) 1,843
Resistance (2) 1,834
Resistance (1) 1,823
----------------------------
Support (1) 1,812
Support (2) 1,803
Support (3) 1,795
***********************************************************
Scenario
Timeframe H4
Recommendation: sell below
Entry Point 1,823
Take Profit 1,812 (4/8)
Stop Loss 1,828
Murray Levels 1843 (6/8) 1,828 (5/8) 1,812 (4/8)
***********************************************************