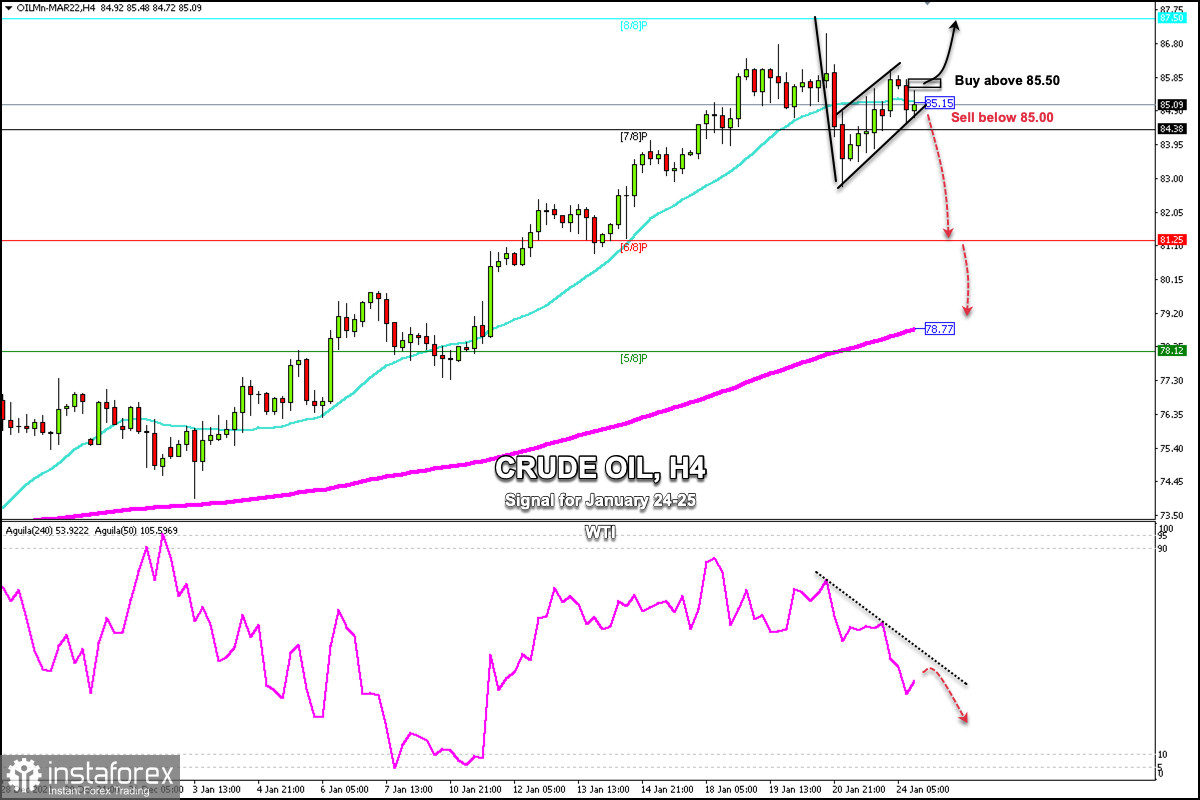 WTI (West Texas Intermediate) is falling, but remains firm above 85.00, in the zone of highs since 2014 and around the equilibrium level of SMA 21.
Crude oil has a strong correlation with the stock market and with Wall Street indices. Given that the Nasdaq 100 and the Dow Jones 30 are trading lower, crude oil is likely to follow this same trend in the coming hours.
If a break below the 21 SMA and the inverted pennant pattern are confirmed, WTI could accelerate the move down with targets towards the 6/8 Murray around 81.23 and the 200 EMA located at 78.75.
Conversely, if crude consolidates on the 4-hour chart above 85.50, then we can again buy with targets towards 8/8 Murray around 87.50. However, the technical pattern could be giving a bearish signal and we must wait for confirmation, so we should avoid buying.
The eagle indicator is generating a negative signal and a downward movement is likely in the next few hours.
Support and Resistance Levels for January 24 - 25, 2022
Resistance (3) 87.50
Resistance (2) 86.99
Resistance (1) 85.96
----------------------------
Support (1) 84.38
Support (2) 83.19
Support (3) 82.67
***********************************************************
Scenario
Timeframe H4
Recommendation: sell if it breaks
Entry Point 85.00
Take Profit 83.19, 81.25 (6/8) 78.77 (200 EMA)
Stop Loss 85.65
Murray Levels 87.50 (8/8) 84.38 (7/8) 81.25 (6/8) 78.12 (5/8)
***************************************************************************