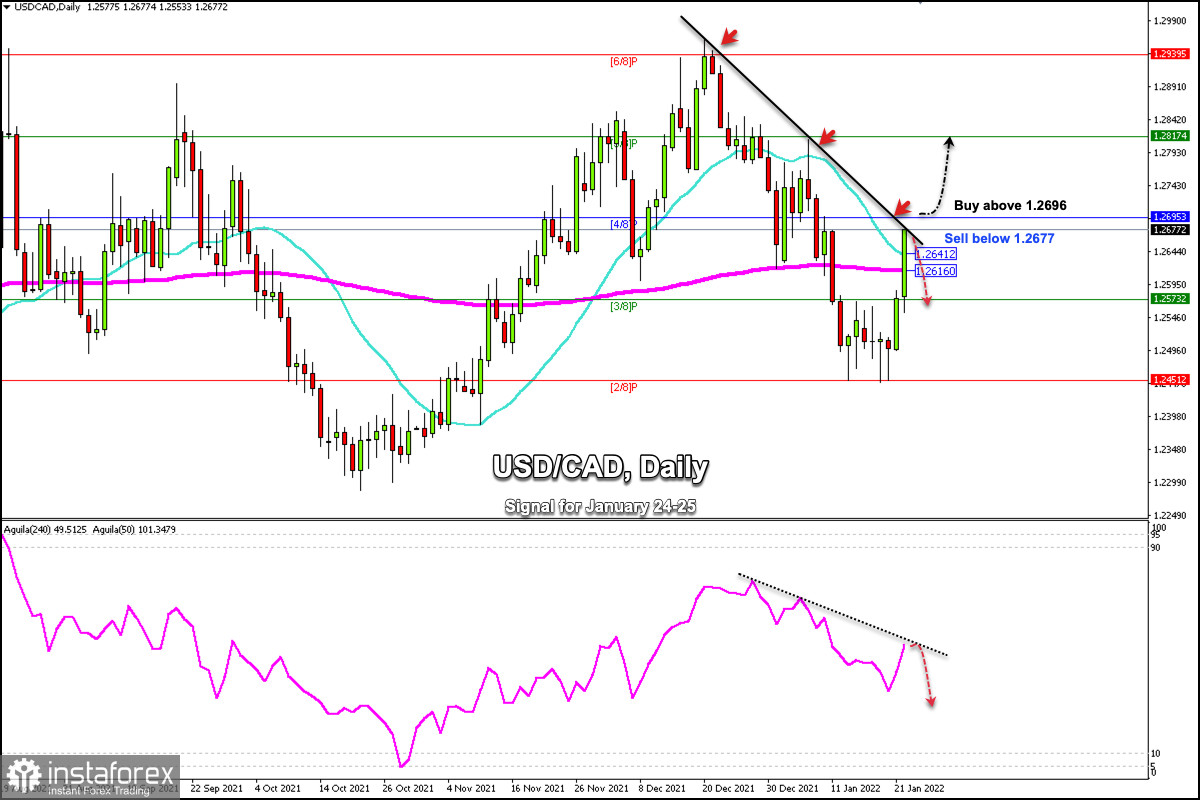 The Canadian dollar (USD/CAD) has been bouncing for 3 consecutive days from the low of 1.2451. Around this area of 1.2451, a triple bottom pattern was formed. In our previous analysis, we pointed out the upside potential that existed. Now the price is facing resistance from the downtrend channel, formed on December 8.
A technical correction is expected below 4/8 Murray and below downtrend channel in the next few hours, with targets towards 200 EMA located at 1.2616 and 3/8 Murray located at 1.2574.
Conversely, a sharp break and consolidation above 1.2695, 4/8 Murray zone, will be an opportunity to buy with targets at 1.2817 (5/8) and 1.2939 (6/8).
The eagle indicator is touching the top of the downtrend channel and a technical correction is likely in the coming days.
Support and Resistance Levels for January 24 - 25, 2022
Resistance (3) 1.2817
Resistance (2) 1.2760
Resistance (1) 1.2695
----------------------------
Support (1) 1.2623
Support (2) 1.2573
Support (3) 1.2536
***********************************************************
Scenario
Timeframe H4
Recommendation: Sell below
Entry Point 1.2677
Take Profit 1.2616 (200 EMA) 1.2573 (3/8)
Stop Loss 1.2710
Murray Levels 1.2939 (6/8) 1.2817 (5/8) 1.2695 (4/8) 1.2573 (3/8)
***************************************************************************