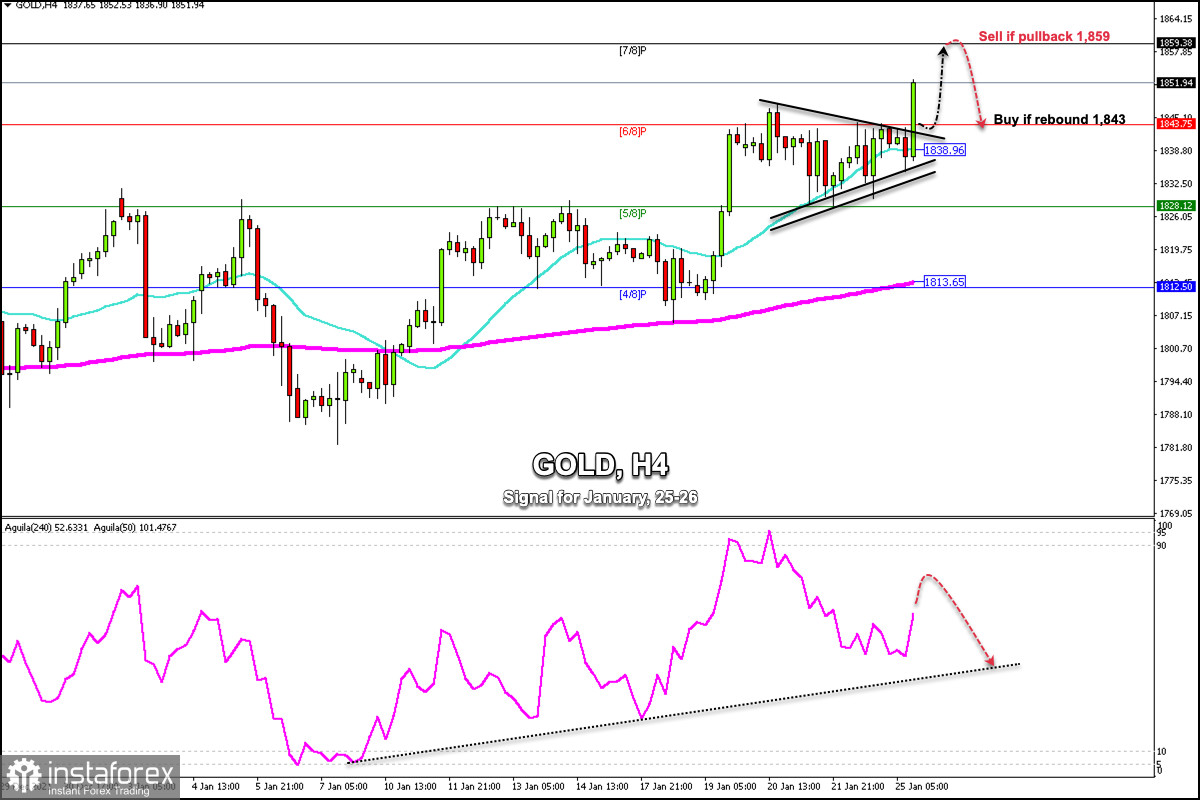 Early in the American session, gold broke above the symmetrical triangle pattern. Currently trading at 1,851.94, gold is likely to keep the bullish momentum until it challenges the strong resistance at 1,859. On the other hand, the resistance of 6/8 Murray has turned into strong support, a technical bounce is likely in the next few hours around this level.
Gold is rising because the FOMC is starting its two-day FOMC meeting. Traders and investors are very nervous and worried which makes them take refuge in gold.
The metal is expected to reach overbought levels, so we can predict a correction below 1,859 (7/8 Murray) in the next few days.
On the other hand, in case of a return and consolidation below 1,838, we could expect a change in trend and a move lower towards 1,828 and EMA 200 located at 1,813.
Tomorrow the rate-setting committee is due to unveil their policy decisions. So beware of higher volatility in the market around policy announcements. Therefore, we must be very careful. As long as gold trades above 1,838, the outlook will remain bullish with targets until 1,875. On the contrary, the clearly hawkish policy update will be bearish for the gold price that could below 1,838. Then it will be a clear sell signal with targets up to 1,812.
Our trading plan for the next few hours will be to wait for a technical bounce at 1,843 to buy or wait for a pullback at 7/8 Murray around 1,859 to sell. We believe that in the next few hours gold could consolidate between 7/8 and 6/8 Murray.
Support and Resistance Levels for January 25 - 26, 2022
Resistance (3) 1,862
Resistance (2) 1,852
Resistance (1) 1,848
----------------------------
Support (1) 1,838
Support (2) 1,829
Support (3) 1,818
***********************************************************
Scenario
Timeframe H4
Recommendation: buy in case of rebound
Entry Point 1,843
Take Profit 1,859 (7/8) 1,875 (8/8)
Stop Loss 1,837
Murray Levels 1,859 (7/8) 1,843 (6/8) 1,828 (5/8) 1,812 (4/8)
***************************************************************************