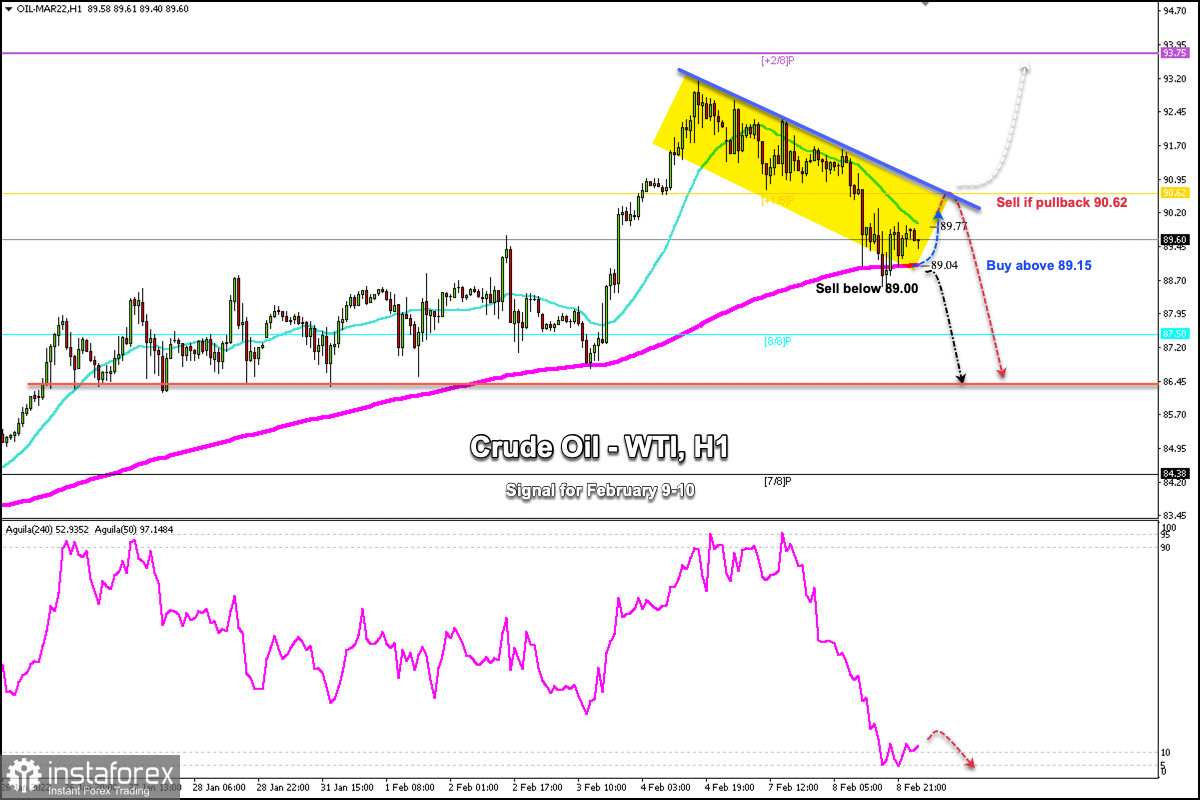 WTI has been falling for the third day in a row. It is currently trading at 89.60 per barrel after reaching an eight-year high of 93.15.
WTI finds support due to the developments in the tensions on the border between Russia and Ukraine, if this continues it could limit the supply of oil.
On the other hand, there are doubts about the production increase of 400,000 barrels by the Organization of the Petroleum Exporting Countries and its allies (OPEC+). The OPEC+ countries, led by Russia and Saudi Arabia, are only gradually increasing production.
Investors are anticipating the release of US consumer inflation figures on Thursday. The US CPI report will influence the Fed's monetary policy decision and help determine the next move in Crude Oil which is correlated to Wall Street indices.
On the H1 chart, WTI has found support around 89.00. A technical bounce above this level could give us an opportunity to buy to the top of the downtrend channel around 90.62.
On the other hand, a pullback towards the resistance +1/8 Murray around 90.62 will be an opportunity to sell with targets at 89.00 until 8/8 Murray around 87.50.
Conversely, if crude oil fails to consolidate above the 200 EMA (89.00) bearish pressure is likely to continue and there may be an acceleration of the decline towards 87.50 and key support at 86.45.
The eagle indicator has reached the oversold zone and a technical rebound is expected in the next few hours to resume the downtrend.
Our trading plan for the next few hours is drawn on the chart above where you can find the levels to buy or sell according to the movement of the market.
Support and Resistance Levels for February 9 - 10, 2022
Resistance (3) 93.09
Resistance (2) 91.41
Resistance (1) 90.62
----------------------------
Support (1) 88.28
Support (2) 87.50
Support (3) 86.83
***********************************************************
Scenario
Timeframe H1
Recommendation: sell below o if pullback
Entry Point 3,125; 3,335
Take Profit 89.00; 90.62
Stop Loss 89.60; 91.20
Murray Levels 93.75 (+2/8),90.62(+1/8), 87.50 (8/8), 84.38 (7/8)
***************************************************************************