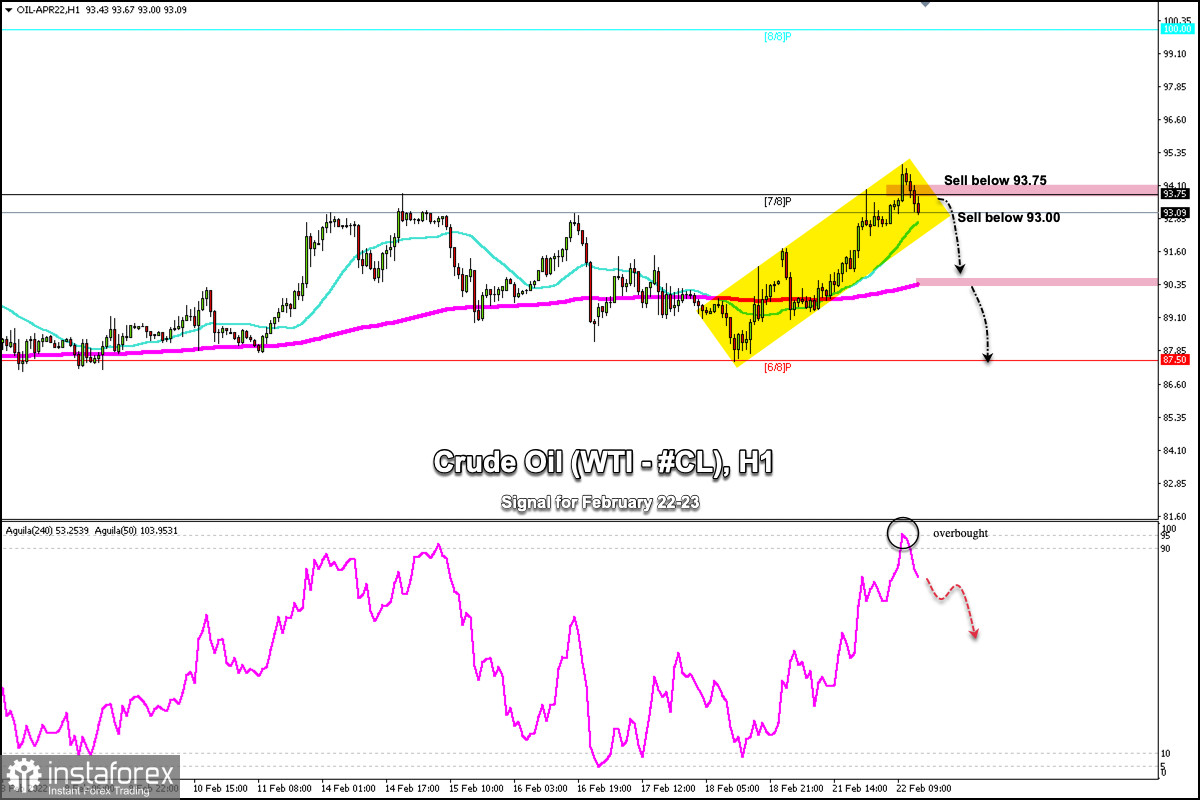 Crude oil is trading around 93.09. In the European session, it climbed as high as 94.90. It is currently showing signs of exhaustion according to the 1-hour chart and is trading below 7/8 Murray which could be a sign of a technical correction towards the 200 EMA around 90.35.
The negative climate in the markets continues to predominate among operators. Futures of the main Wall Street atindices are recovering gains. A technical correction towards the psychological level of 90.00 could resume the bullish movement of crude oil.
The outlook for the oil market moves between diverse forces. On the one hand, the possible supply problems in the event of an armed conflict at the Ukrainian border could accelerate the price of crude oil to levels of $100.00.
On the other hand, the normalization of production in several countries of the Organization of Petroleum Exporting Countries and allies (OPEC +) is a factor that can cause the price of crude oil to fall and reach 85.00 and even $80.00.
According to the 1-hour chart, we can see that crude oil is making a technical correction. A close below the 21 SMA could accelerate the move down towards 90.33.
In addition to this, a sharp break below the 200 EMA located at 90.35 could be the start of a move down in the short term to the 6/8 Murray support at 87.50.
Our trading plan for the next few hours is to sell below 93.75. Besides, if a break below 93.00 occurs, we could sell with targets at 90.00. The eagle indicator supports our bearish strategy.
Support and Resistance Levels for February 22 - 23, 2022
Resistance (3) 96.94
Resistance (2) 95.39
Resistance (1) 94.08
----------------------------
Support (1) 91.56
Support (2) 90.25
Support (3) 87.50
***********************************************************
Scenario
Timeframe H1
Recommendation: sell below
Entry Point 93,75 ; 93.00
Take Profit 90.35; 87.50
Stop Loss 1.1240
Murray Levels 100.00 (8/8), 93.75(7/8), 87.50 (6/8)
***************************************************************************