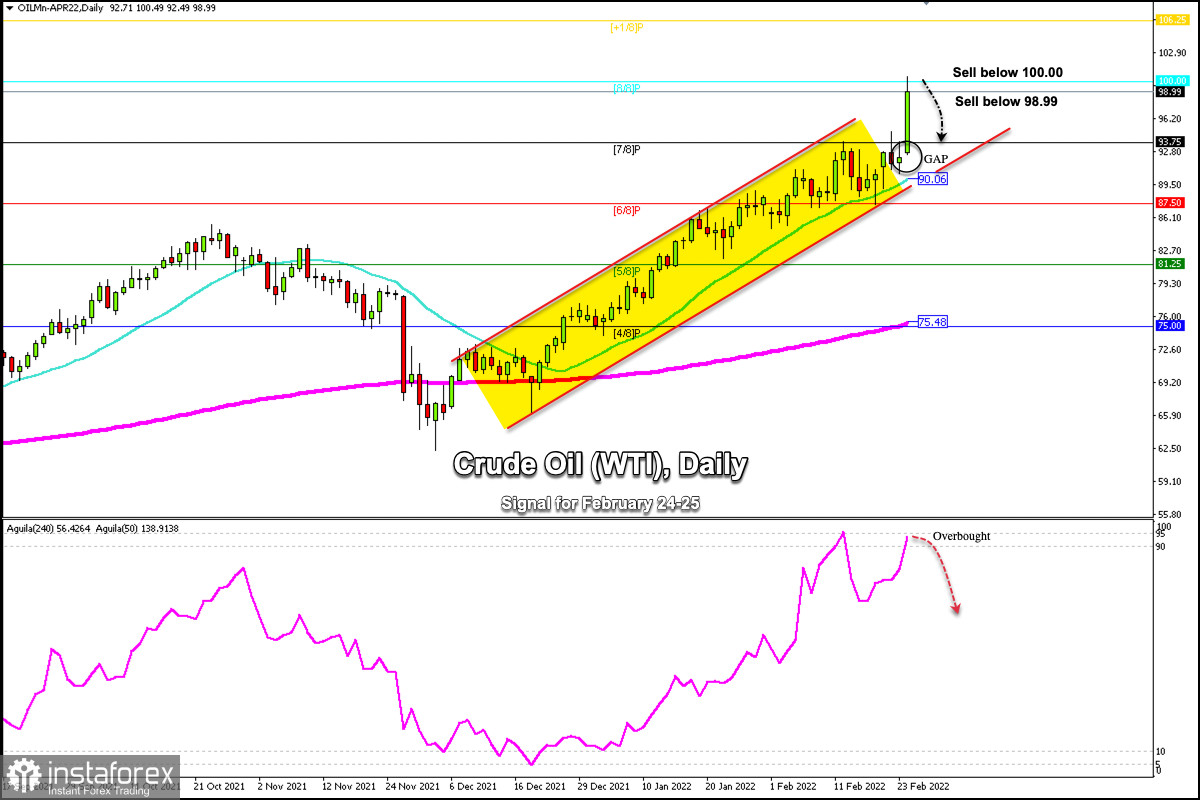 Crude oil prices (WTI - #CL) soared higher amid the crisis between Russia and Ukraine. The barrel of WTI has risen above $100 a barrel for the first time since July 2014.
Fears point to a disruption in the supply of Russian crude after the recent attack on Kiev.
A third of natural gas passes through Ukraine. If the situation escalates, even if there are no sanctions, it could be impossible to maintain gas transport, forcing Europe to buy in other areas, pushing up the price of crude oil.
Oil will likely be the only long-term winner. In any postwar deal, the world will be prepared to stop buying Russian oil as a punitive measure.
Given that crude oil is showing overbought levels, it is likely that there will be a technical correction in the coming hours towards the area 95.00 or even the psychological level of 90.00.
At the opening of the Asian session, crude oil has left a GAP around the area 92.25. It is likely that in the next few hours it could cover this GAP and from there initiate a technical rebound.
The trend in crude remains bullish, any technical correction in the coming days will be an opportunity to continue buying with targets towards $100.00 and up to the level 106.25 (+1/8).
Our trading plan for the next few hours is to sell below the psychological level $100.00 or at the current levels of 98.99, with targets 7/8 Murray around 95.23 and up to the 21 SMA at 90.00.
Support and Resistance Levels for February 24 - 25, 2022
Resistance (3) 112.50
Resistance (2) 106.25
Resistance (1) 100.00
----------------------------
Support (1) 96.94
Support (2) 95.49
Support (3) 93.75
***********************************************************
Scenario
Timeframe H4
Recommendation: sell below
Entry Point 100.00 or 98.99
Take Profit 93.75; 90.06
Stop Loss 101.50
Murray Levels 100.00 (8/8), 93.75(7/8) 87.50 (6/8), 81.25(5/8)
***************************************************************************