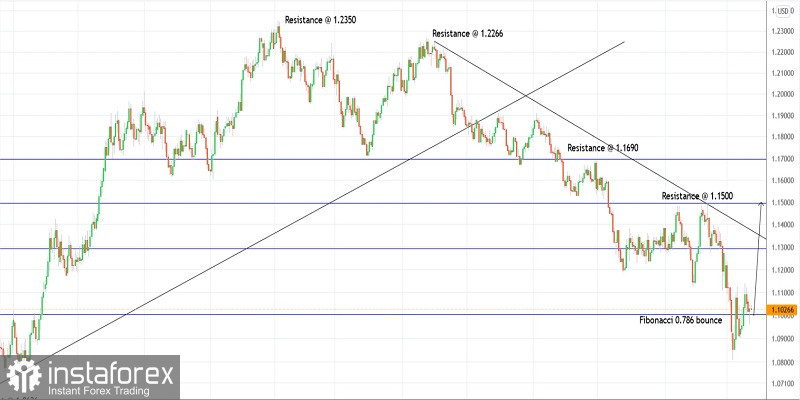 Technical outlook:
EURUSD might have carved a higher low around 1.0970 mark on Tuesday. The single currency pair had dropped in Asia Session before recovering and rallying towards 1.1040 highs by the New York Session. It has carved a Hammer candlestick pattern on the daily chart indicating a potential reversal.
EURUSD also found support just below the Fibonacci 0.618 retracement of the recent upswing between 1.0900 and 1.1137 levels, which is to shown here. If the above structure holds well, the next rally should push prices towards 1.1280 and 1.1520-30 mark at least. On the flip side, a break below 1.0800 would indicate further bearish probabilities.
EURUSD wave structure for the long term looks bullish against 1.0636 mark. The currency has carved a meaningful larger degree using between 1.0636 and 1.2350 levels. Further, it has been retraced to fibonacci 0.786 retracement of the above rally, which is seen close to 1.0800 levels. High probability remains for a push higher toward 1.1500 resistance going forward.
Trading plan:
Potential rally toward 1.1500 against 1.0636
Good luck!