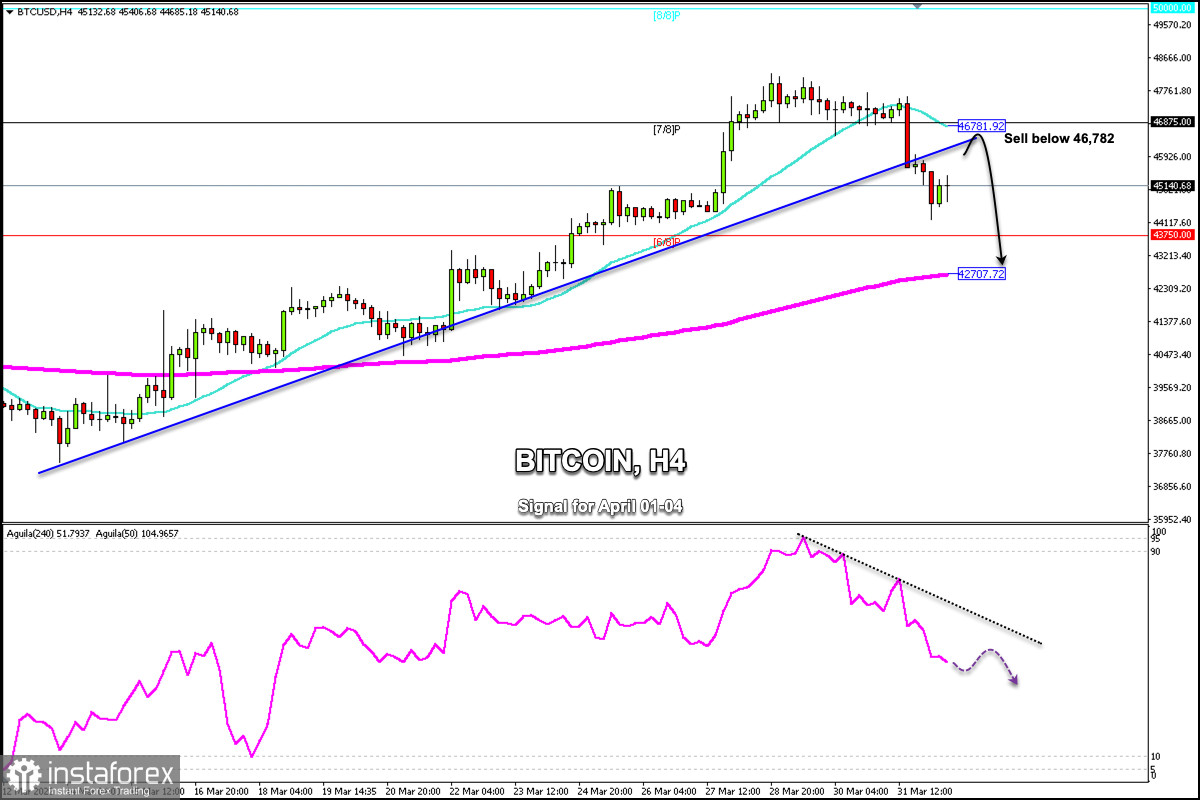 Since March 14, the Cryptocurrency market had a strong upward movement. The big driver was the comments that there is an agreement on the table between Ukraine and Russia.
This stimulated risk appetite and BTC climbed to $48,200 from the level of $37,500. BTC gains are estimated at more than 30% in 15 days.
The price of Bitcoin, Ethereum and other cryptocurrencies are still feasting on the positive news around Ukraine which has seen solid gains across all risk assets.
However, Bitcoin pulled back from the high of $48,200 to $44,188 in the European session today. It is currently trading at $45,140.
According to the 4-hour chart, we can see that BTC has broken the uptrend channel that sustained since March 14. A pullback towards the resistance zone of $46,781 is expected in the next few hours.
This is the level coinsiding with 21 SMA and 7/8 Murray which represents a key area of technical reversal. BTC is likely to resume its downward movement below this level and could reach the 200 EMA located at $42,707.
Fear, uncertainty and risk aversion could weaken the strength of Bitcoin. If the news from Ukraine is negative, we could expect a BTC drop towards the psychological level of $40,000 and it could reach the support zone of $37,500.
As long as Bitcoin consolidates and trades below $48,500, it will remain under strong bearish pressure and the price could reach $42,000. A breakout and daily close below $42,707 (200 EMA) could be the sign of a trend reversal. Bitcoin could resume its overall bearish move and reach the zone of 37,000 and even $35,000.