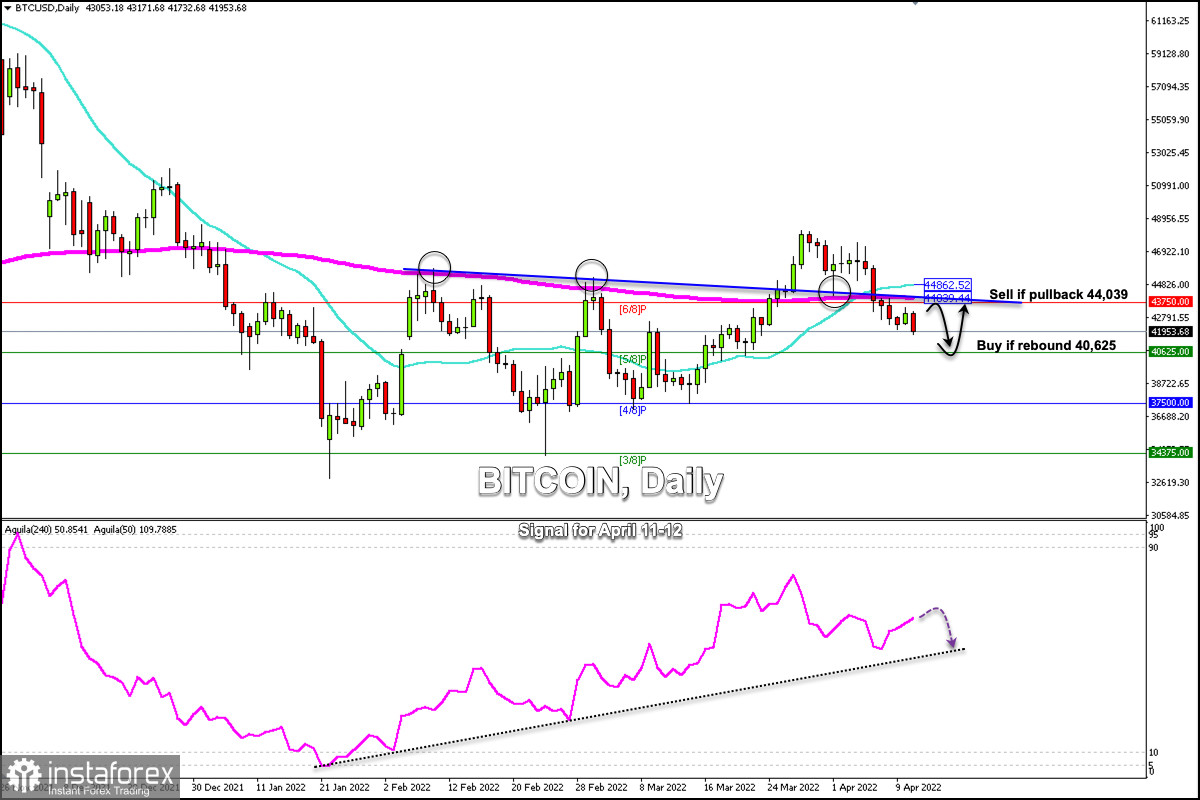 Bitcoin price fell below the support level of 43,750 (6/8 Murray) and below the 200 EMA at 44,039. It is currently trading at 41,953 below a bearish channel that was formed since early February.
BTC has strong resistance at 44,040 - 44,862. If the buying pressure is strong enough to overcome this significant barrier, there is a good chance that the price of Bitcoin could test the psychological level of $50,000. Such a development could also give Bitcoin a chance to cover the gap it left at 53,564.
Due to the presence of the 21 SMA and 200 EMA on daily charts and the resistance of 6/8 Murray at 43,750, BTC will have a strong top for a bullish attempt in the coming days.
A resulting bullish rally in BTC could push the price up to 48,200 and up to the psychological level of 50,000. Breaking through this barrier will quickly open the door for the bulls to test the strong resistance of +1/8 Murray at 53,125.
The last five days Bitcoin has been trading below the 200 EMA which is a negative signal. As long as BTC is under bearish pressure, it will continue to trade below 43,750 and is expected to drop to 5/8 Murray at 40,625.
Around the psychological level of $40,000 or around 40,625 (5/8), a technical bounce is expected and could be an opportunity to buy with targets at 43,750 or 44,862 (21 SMA).
Given that Bitcoin has a strong correlation with the equity market. If the crisis in Ukraine escalates, investors will try to take refuge in safe assets such as gold or the US dollar. If this happens, Bitcoin could suffer greater losses and it is likely to reach the level of 37,500 or even 34,375 (3/8 Murray) in the next few days.
Our trading plan for the next few hours is to sell in case of a pullback towards 44,039 or wait for a bounce to 40,625 to buy. The eagle indicator is showing signs of exhaustion of the bullish force.