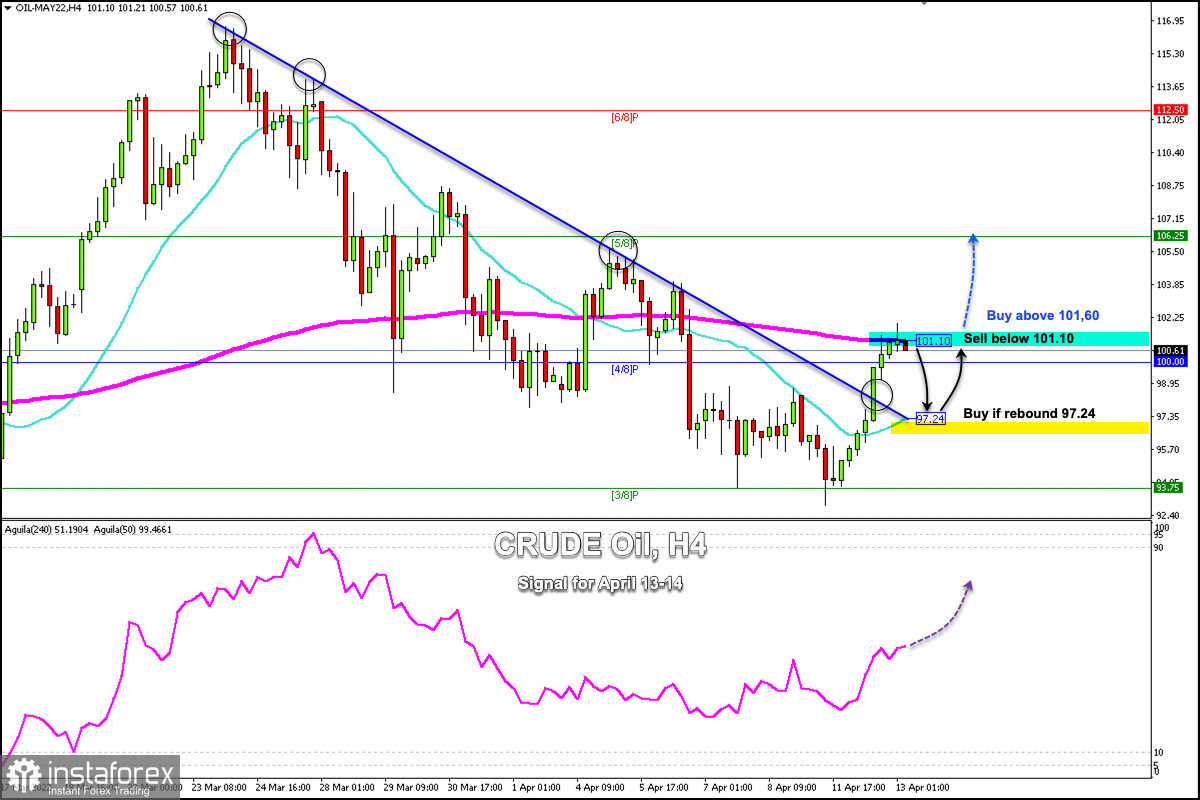 Crude Oil (WTI - #CL) in the Asian session is trading at 100.61 above the 4/8 Murray and below the 200 EMA.
WTI managed to bounce back when it hit the zone 3/8 Murray around 92.92, the weekly low. From that level, crude oil gained more than 900 pips in less than 48 hours.
The strong rebound of crude oil in the last few hours is a sign of a possible change in trend in the short term and the price could reach the level 6/8 Murray at 112.50.
According to the 4-hour chart, we can see that crude oil has broken the downtrend channel that was formed since March 22. This sharp break is a sign of a change in trend. A pullback to bearish channel support could confirm the upside move.
WTI received support in light of easing the restrictions in Shanghai, which had been imposed due to the COVID resurgence.
A rise above 101.10, where the 200 EMA is located, could change the bias in the short term and we could expect more advances in crude oil until it reaches 5/8 Murray at 106.25 and 6/8 at 112.50.
Conversely, below the 200 EMA located at 101.10, we could expect a technical correction towards the 21 SMA located at 97.24.
On the other hand, a technical bounce around the downtrend channel which was broken or around the 21 SMA at 97.24 will be a signal to buy, with targets at the psychological level 100.00 and at 101.10 (200 EMA).
At the same time, the break of 93.00 could enable further downside, with a possible target at 90.00.
The lack of progress in the talks between Ukraine and Russia continues to generate uncertainty among investors. A Russian offensive is expected. At the same time, there is speculation about the next possible sanctions against Russia.
This data could give a strong upward momentum to WTI that could reach 6/8 Murray at 112.50 and up to 8/8 Murray at 125.00.