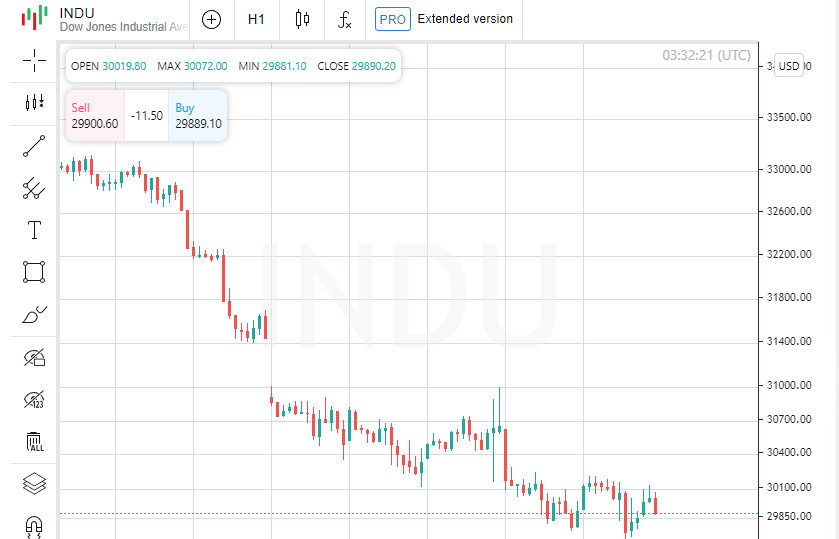 At the close in the New York Stock Exchange, the Dow Jones was down 0.13% to hit a 52-week low, the S&P 500 was up 0.22% and the NASDAQ Composite was up 1.43%.
The leading performer among the components of the Dow Jones index today was American Express Company, which gained 6.68 points or 4.86% to close at 144.18. Boeing Co rose 3.44 points or 2.58% to close at 136.80. Salesforce.com Inc rose 2.13% or 3.41 points to close at 163.26.
The losers were Chevron Corp shares, which lost 7.10 points or 4.57% to end the session at 148.38. Walmart Inc was up 1.93% or 2.33 points to close at 118.29, while Goldman Sachs Group Inc was down 1.82% or 5.19 points to close at 279. .79.
Leading gainers among the S&P 500 index components in today's trading were Norwegian Cruise Line Holdings Ltd, which rose 10.12% to hit 11.43, Carnival Corporation, which gained 9.71% to close at 9.60. as well as Enphase Energy Inc, which rose 8.94% to end the session at 184.75.
The biggest losers were Diamondback Energy Inc, which shed 8.52% to close at 122.29. Shares of ConocoPhillips shed 8.47% to end the session at 93.74. Quotes of Devon Energy Corporation decreased in price by 8.30% to 58.02.
Leading gainers among the components of the NASDAQ Composite in today's trading were Mereo BioPharma Group PLC ADR, which rose 62.50% to hit 1.30, SoundHound AI Inc, which gained 49.81% to close at 4.00 , as well as shares of Swvl Holdings Corp, which rose 35.29% to close the session at 6.90.
The biggest losers were Addex Therapeutics Ltd, which shed 55.16% to close at 1.50. Shares of Toughbuilt Industries Inc lost 51.48% to end the session at 1.48. Quotes of Advent Technologies Holdings Inc decreased in price by 27.57% to 2.89.
On the New York Stock Exchange, the number of securities that rose in price (1869) exceeded the number of those that closed in the red (1318), and quotes of 120 shares remained practically unchanged. On the NASDAQ stock exchange, 2648 companies rose in price, 1187 fell, and 210 remained at the level of the previous close.
The CBOE Volatility Index, which is based on S&P 500 options trading, fell 5.52% to 31.13.
Gold futures for August delivery lost 0.47%, or 8.70, to hit $1.00 a troy ounce. In other commodities, WTI July futures fell 6.53%, or 7.68, to $109.91 a barrel. Brent crude for August delivery fell 5.51%, or 6.60, to $113.21 a barrel.
Meanwhile, in the Forex market, EUR/USD fell 0.47% to hit 1.05, while USD/JPY advanced 2.08% to hit 134.96.
Futures on the USD index rose 0.97% to 104.43.