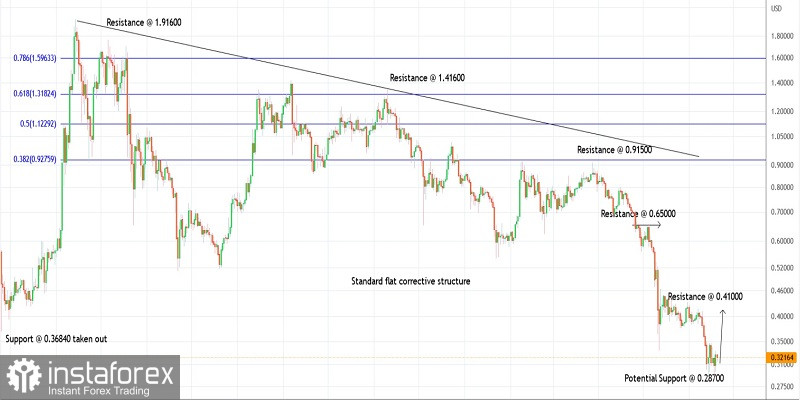 Technical outlook:
Ripple dropped through the $0.28700 lows over the weekend before finding some bids coming in. The crypto is seen to be trading above $0.32200 at this point in writing and is expected to push through $0.41000, initial resistance going forward. Bulls will be poised to hold prices above $0.28700 to remain in control from here.
Ripple seems to have terminated a complex corrective wave at around $0.28700, which had begun since the $1.91600 highs earlier. If the above-proposed structure holds well, prices should resume a rally from here taking out resistance at $0.41000, $0.65000 and further. A medium-term upside potential target could be towards $0.91500.
Ripple needs to first take out its immediate price resistance at $0.41000. This would confirm that bulls are back in control and the trend has potentially reversed. Traders might be preparing to initiate fresh long positions from current levels ($0.32000-0.32400) or after prices break through $0.41000 going forward.
Trading plan:
Aggressive: Potential rally through $0.41000 and $0.65000 against $0.28500
Good luck!