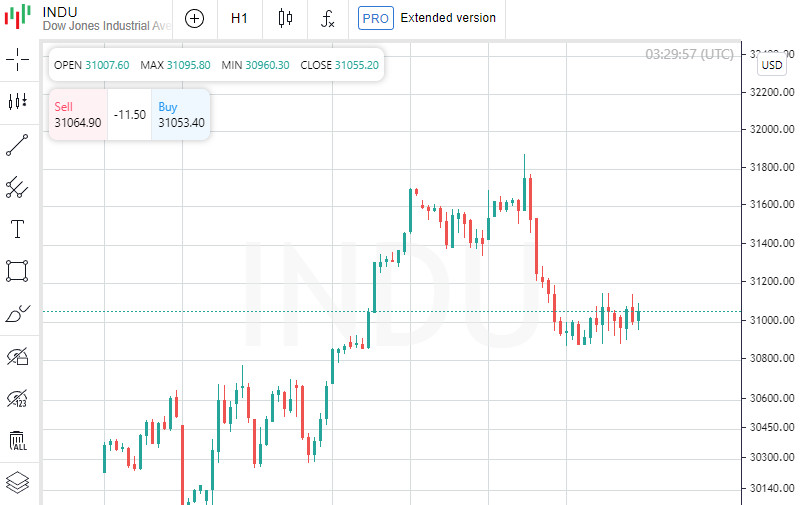 At the close of the New York Stock Exchange, the Dow Jones was up 0.27%, the S&P 500 was down 0.07% and the NASDAQ Composite was down 0.03%.
McDonald's Corporation was the leading gainer among the components of the Dow Jones in today's trading, up 4.91 points or 2.02% to close at 247.74. Quotes of Microsoft Corporation rose by 3.78 points (1.47%), closing trading at 260.26. UnitedHealth Group Incorporated rose 7.27 points or 1.43% to close at 515.71.
The biggest losers were Caterpillar Inc, which shed 3.96 points or 2.11% to end the session at 183.48. Chevron Corp was up 1.97% or 2.96 points to close at 146.98 while American Express Company was down 1.91% or 2.72 points to close at 139. 47.
Among the S&P 500 index components gainers in today's trading were General Mills Inc, which rose 6.35% to 74.72, ABIOMED Inc, which gained 2.97% to close at 256.49, and shares of Monster Beverage Corp, which rose 2.80% to end the session at 93.35.
The biggest losers were shares of Carnival Corporation, which shed 14.13% to close at 8.87. Shares of Royal Caribbean Cruises Ltd shed 10.26% to end the session at 36.02. Quotes Norwegian Cruise Line Holdings Ltd fell in price by 9.33% to 11.57.
Leading gainers among the components of the NASDAQ Composite in today's trading were Allena Pharmaceuticals Inc, which rose 114.29% to hit 0.26, COMSovereign Holding Corp, which gained 60.36% to close at 0.25, and also shares of Brickell Biotech Inc, which rose 47.64% to close the session at 0.17.
The biggest loser was Agile Thrpe, which shed 36.10% to close at 1.54. Shares of Exicure Inc lost 27.81% and ended the session at 0.09. Quotes Aileron Therapeutics Inc fell in price by 27.14% to 0.30.
On the New York Stock Exchange, the number of depreciated securities (2061) exceeded the number of those that closed in positive territory (1058), while quotes of 125 shares remained virtually unchanged. On the NASDAQ stock exchange, 2,368 companies fell in price, 1,358 rose, and 178 remained at the level of the previous close.
The CBOE Volatility Index, which is based on S&P 500 options trading, fell 0.71% to 28.16.
Gold futures for August delivery lost 0.06%, or 1.05, to hit $1.00 a troy ounce. In other commodities, WTI crude for August delivery fell 1.97%, or 2.20, to $109.56 a barrel. Brent oil futures for September delivery fell 1.43%, or 1.63, to $112.17 a barrel.
Meanwhile, in the Forex market, EUR/USD fell 0.73% to hit 1.04, while USD/JPY edged up 0.39% to hit 136.65.
Futures on the USD index rose 0.57% to 104.86.