Crypto Industry News:
We are almost two weeks after the historic moment of the Merge, i.e. the transition of the Ethereum network to the Proof-of-Stake model. Due to the abandonment of ether extraction with the existing PoW model and the failure to take off the ETHPoW blockchain resulting from the fork, many former ETH miners complain that they have no idea what to do next.
Following the merger, many ETH mining professionals began discussing their future on Twitter. Internet services have contacted several former Ethereum miners to find out what their plans are. The information obtained shows that the mood in this community is currently gloomy, as for many miners nothing is clear about the next steps. Former miner Christian Ander told the service:
"Honestly, I don't know which way to go yet. Selling GPU power to other compute-intensive services isn't as profitable as mining ETH. I'm researching myself, and my colleagues are looking for new options for themselves."
The former miner recalls that "GPU owners are researching and selling their devices' computing power to another cryptocurrency project, and when energy prices are very high, they shut down and sell excess power to the grid." Ander admitted that he is not mining any cryptocurrencies at the moment and is only observing the market.
Another former Ethereum miner, Kevin Aguirre, said he sold his equipment to a person who is now using it to mine other coins. However, it states:
"I have a little bit of regret about how the adventure with my mining machine ended, but it finally supported me and my family during the pandemic."
At a time when Ethereum used the Proof-of-Work algorithm, GPUs were quite popular. After the Merge almost two weeks ago, GPU manufacturers began to record heavy losses.
Technical Market Outlook:
The ETH/USD pair had reversed all the recent gains made after the bounce to the level of $1,399 and is currently trading around the demand zone seen between the levels of $1,288 - $1,257. After the aggressive and dynamic reversal, the next target for bears is seen at the level of $1,100, $1,000 and $990, which means the low from 22th September located at $1,220 should be broken as the down trend will continue.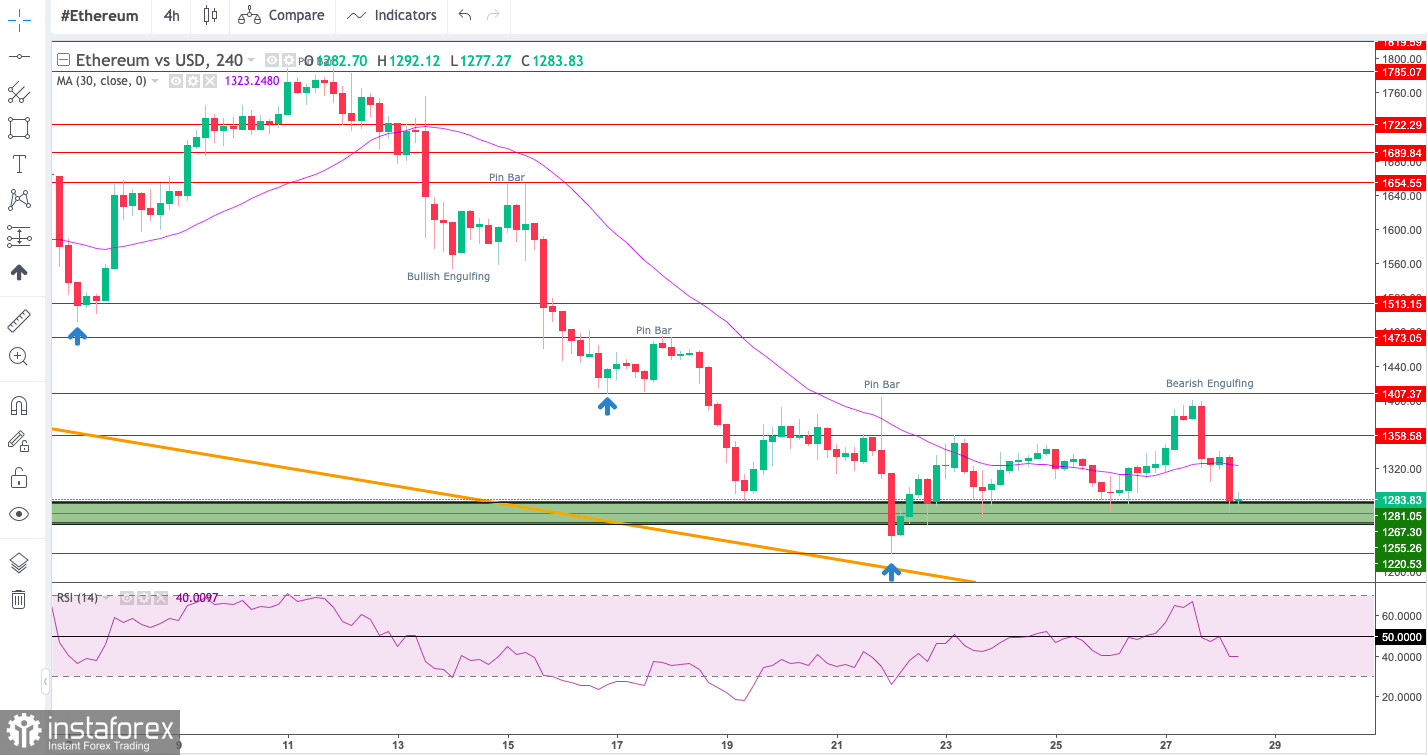 Weekly Pivot Points:
WR3 - $1,352
WR2 - $1,322
WR1 - $1,302
Weekly Pivot - $1,291
WS1 - $1,271
WS2 - $1,260
WS3 - $1,230
Trading Outlook:
The Ethereum market has been seen making lower highs and lower low since the swing high was made in the middle of the August at the level of $2,029. The key technical support for bulls is seen at $1,281 as a part of the demand zone located between the levels of $1,252 - $1,295. If the down move will be extended, then the next target for bears is located at the level of $1,000.