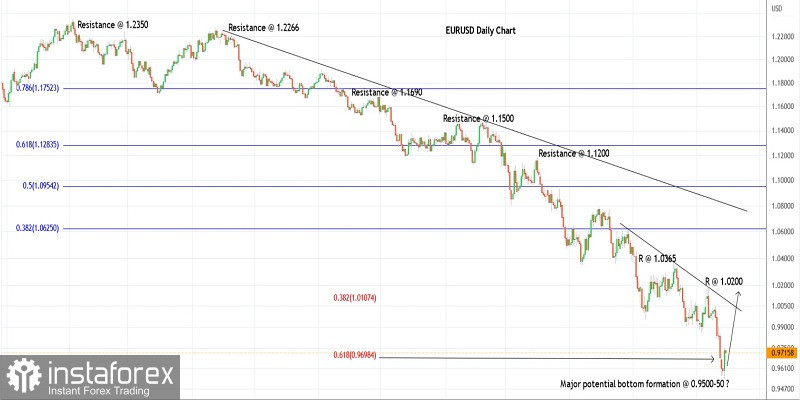 Technical outlook:
EURUSD rose through the 0.9750 highs during the New York session on Wednesday after testing the levels close to the 0.9535 lows earlier. The daily chart has confirmed a Morning Star bullish reversal pattern, which could push prices through 1.0200 at least. The potential remains for a push towards 1.0600 which is the Fibonacci 0.382 of the earlier bearish drop between 1.2350 and 0.9535.
EURUSD has hit major Fibonacci support close to the 0.9550-0.9600 area as projected on the daily chart here. A significant target has been met just above the 0.9500 handle and the price could also produce a sharp bullish reversal. The bulls are now looking poised to hold prices above the 0.9535 mark and push through the 1.0200 initial resistance at least.
EURUSD has interim support just above 0.9500 while resistance is seen at 1.0200, followed by 1.0365. Looking at the daily chart, a break above 1.0200 would signify that the bulls are under control and are looking to push through 1.0600. Only a consistent break below 0.9535 from here will bring back bears into the picture.
Trading idea:
Potential rally towards 1.0200 and up to 1.0600 against 0.9500
Good luck!