Yellen's speeches tend to raise the US currency
Hello, dear colleagues!
Today, the review of the Forex market's main currency pair was released unusually late. Sorry for this inconvenience.
Thus, the situation is the following. Firstly, EUR/USD downtrend has not been completed, even despite the reversal signals of the candlestick analysis, presented earlier. Secondly, the market has always been focused on Janet Yellen's speeches, even when she was a chair of the Federal Reserve Board. Currently, Janet Yellen is the Secretary of the US Department of the Treasury. It is evidently one of the key positions. Besides, the markets have been further concentrated on this professional monetary official's comments. In the personal view of the author of this article, Janet Yellen fully deserves such attitude and respect from the market participants. Unlike her predecessor Ben Bernanke nicknamed "Helicopter Ben", who was focused on printing and distributing US dollars in unlimited quantities globally.
Finally, Janet Yellen put the Fed issues in order and reduced slightly the excessive printing of money, i.e. US dollars. Frankly, the current Fed Chair deserves my personal respect as well. First of all, Jerome Powell defended the significance of the body he headed when his protege, former US President Donald Trump, exerted great pressure on him. Overall, I think the point is clear. Yellen's speeches tend to boost the US currency. Powell is more neutral in this respect. It is better not to beat around the bush and analyze the price charts.
H4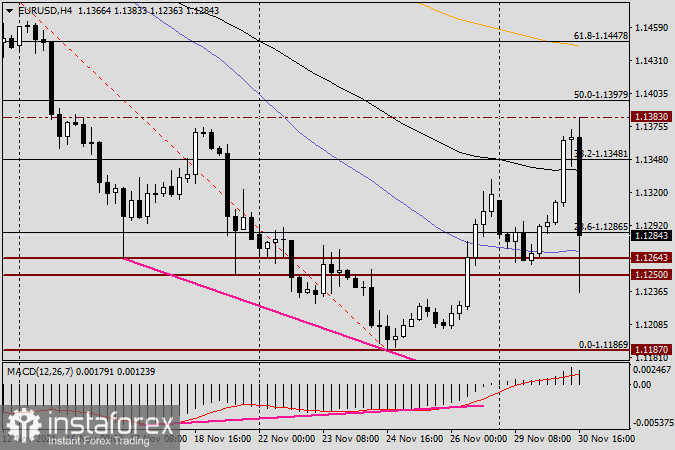 After passing the black 89-exponential moving average, the pair tried to continue rising. However, after it passed a strong and significant technical level of 1.1300, the EUR/USD found an equally strong resistance from sellers around 1.1383. Besides, it was predictable. Pay attention to the strong quote's collapse which occurred after the attempt of the price to rise above a very strong technical and even record high 1.1360! Notably, the bullish divergence of the MACD indicator is already broken, which does not prevent the pair from resuming its current bearish trend.
That is exactly what occurs at the time of completion of this article. It is good that the previously given recommendation to sell the main currency pair of the Forex market after the upward correctional rebounds is confirmed. A further plan is below. It is recommended to await a consequent breakout of the levels 1.1350-1.1300. Then, on the rebound to these prices it is better to plan selling. More profitable prices for selling are near 1.1370-1.1380. At this time, selling the EUR/USD pair remains the main trading recommendation. However, it's better and more reliable to open short positions on EUR/USD after insignificant corrective rebounds upwards. In this case prices will be more tempting.
Good luck and see you tomorrow!