BTC plunge stops at around $42,000 and correction begins
Bitcoin started the week on a sound note. The cryptocurrency plunged by $15,000 at the weekend. However, markets have already priced in a larger portion of losses – about a half, to be more precise. However, after a total decline of $27,000 (from the high to the low), a corrective wave began to form, but we will talk about corrective waves a bit later. It seems that such a sharp drop in price may well be the beginning of a new downtrend section. The Evergrande issue that triggered a plunge in the cryptocurrency market has not been solved yet. The company that has the highest debt in its industry (about $300 billion) is highly likely to be declared bankrupt. If Evergrande's inability to fulfill its pledge to guarantee payment on a $260 million note sent BTC into a tailspin, what will happen next time? In any case, the flagship cryptocurrency showed considerable growth. Although there are numerous long-term and large investors, the market is likely to be bearish. After all, even long-term investors did not save BTC from falling by $27,000. So, why can't the digital asset continue to decline?
Predictions about BTC climbing to $100,000 in 2021 did not come true
Therefore, it is time to make forecasts for the next year. As for bitcoin, it is always interesting to read forecasts of various analysts, banks, investment companies, and funds. Indeed, hardly anyone is interested in the outlook for the euro for the next year. Meanwhile, even those who do not own BTC read forecasts about it. Many analysts expected Bitcoin to soar to $100,000 in 2021. Today, we may conclude that the cryptocurrency is unlikely to get to this mark in the remaining 3 weeks. Analyst PlanB usually makes accurate forecasts. However, the analyst's predictions did not come true this time. At the same time, trader Nicholas Merten thinks that BTC will easily hit the $200,000 mark next year in case of an optimistic scenario. The trader suggests the coin will skyrocket in March of next year. Speaking of BTC not reaching $100,000 this year, Merten said that "it will take much longer than many claim for crypto markets to reach a cycle top." It is difficult to understand why nobody has made this assumption earlier if it is so simple and obvious.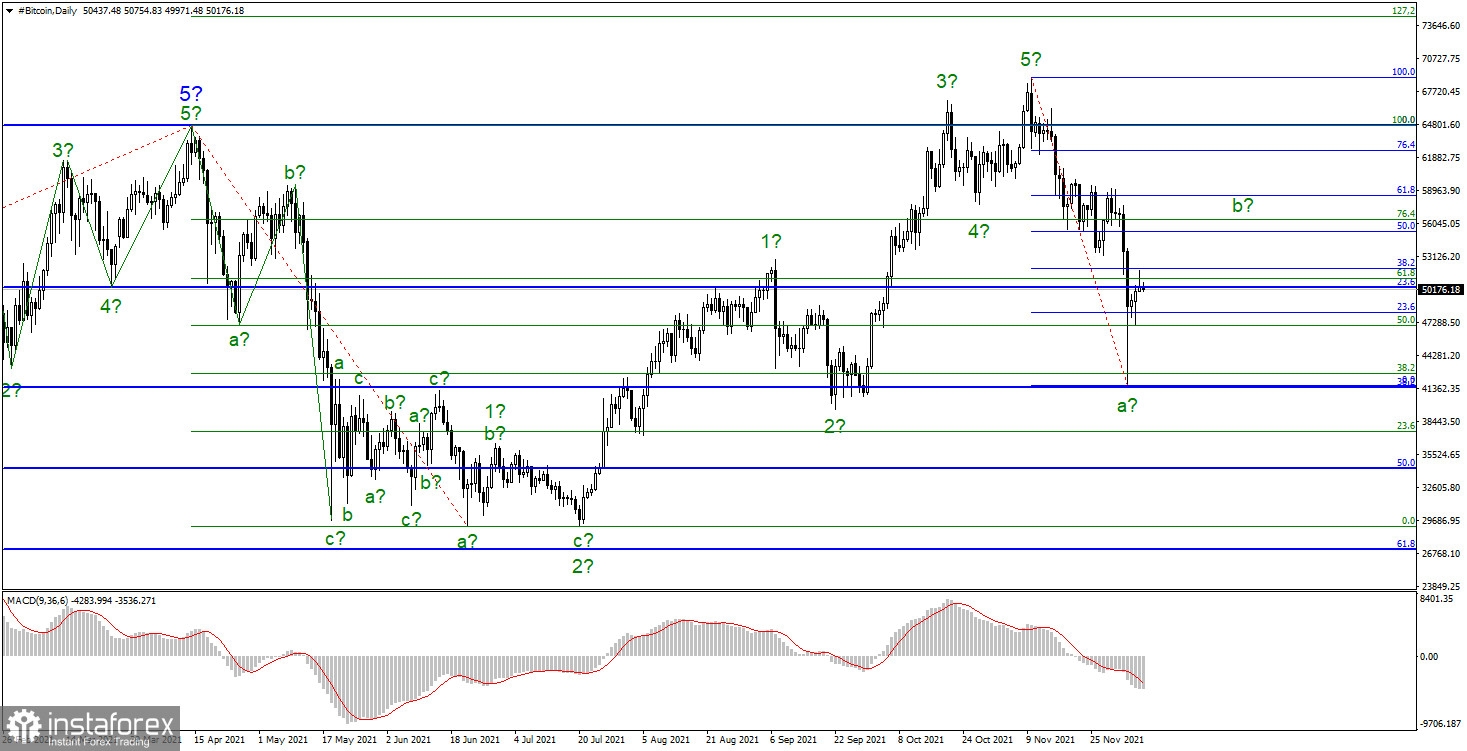 The current uptrend structure still looks clear. The wave layout cleared up after the instrument went above the high of supposed Wave 3. On the chart, there is now an impulsive 5-wave structure that began to form on July 20. However, over the past three weeks, the price has been pulling back from the highs, meaning that Wave 5 is about to complete soon. This wave looks shorter. After plummeting by $27,000, the quote went up. So, these two sections could be waves (a) and (b) of the new corrective downtrend section. Therefore, the price is likely to rise within wave (b) with targets at around $52,077 and $55,295, in line with the 38.2% and 50.0% Fibonacci levels from wave (a). After the completion of this wave, a new descending wave (c) may start to form, with its low being well below the $41,700 mark.