Bitcoin trades smoothly over weekend
The world's first cryptocurrency is trading smoothly over the weekend. This makes one wary of the storm that will follow the calm. At the moment, the 4-hour timeframe (figure below) shows a downtrend. Therefore, as long as the cryptocurrency is below the Ichimoku cloud and below the downtrend line, it is definitely not worth buying. But the possibility of a new bitcoin decline remains quite high. Those factors that can and should push it down are long-term, which means bitcoin is unlikely to simply collapse to $20-30k per coin. Most likely, the gradual downward movement will continue.
Cathie Wood believes bitcoin is likely to soar 10 times
Meanwhile, with bitcoin seeing another plunge, ARK Invest head Cathie Wood has outlined a condition for Bitcoin to rise to $500,000. She believes large investors will continue to increase their investments in the first cryptocurrency. Wood did not provide any reasons for investors to continue buying bitcoin. However, she did note that bitcoin has a low correlation with other asset classes. Therefore, it could be attractive to investors in terms of risk diversification. In her opinion, if institutional investors invest up to 5% of their money in bitcoin, the cryptocurrency could gain as much as $0.5m.
Consequences of Fed meeting for bitcoin exchange rate
There is a very important event coming up next week that could have a significant impact not only on the FX market but also on cryptocurrency. At the Fed meeting, it may be announced that the QE program will be cut by at least $15 billion, and many experts believe it could be reduced as much as $20-30 billion, given rising inflation. Thus, all high-risk assets will face challenging times. Bitcoin has already fallen in price by more than $20,000 since the Fed first reduced the QE program. And that trend could continue. There will be less and less money flowing into the cryptocurrency market. However, will institutional investors take the advice of Cathie Wood? Notably, many investors still consider bitcoin to be a waste of money and are not going to invest in it. Thus, some companies like Microstrategy or Tesla continue to invest in digital currency, but not everyone is following suit. From our point of view, even a rally to $100,000 is far from certain, especially with the tapering of monetary stimulus and the Fed's rate hike next year.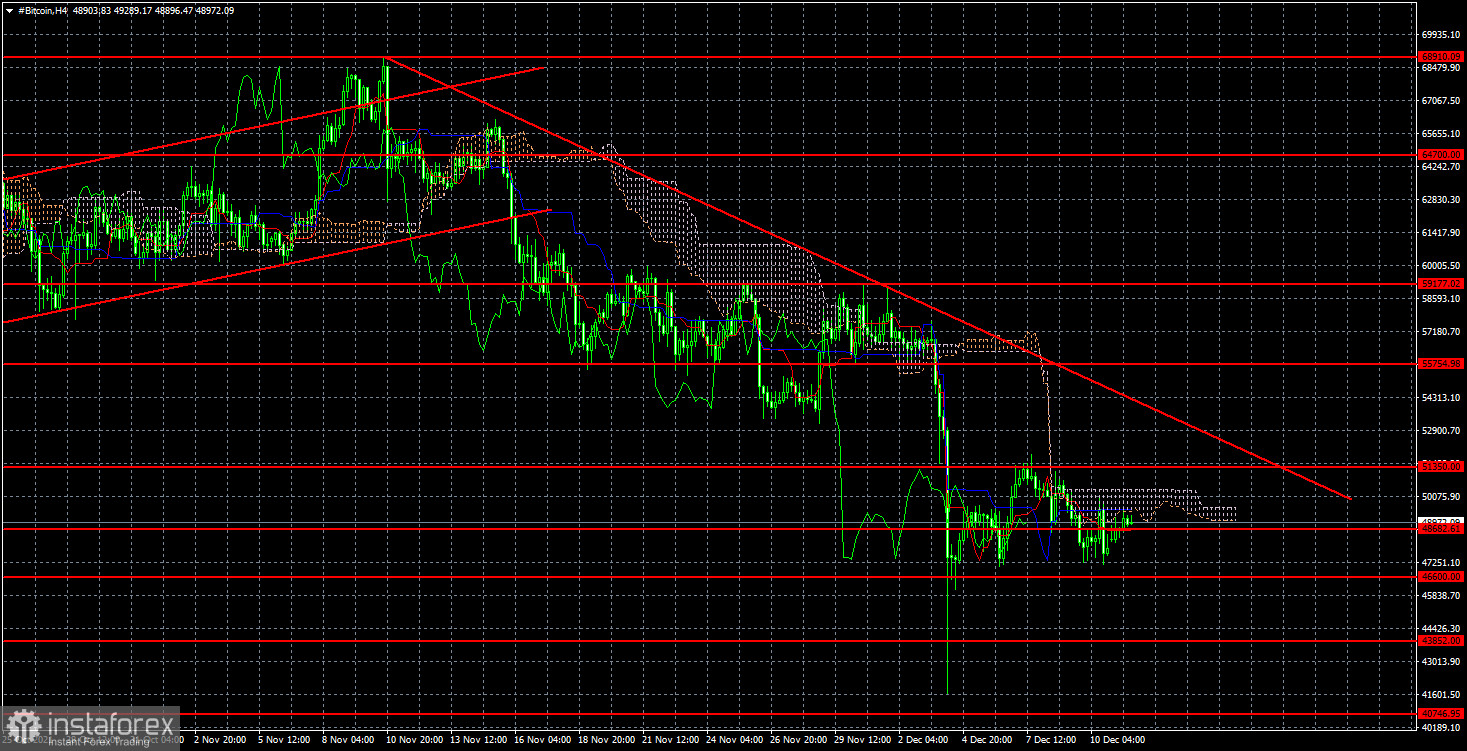 On the 4-hour timeframe the trend is descending. There is also a downtrend line, which supports further drop of the bitcoin. The cryptocurrency is below the Ichimoku cloud, so even in the current timeframe there are no prerequisites to start rising yet. The nearest target levels are $46,600, $43852 and also $40,746. The bitcoin will only rise again if it moves above the trend line. In our view, a new downtrend is now emerging.