US stock index futures pushed new highs following the Federal Reserve's meeting on Wednesday. The regulator accelerated QE tapering and hinted at three interest rate hikes in 2022.
The Dow Jones Industrial Average futures jumped by 183 points, while the S&P 500 and the NASDAQ 100 futures both gained 0.8%.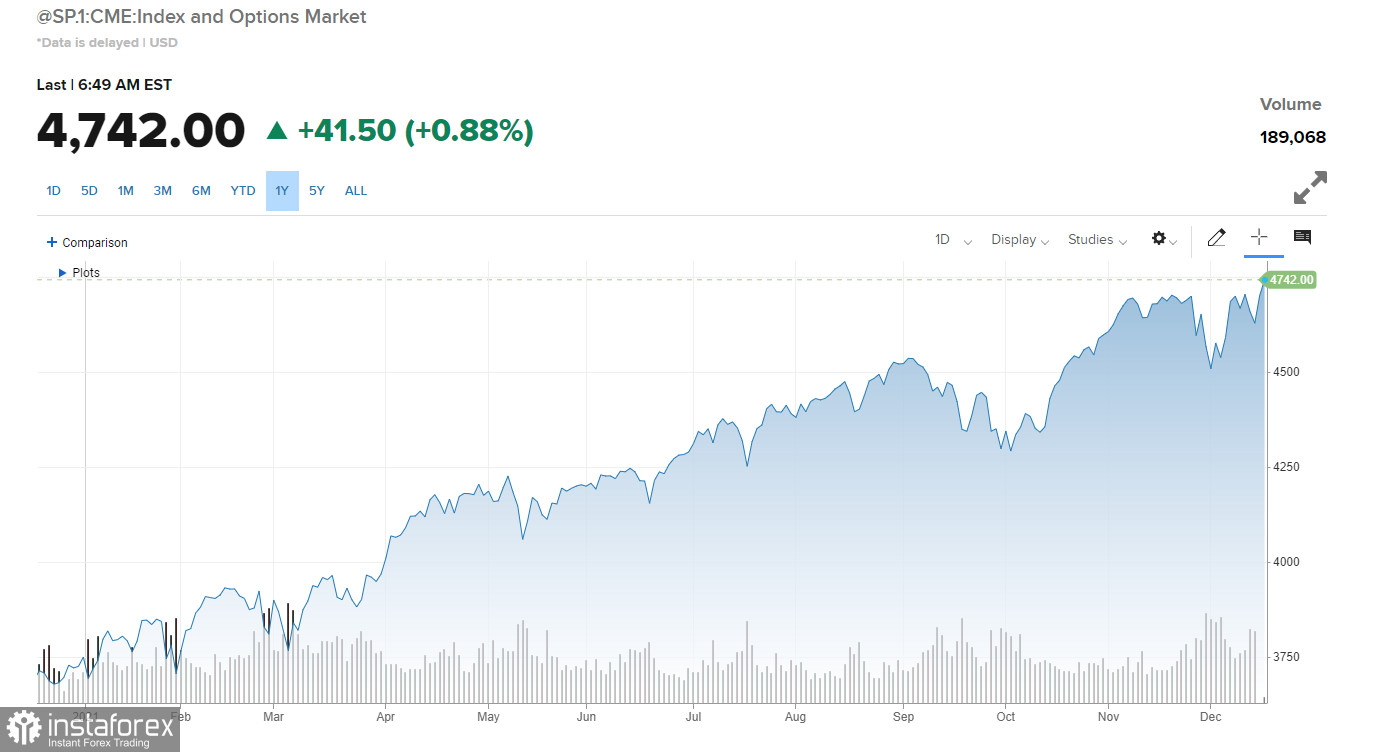 Today, traders eye the results of ECB and BoE meetings on monetary policy, as well as the weekly US jobless claims report and housing starts data. Adobe, Accenture, FedEx, and Rivian are due to publish their financial reports prior to market open.
The Fed's decision boosted the expectations of traders regarding the interest rate increase. The US fed funds market has priced in a 63% probability of a hike in May 2022, as well a 44% probability of a rate increase in March 2022.
The dot plot showed 12 out of 18 FOMC members expect at least three rate raises next year. Five members expect two rate hikes and one member expects one hike in 2022. This is well above September's outlook, when half of the Fed members expected at least 1 increase in 2022. Furthermore, the Fed revised down the GDP growth projections for 2021 and adjusted the inflation outlook upward for 2021, 2022, and 2023.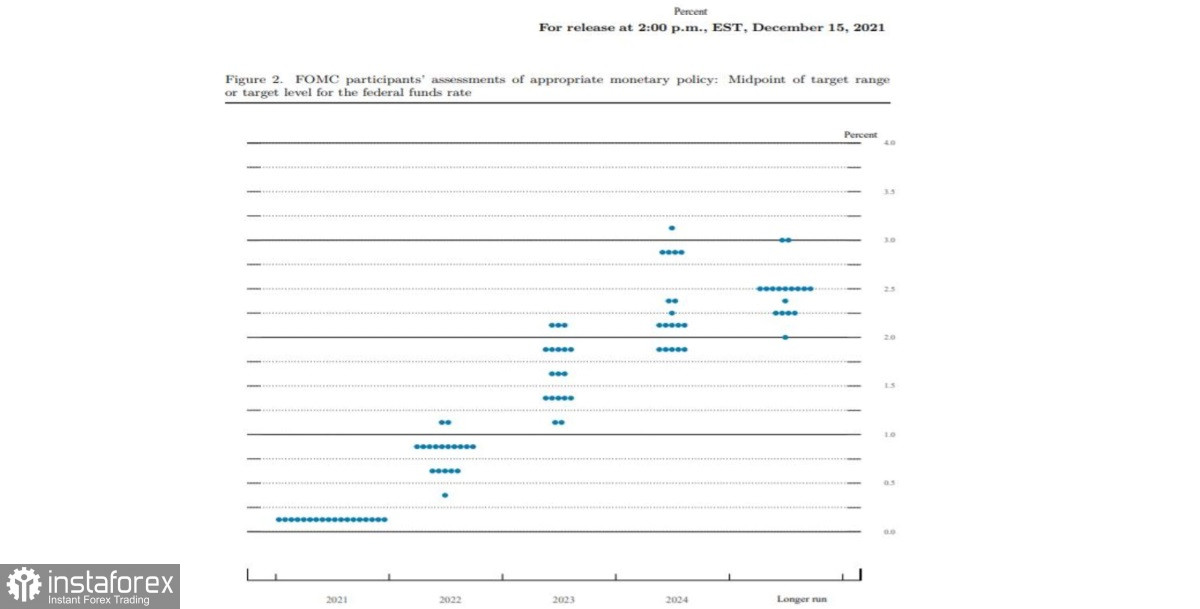 On Wednesday, major indexes closed in positive territory, with the Dow Jones adding 383 points or 1.08%, the S&P 500 growing by 1.63% and the NASDAQ Composite jumping by 2.15%
The Federal Reserve succeeded in its goal of making a smooth transition from a dovish to a hawkish monetary policy. The tech sector has led the upside, while the healthcare and utility stocks remain on the defensive due to concerns over Omicron's impact on the economy in the future.
Jerome Powell, chairman of the Federal Reserve, also ditched the "transitory" label for inflation, suggesting that the Fed has now fully realized the threat posed by rising prices and would take action at once.
Shares of healthcare companies UnitedHealth and Amgen rose on Wednesday by 3.1% and 2.6% respectively
Best-performing companies during the previous rate hike cycle led the upside, with FMC Corp. and Freeport-McMoRan gaining 3% during the premarket. In the banking sector, stocks of JPMorgan Chase, Citigroup, and Bank of America added about 0.6%.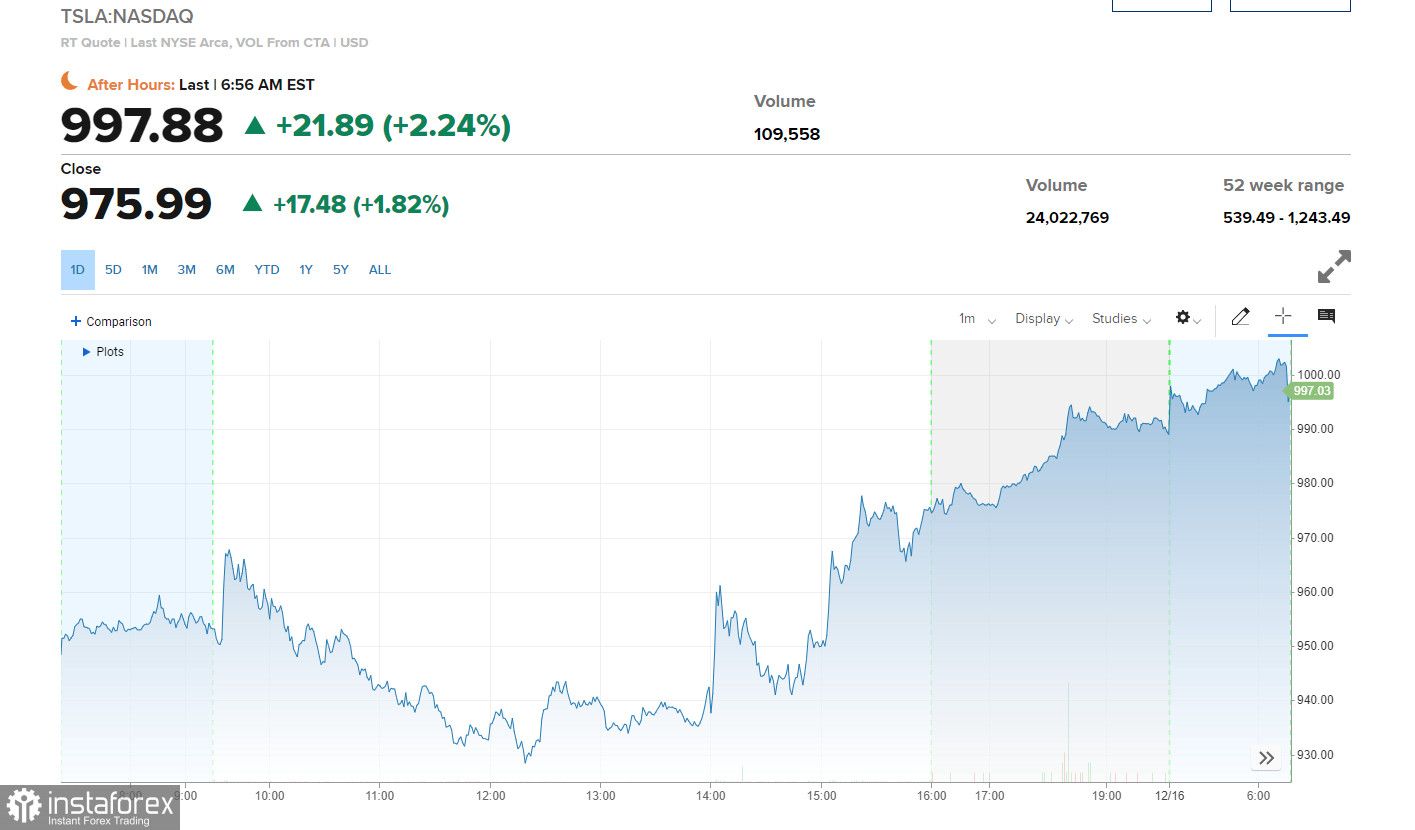 Tesla stock rallied during the premarket, rising by more than 2.16% thanks to rising demand for risk assets and overall market optimism.
Shares of Apple gained 0.75% during the premarket on positive market sentiment.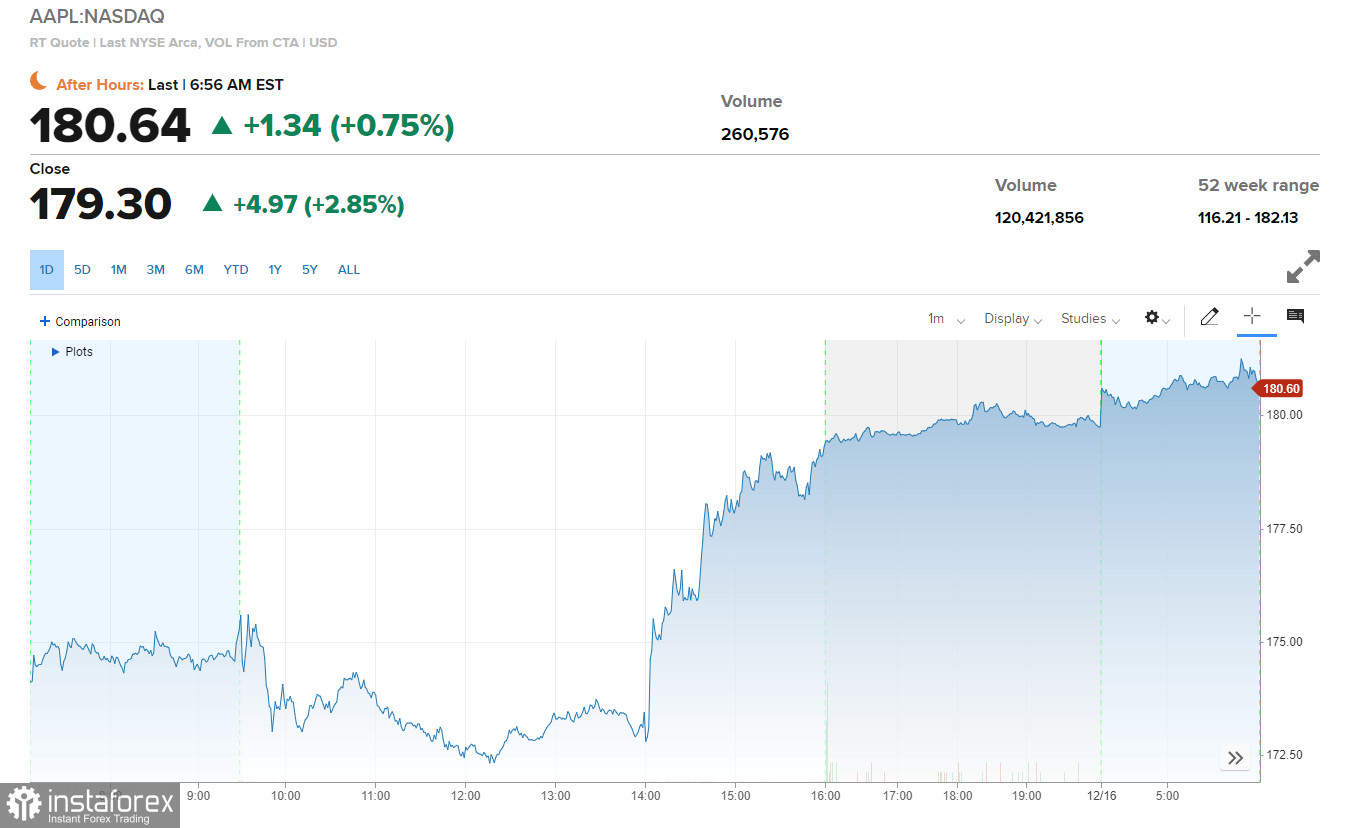 On the technical side, the S&P 500 has broken above $4,718. Settling above that level is now an important goal for bulls, which would allow the price to approach the high at $4,761. If the index fails to hold on to $4,718, it would again trade under pressure in a sideways channel, with support levels located at $4,665 and $4,661.