US stock index futures rebounded on Tuesday after a three-day downward rally sparked by fears of a faster spread of a new Omicron coronavirus variant. The Dow Jones Industrial Average futures added 260 points, or 0.8%, while the S&P 500 climbed about 0.8%. The high-tech Nasdaq 100 rose by 1%.
Meanwhile, 10-year Treasury bond yields have recovered slightly after falling sharply due to the Omicron variant. Currently, yields are at 1.36%. Oil has also strengthened and is back to $70/bbl. Notably, the Dow Jones was down over 400 points and the S&P 500 and Nasdaq Composite lost about 1% yesterday.
The new Omicron coronavirus variant is spreading very quickly across the United States. An outbreak of the Covid-19 pandemic has already been reported in more than 45 US states. According to World Health Organization officials, the Omicron variant is more contagious than any previous Covid-19 variant. Last week, it accounted for 73% of new coronavirus cases in the United States. However, drug companies noted they could produce vaccines against Omicron in the coming months. They added that they had already been engaged in this process.
Apparently, Christmas and New Year vacations in many countries will be slightly spoiled by further restrictions and social distancing measures. Besides, this fact exerts pressure on the markets. There are also supply chain problems that have not been solved this year by Joe Biden's administration. Moreover, it has also failed to implement the Build Back Better plan, extremely significant for the US economy and households. The gradual reduction in the stock market due to the coming weekend could also lead to sharper volatility. A decline in indices may be a good buying opportunity in the future.
Now let's preview the pre-market and discuss company news: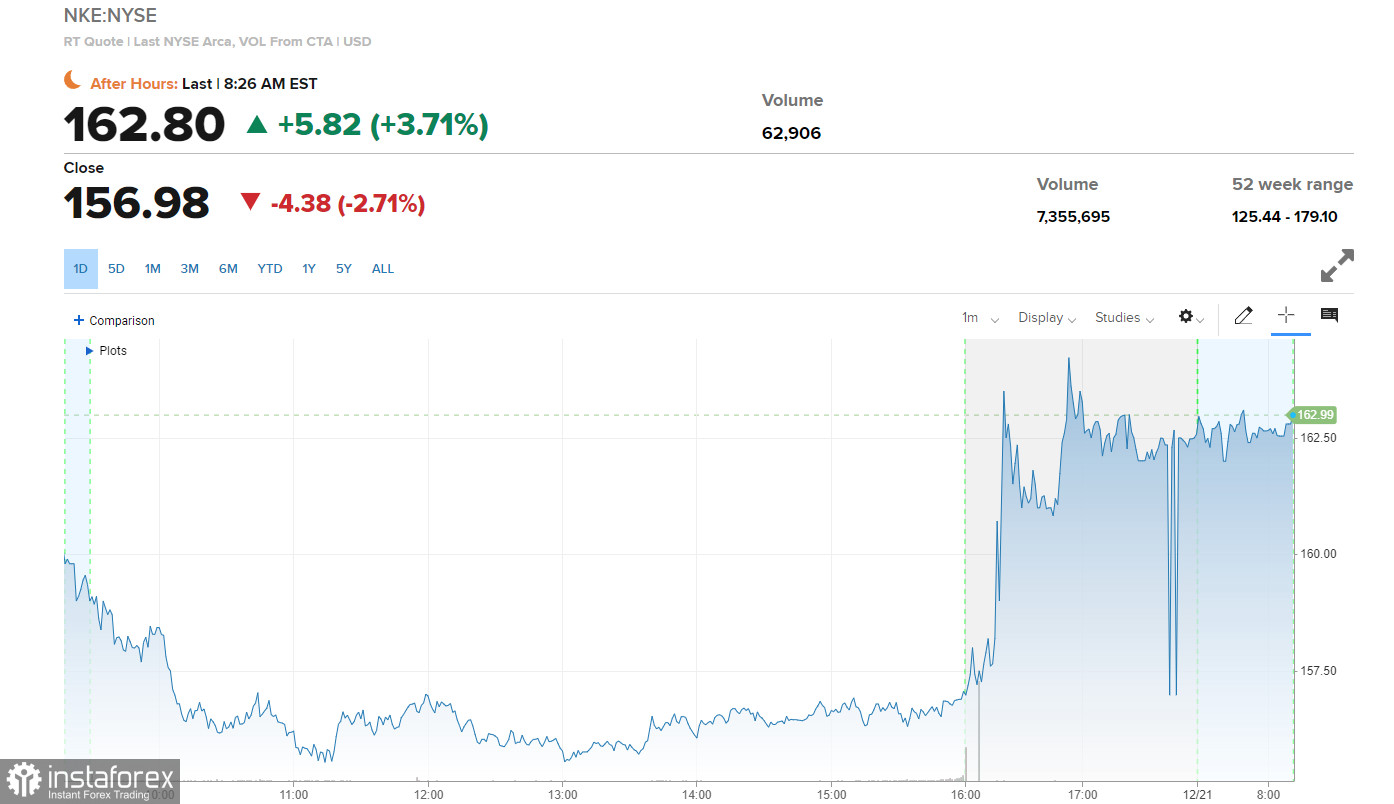 Nike's stocks jumped 3.5% on the premarket after the company reported quarterly earnings of 83 cents per share, 20 cents above economists' estimates. Revenue was also slightly above forecasts. However, the US athletic footwear and apparel maker said sales could decline due to supply chain problems in shipping goods.
Chip maker Micron released a report that beat economists' estimates by 5 cents per share. Quarterly earnings totaled $2.16 per share. The chipmaker's revenue also exceeded expectations. Micron gave an optimistic outlook amid continued strong demand for its chips. The company's shares surged 8.2% at the premarket.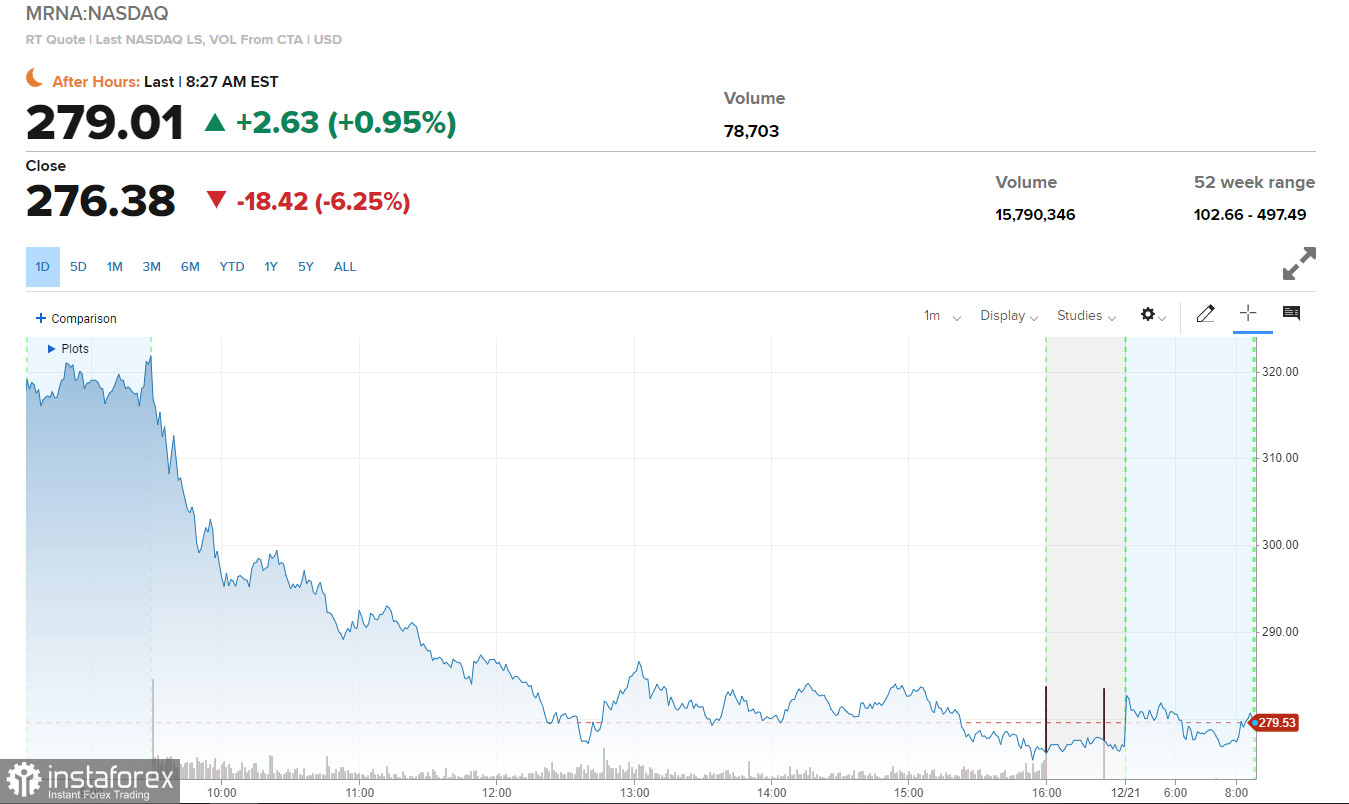 As for the pharmaceutical industry, Moderna CEO Stephan Bansel said today that work on a booster to protect against the new Omicron variant could begin within weeks. He added that only minor adjustments to the existing vaccine would be necessary. Moderna said earlier this week that a booster dose of its current vaccine provided about a 70% chance of protection against the new variant. The company's stocks added about 1.3% at the premarket.
Graphics chip maker Nvidia's shares rose by 3% at the premarket after UBS called the company a front runner, noting Nvidia's extensive capabilities in the markets.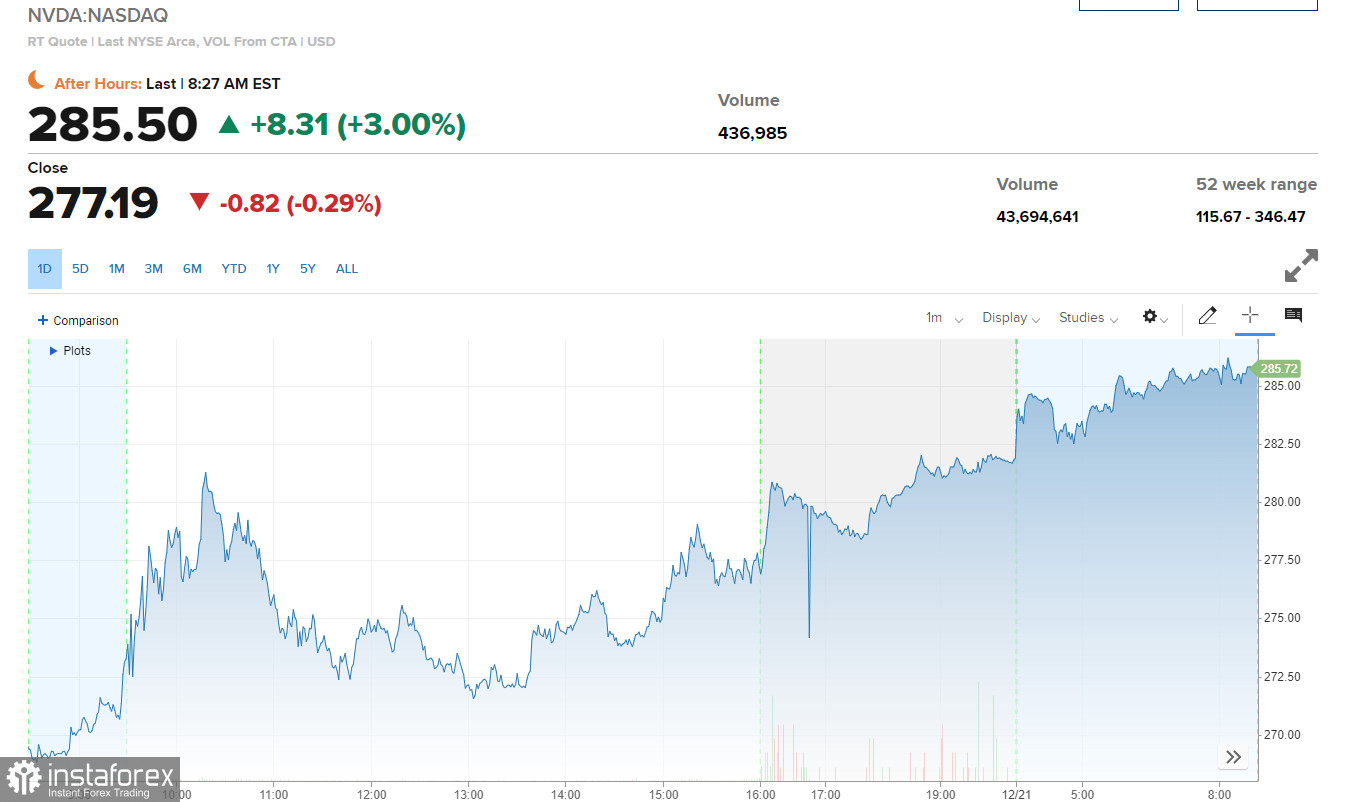 Technical picture of S&P500.
The breakout of the significant support of $4,611 has not been performed yet. However, buyers are likely to focus on that level today. In case of further pressure on the index, support will be provided by the level of $4,551, below which it was impossible to break yesterday. The bigger lows of $4,512 and $4,470 are slightly below. With this market, it is easy to reach them quickly. In case of index growth and partial compensation of losses together with the breakout of $4,611, it is possible to expect restoration of the trading instrument to the area of $4,665 and $4,718.