Although the market reacted positively to Fed chief Powell's speech today, investors are still diverting funds to safe havens.
Eurobonds break records, companies rush to raise cash
On January 13, Europe's debt market broke records with $113 billion of sales in a single week as borrowers rush to get ahead of rising interest rates.
The tally beats a previous record set in early 2020, before the pandemic took hold.
The rush in the government and corporate loan market follows an earlier than usual market close in the run-up to Christmas, as the European Central Bank is set to start winding down bond purchases. Rate hikes are also expected in the US after the biggest jump in consumer prices in almost four decades last year.
Portugal and Ireland have all raised funding this week.
"There is a bit more nervousness about how much spreads and yields may widen due to the Fed and the overall inflation picture," Marco Baldini, head of EMEA and Japan bond syndicate at Barclays Plc, said. "That is definitely spurring issuers to go for a deal before they go into blackout, when in other years they may have done nothing."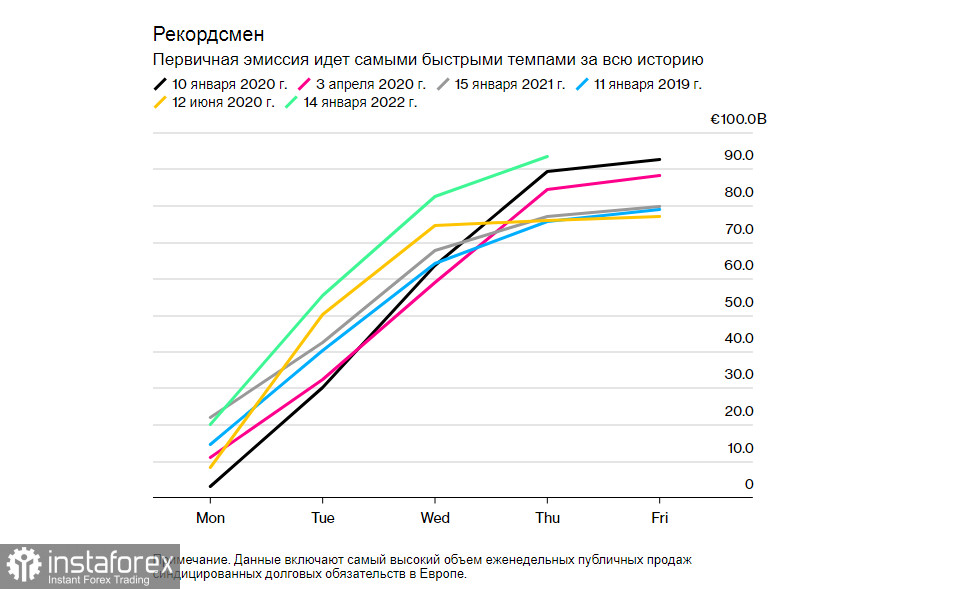 Large supranational and sovereign issuers such as the French agency CADES and the European Financial Stability Fund are not far behind. This has contributed to the market's fast start to the year.
Investors are piling in too: EFSF pulled in 30 billion euros ($34 billion) of bids for its two-part 5.5 billion euros deal, while CADES booked over 26.5 billion euros of orders for its 6 billion-euro sale.
Corporate bond boom
Companies are also seeking to raise cash before the current monetary policy rollback.
"With the purchase program coming to an end, issuers are taking advantage of very robust funding conditions," Neal Ganatra, Deutsche Bank AG's EMEA head of debt capital markets, SSA syndicate, said. "When we look at the names that have come to the market, they are very much the traditional frequent issuers."
The corporate market is also seeing its share of big deals, as firms seize on Europe's still relatively low borrowing costs as the year's first raft of corporate earnings and subsequent quiet period approaches.
Enel SpA, Prosus NV and E.On SE all raised at least 1 billion euros apiece. That's helped push non-SSA sales ahead of the US market, where high-grade issuance had reached $36 billion as of Wednesday's close.
Borrowing is in line the highest forecasts of the beginning of this year, according to which 39% of respondents said they expected weekly sales to exceed €50 billion.
January is traditionally one of the busiest months of the year for publicly syndicated debt issuance. However, the imminent changes in central bank policy is forcing the markets to rush.
"We are seeing an abundance of supply because this is the first full week of the year, when everyone is back at their desks," Deutsche Bank's Ganatra said. "Last week, with the holidays, execution windows were very tight."
Still, he said, "executing a transaction is no longer as straightforward as it was last year."
On the European primary market on Thursday, for example, as many as 19 issuers are offering 21 tranches. Notable sectors include: real estate firms absorbing an early recall of bonds, the agricultural sector increasing bond pools by €50m, attracting investor demand. Software developers are also active.
In China, property developers continued to reduce volumes amid signs of increased debt stress in the affected sector. Country Garden Holdings Co. has failed to find demand for $300 million in convertible bonds as supply in the bond market is oversupplied, and Chinese developers have let the local economy down for a second month, discouraging traders.
Thus, according to insider information, several major Chinese banks have become more selective in financing real estate projects by local governments, fearing that some of them are taking on too much risk after they replaced private developers as the main buyers of land.
China's junk-rated developers, who are closer to investment grade than many comparable companies, experienced one of the biggest drops in dollar bond prices on Thursday.
In the US, financial managers are also turning away from US junk bonds. They are increasingly inclined to return to the high quality debt area because they receive the lowest risk premium for such securities since before the pandemic. The risk premium on the highest level junk bonds was only 0.72 percentage points higher than that of the lowest investment grade corporate bonds at the end of December.
Their decision is also spurred by inflation data.
Effects of interest in bonds
For the rest of the markets, this means a serious outflow of funds. Equity indices will be in decline in the near term, as money has flowed into the bond sector. Crypto markets should also not expect a strong bullish surge due to investors' desire to hedge their risks.
The main currency pairs are rising, in view of the volume of bond pools that need to be serviced. This trend is likely to continue until the next price and unemployment reports.