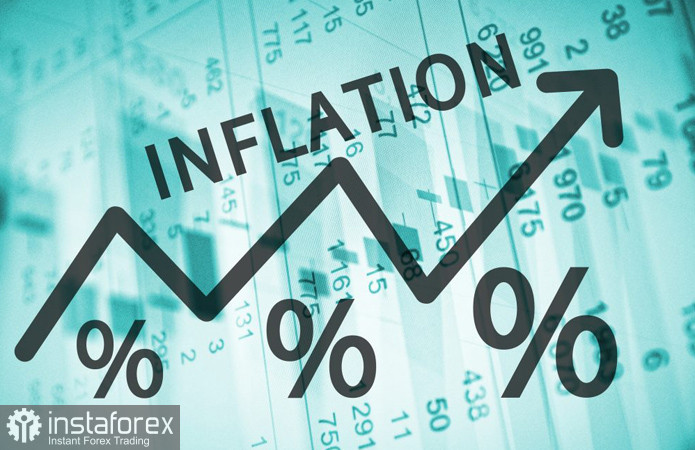 This week, the economic calendar contains only one crucial economic report for the US dollar and the stock market – US inflation figures for January. By the end of December, the Consumer Price Index rose to 7.0% YoY, the highest in four decades. However, the new report could be even worse. According to experts, inflation in January may total 7.1% or 7.3%, signaling its further rise. If so, the probability of the key rate hike by the Fed will increase. The central bank will have to take a more aggressive approach to monetary policy. For example, now, traders are confident that the regulator will hike the key rate by 0.25% for the first time in March. However, if inflation continues to rise in January and in February, then in March the Fed may raise the key rate by 0.5%. Naturally, it will be bearish the stock market. The US dollar, on the contrary, will gain momentum.
The target rate for inflation is 2%. For a long time, the Fed has been unable to achieve it. Now, it has to take measures to cap rising inflation that approaches new highs almost every month. Many experts believe that one key rate hike may not even be enough. The fact is that several factors push consumer prices higher. Notably, some of them were created by the Fed itself. For example, the quantitative easing program was also the reason for surging inflation. The Fed pumped about $5 trillion of liquidity the US economy in a year and a half, which inflated the Fed's balance sheet to $9 trillion. Huge money injections triggered an increase in consumer prices. After all, inflation rises when the market is overloaded with money while the number of goods and services stops increasing. The Fed needs to cut money injections to the economy to curb inflation. However, the central banks will be able to complete asset purchases no earlier than in the summer of 2022.
Supply chains disruptions continue to undermine production, which also pushes inflation higher. After lockdowns, Americans had much more money than before the pandemic. As a result, they rushed to buy various goods. However, the pandemic affected production in various countries. Therefore, the world is facing a shortage of some goods due to growing demand. When there is a shortage, prices of these goods begin to soar. There is no need to say that the government will not be able to solve the problem of supply chain disruption by raising the key rate.