On Wednesday, US stock index futures retreated slightly after Tuesday's rally, amid signs of de-escalation between Russia and Ukraine. Dow Jones futures lost 49 points, while S&P 500 and Nasdaq 100 futures moved negligibly.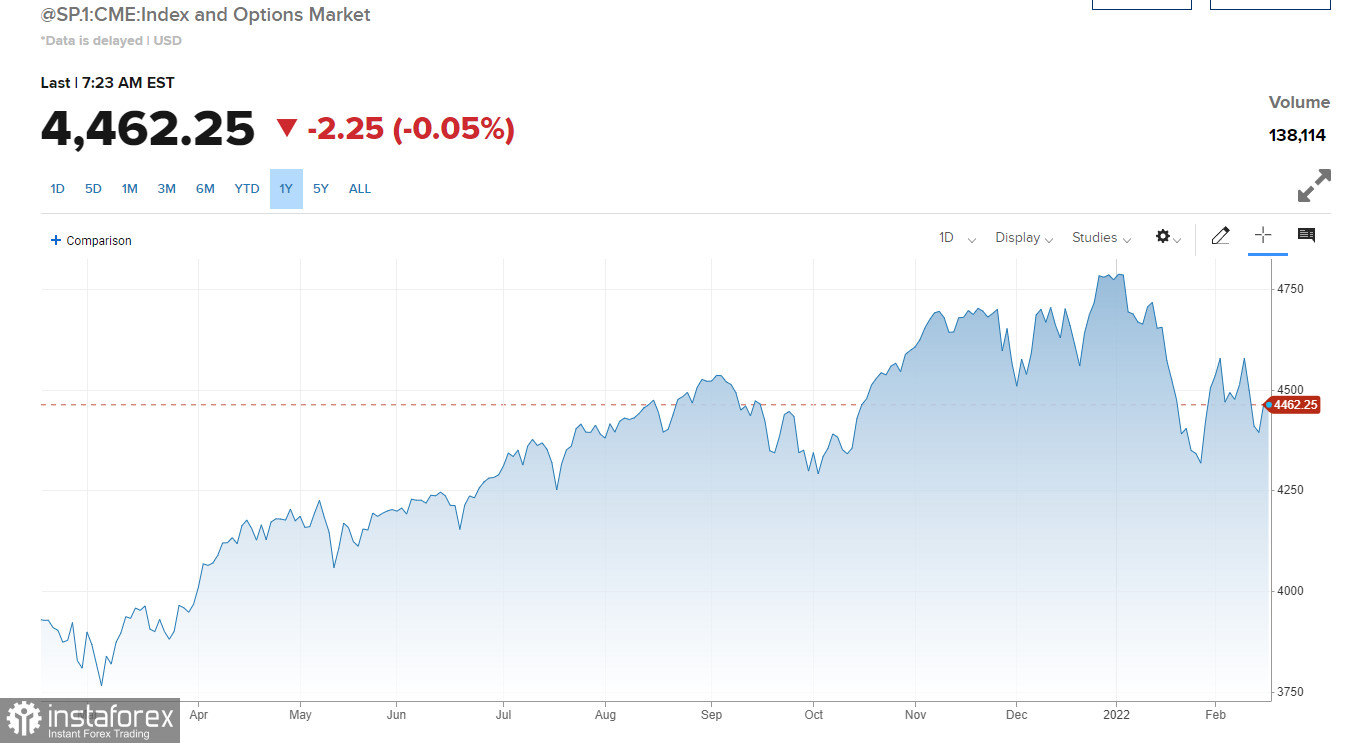 Major US stock indexes closed in positive territory yesterday after 3 days of losses. The Dow Jones added 422 points or 1.2%, the S&P 500 gained 1.58%, and the NASDAQ Composite rose by 2.5%. The yield of benchmark 10-year US Treasury bonds remained above 2% as risk appetite returned to the market. The bond's yield has remained unchanged today, with a rate of 2.04%.
This week, markets were largely influenced by tensions between Russia and Ukraine, as well as a prospective interest rate hike by the Federal Reserve. Yesterday, Russia announced a troop pullback from territories close to the border with Ukraine. Igor Konashenkov, representative of the Russian Ministry of Defense, stated that military forces of Southern and Western Military Districts concluded their drills and were returning to their home bases. His statement was disputed by NATO officials the following day.
US president Biden reiterated the US resolve to defend NATO. "If Russia proceeds, we will rally the world to oppose its aggression,", Biden said. He added that the US together with allied states were ready to impose powerful economic sanctions to undermine Russia's ability to compete economically and strategically.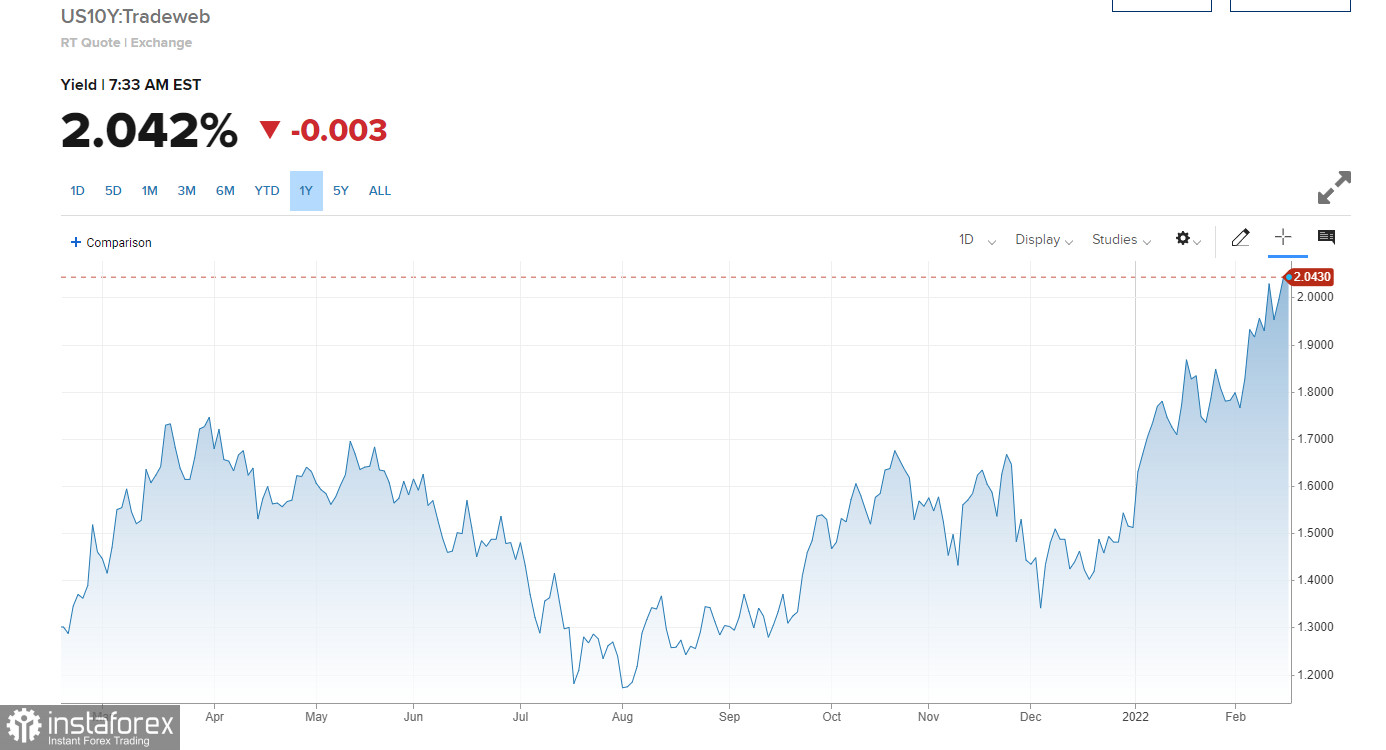 Premarket
ViacomCBS has announced it will change its name to Paramount Global. The rebranding reflects the company's focus on its Paramount + streaming service. Earlier, shares of ViacomCBS declined by 1.04% following a disappointing earnings report. The company's adjusted earnings per share for October through December were only 26 cents, below analyst projections of 43 cents per share.
Shares of Wynn Resorts fell by 1.6% after the company reported an adjusted loss of $1.25 per share. Although the loss was higher than previously projected, the company's revenues reached $1.05 billion, exceeding market expectations and limiting the stock's decline.
Energy prices went up sharply on Wednesday, with natural gas prices increasing by almost 6% and crude oil rising by 1%.
Soaring inflation remains a serious issue for the Federal Reserve – according to recent data, producer prices in January rose higher than previously projected. Investors now await the January FOMC meeting minutes, which will be released today at 14:00 ET. The meeting minutes have lost their relevancy in the light of recent US inflation data and Monday's Fed meeting. The market has priced in an interest rate increase of 50 basis points (0.5%) in March.
With recent data highlighting the fact that inflation is no longer transitory, the Fed is expected to be hawkish, but it remains unclear how they would act. In September, market players priced in a single interest rate increase. Now, 6-7 hikes are expected this year.
Today, US retail sales data is due – sales are projected to rise by 2.1% in January. Furthermore, Applied Materials, Hyatt, AMC, Nvidia and Cisco Systems will report their earnings today.
On the technical side, the S&P 500 has regained $4,449 and is currently above this level. Further upside movement is now possible. If the index returns below $4,449, it could challenge support at $4,378. A breakout below this support level would put extra pressure on the S&P 500 and resume the bearish trend, opening the way towards the lows at $4,312 and $4,265. Bullish traders could try to push the index towards the high of $4,536, which would extend the upward trend and allow the S&P 500 to test the major resistance level of $4,598.