Hewlett-Packard Inc shares soared to highs overnight after it became known that Warren Buffett bought 11.4% of the company's shares for a total of about $4.2 billion. At the same time, Amazon expects a shareholder vote due to an unsuccessful internal corporate policy.
Amazon is having a difficult time, and Hewlett-Packard is adding to the price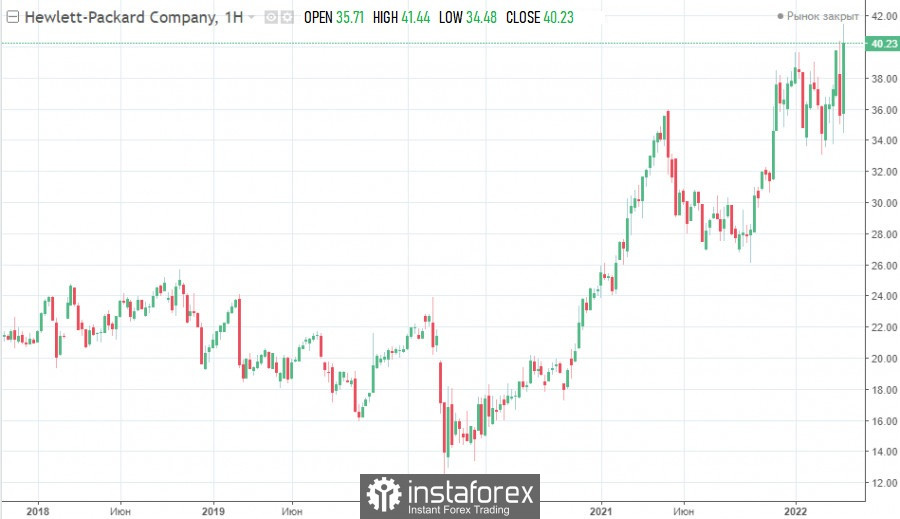 The world's leading retailer Amazon.com Inc. will hold a vote among shareholders who insisted on an independent audit of corporate communication within the company - now with warehouse workers - after the main US securities regulator rejected the company's application.
According to supporters, this decision means that Amazon investors will have the opportunity to vote on this issue for the first time, taking advantage of the recommendations of the US Securities and Exchange Commission in November, which made it more favorable to voting on important social issues.
This is far from the first social and labor scandal involving the conglomerate.
Amazon, founded by billionaire Jeff Bezos, has been increasingly criticized in recent years for its treatment of workers, including allegations of poor working conditions in its warehouses and attempts to prevent workers from unionizing.
In recent years, investors around the world have been pushing companies to take care of their workforce as part of an increased focus on social issues. So Tulipshare, a London-based activist retail investor platform, helped file a resolution seeking to shed light on Amazon's practices.
In particular, the proposal submitted on behalf of Tulipshare investor Thomas Dadashi Tazehozi asked the company to conduct an independent audit and report on working conditions in the company.
Of course, Amazon asked the SEC to allow them to refuse to put the resolution to a vote, claiming that the problem is related to normal business transactions, but the regulator's letter put an end to the controversial issue, obliging management to comply and organize an audit.
Amazon did not immediately respond to a request for comment from reporters.
However, it is now known that the annual general meeting of shareholders is scheduled for May 25.
Nevertheless, a separate decision of shareholders to conduct an occupational health and safety audit, submitted to the company by investors, including the Domini Impact Equity Fund, was not supported by the regulatory authority.
Noting that the second resolution "largely duplicates" the first, the SEC said there were some grounds for the company's request to be allowed to skip the vote, and it would not recommend enforcement measures if Amazon did so.
Recall that last week about 55% of warehouse workers in Staten Island voted to create the first American union on Amazon.
In general, the policy of trade unions helps companies become more socially oriented in the long term, so it makes sense to give employees the opportunity to protect their rights.
The price of AMZN stock futures has been steadily falling since April 5, dropping by more than 200 points in two trading sessions.
But Hewlett-Packard had a festive day: after the multi-billionaire immediately bought a large pool of shares of a PC manufacturer, the company's shares soared.
Berkshire, owned by the financial markets tycoon, said Wednesday evening that it owns almost 121 million HP shares, including 11.1 million purchased this week.
HP shares rose $5.28, or 15.1%, to $40.19 in early trading on Thursday after earlier hitting a record high of $40.50.
Separated in 2015 from the former Hewlett-Packard, HP is a traditional technology company. During the two years of the pandemic, the company has only benefited from increased demand, as people spend more time working and studying at home.
Thanks to this, the company is conducting a merger.
So, last month, a company from Palo Alto, California, agreed to buy the manufacturer of audio and video accessories Poly, formerly known as Plantronics, for $ 1.7 billion.
For his part, Buffett until recently was desperately trying to find convenient targets for his profits of $146.7 billion, which his conglomerate from Omaha, Nebraska had accumulated, citing high market valuations and competition from private equity and other investors.
As a result, Berkshire said last month that it had invested about $22 billion in major new investments.
These include a 14.6% stake in Occidental Petroleum Corp and the purchase of the insurance company Alleghany Corp for $11.6 billion, which is Berkshire's largest acquisition since 2016.
Buffett's company also owns dozens of businesses, including Geico auto insurance and BNSF Railroad, and ended 2021 with a $161.2 billion stake in iPhone maker Apple.
"Berkshire Hathaway is one of the most respected investors in the world and we welcome them as investors," HP said in a statement.
Analysts disagreed on what goals Berkshire pursues by becoming a shareholder of HP.
So, one of the analysts, Mark Cash, said that HP may turn to Berkshire, since HP is aggressively returning capital to shareholders through share buybacks and higher dividends.
"HP operates in markets that are difficult to (long-term) grow at high rates, so focusing on margins and revenue is the best way to reward shareholders," Cash said. "In technology, HP can be seen as a value game."
This makes sense, because in 2021 Berkshire bought out its own shares for $27 billion.
However, there were plenty of such companies in 2021. Most likely, HP was able to interest the largest individual shareholder with its plans for the development and development of new markets.
Time will tell, however, it seems that we have just received another confirmation that even with the reduction of the market (in this case, technological), there are and will be interesting targets for trading.