Bitcoin continues its fall and moves steadily towards $30k, if not lower. May turned bearish for the cryptocurrency due to its close association with the stock markets. The asset is perceived as a high-risk instrument and is used in a limited number of cases, which are supported by the upward trend of the coin. At the same time, Bitcoin is harmed by the Fed's policy, which is aimed at combating rising inflation. And here a logical question arises: why has Bitcoin ceased to be perceived by investors as a means of protecting against inflation?
A good point was made by Bank of America experts, who linked Bitcoin's problems as a deflationary vehicle with a close correlation with stock markets. This is also hinted at by a 16% drop over the past 7 days, which indicates the complex adaptation of the cryptocurrency to new realities. Consequently, Bitcoin has become a full-fledged high-risk vehicle, and not an asset to protect against inflation. And this statement is indeed true, but since sentiments and attitudes towards a particular instrument shape the actions of investors, you need to dig a little deeper and understand why in the current situation it makes no sense to rely on the main cryptocurrency in the hope of saving yourself from inflation.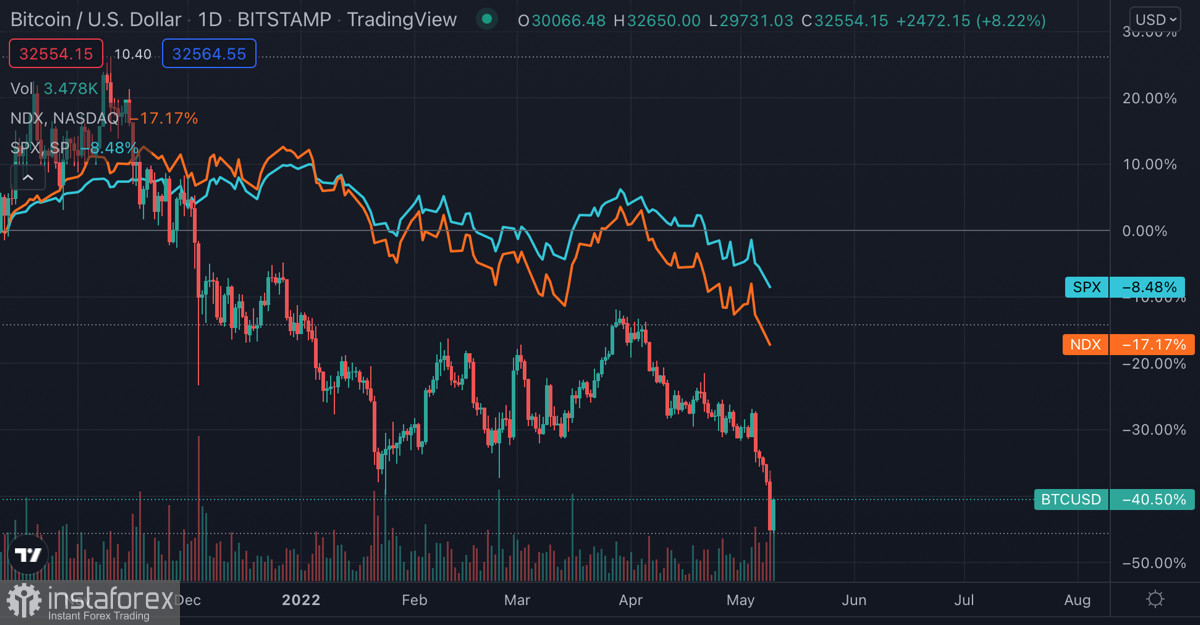 When analyzing this situation, a conflict arises: on the one hand, investors are ready to use Bitcoin as a hedge against inflation. On the other hand, they are hindered by the high volatility of the asset, which does not allow the full introduction of cryptocurrency into the institutional environment. This is where the main problem with using Bitcoin as a hedge against inflation lies. High returns imply price spikes that come from a high level of volatility. In other words, without high volatility, Bitcoin will not be as interesting to institutional investors as gold.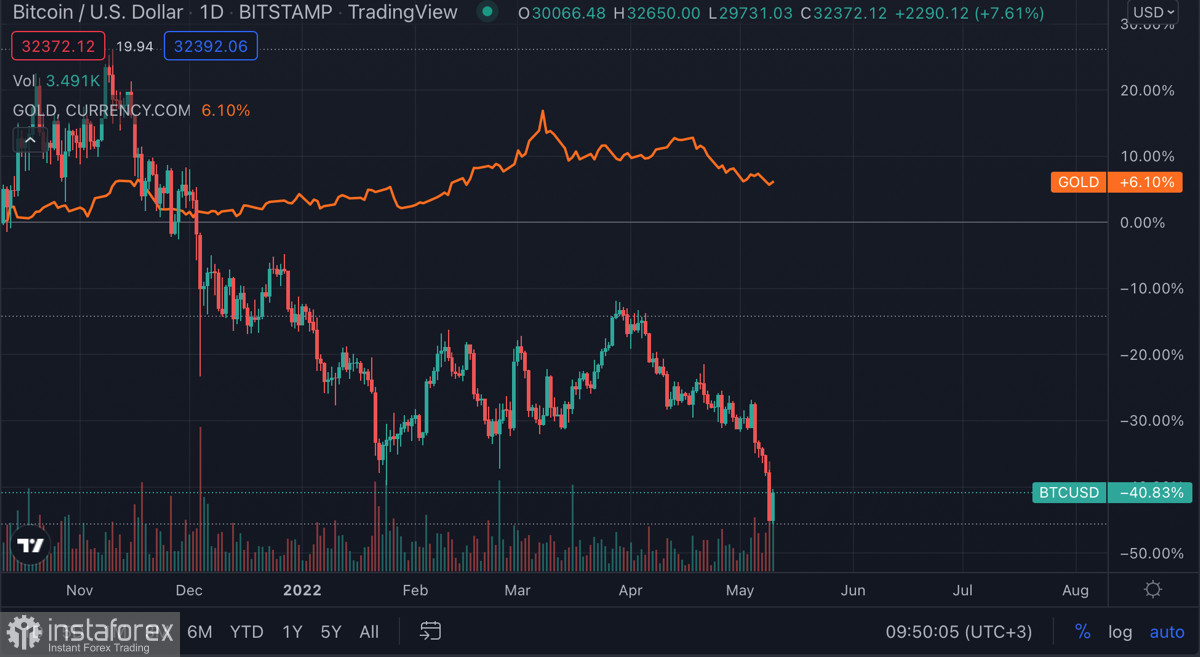 What is happening in the market now is also a problem that arises due to volatility. A high level of volatility provides great returns, but also huge losses. From this, we conclude that Bitcoin cannot be used as a means of protecting against inflation all the time. The risk hedging function is seasonal in nature and is relevant only during long-term consolidation, which turns into an upward trend. Given these factors, it is not surprising that investors prefer USD and gold.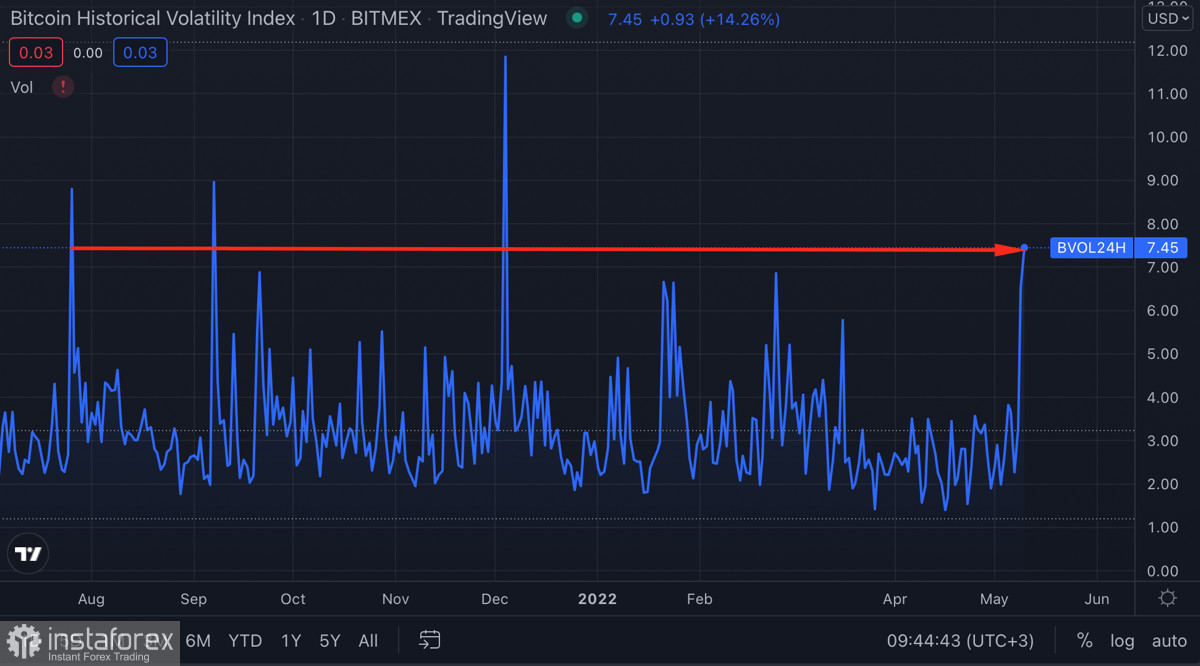 Therefore, it is worth excluding thoughts that the cryptocurrency will soon become the main means of protecting against inflation. This is completely contrary to its nature, as well as the interests of investors who are interested in increased volatility. That is why, as of May 10, we are seeing a price in the region of $32.5k.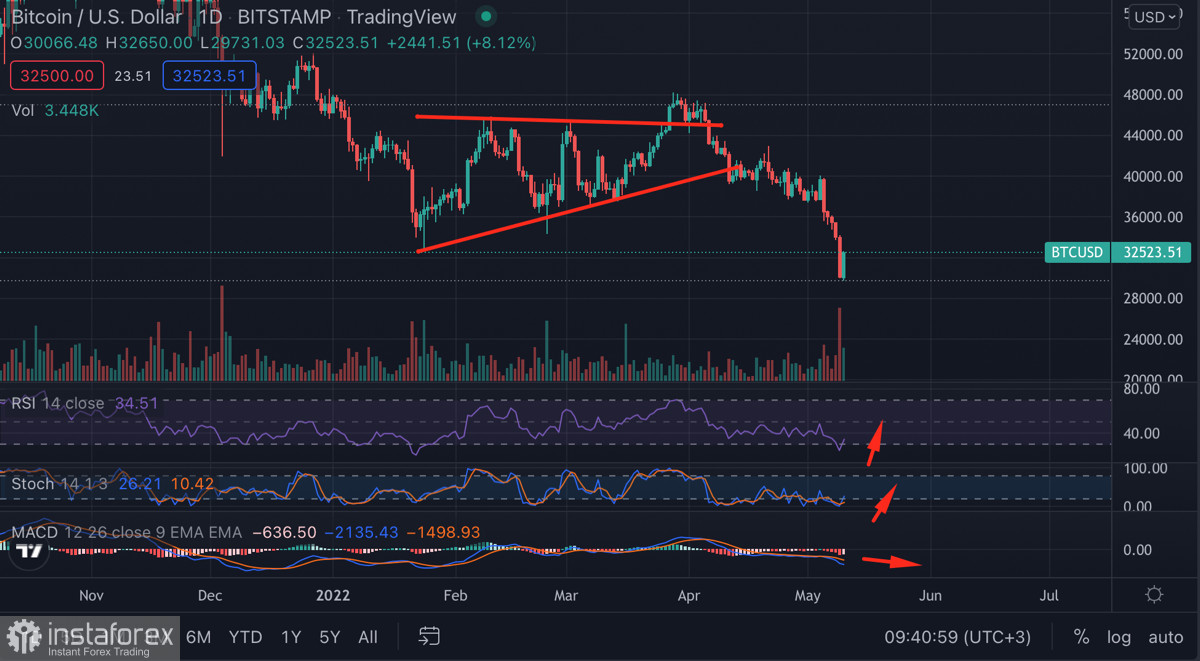 Bitcoin set a local low at $30k and began a sharp recovery. All major long-term investments are at the current level, so buyers will be activated around the round mark. Despite this, technical indicators do not show the prerequisites for a powerful trend reversal, which indicates the absence of the necessary volumes to go beyond $35k. Most likely, we should expect a second test of the $30k level, and only after that, the price will start to recover.