On Wednesday evening, there were rumors that Ukraine suspended flows of Russian natural gas through its territory to Europe. The reason is that the pipeline infrastructure is located in the uncontrolled territory. Contradictory statements by Russian and EU officials added fuel to the fire, triggering panic in the market. After the opening of yesterday's trading, the euro dropped significantly, breaking out of the range of 1.05 - 1.06. It approached the lowest level since December 2002. Gas storage facilities in Europe are almost empty. The EU is also unable to find an alternative to Russian commodity supplies. Thus, the EU may soon face serious energy shortages which will inevitably hurt the economy.
Now, the European currency is extremely oversold. To this end, traders are anticipating a correction. However, it is unlikely to start without some positive drivers. Yet, there are none currently. Industrial production data which is due today is unlikely to stir optimism. Economists expect a decline of 1.0% after a 2.0% rise in annual terms. The energy market woes may cause even a bigger decrease. This is why fundamental reports may exert additional pressure on the euro. However, the instrument is oversold. It means that it may enter the narrow range, hovering at the current levels.
Eurozone Industrial Production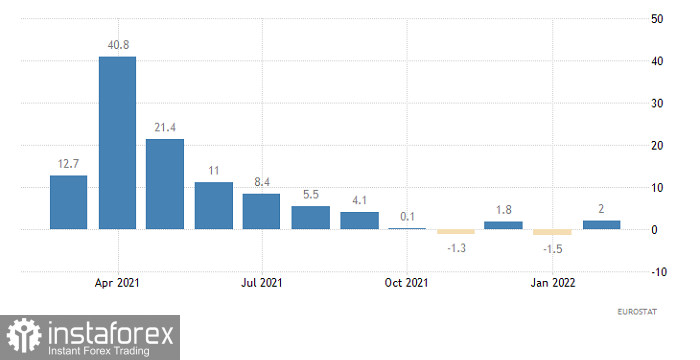 The euro/dollar pair broke out of a two-week narrow range of 1.0500/1.0600. It led to a sharp increase in the volume of short positions. As a result, the euro lost about 160 pips.
The RSI technical indicator entered the oversold zone amid a rapid weakening of the euro on the 4H chart. It signals a possible decrease in the volume of short positions. Shortly after, there was a pullback in the market.
The Alligator indicator shows a medium-term downtrend on the H4 and D1 charts. The moving averages are pointed downwards.
On the daily chart, we can see the prolongation of the downtrend.
Outlook
If the price takes a nosedive to the swing low of 2016, the downward movement may slow down. An upward rebound is also possible.
Alternatively, the pair may be stuck in the narrow range. If so, traders could ignore the fact that the euro is oversold. They are likely to open short positions if the pair declines below 1.0325 on the 4H chart.
The complex indicator analysis gives a buy signal on the short-term and intraday charts because of an upward rebound. Technical indicators provide a sell signal on the medium-term charts.