US stock index futures continued to slide down on Thursday after Wednesday's equities sell-off. Investors dumped tech stocks and other equities amid fears that the Fed's interest rate hike could send the US economy into a recession.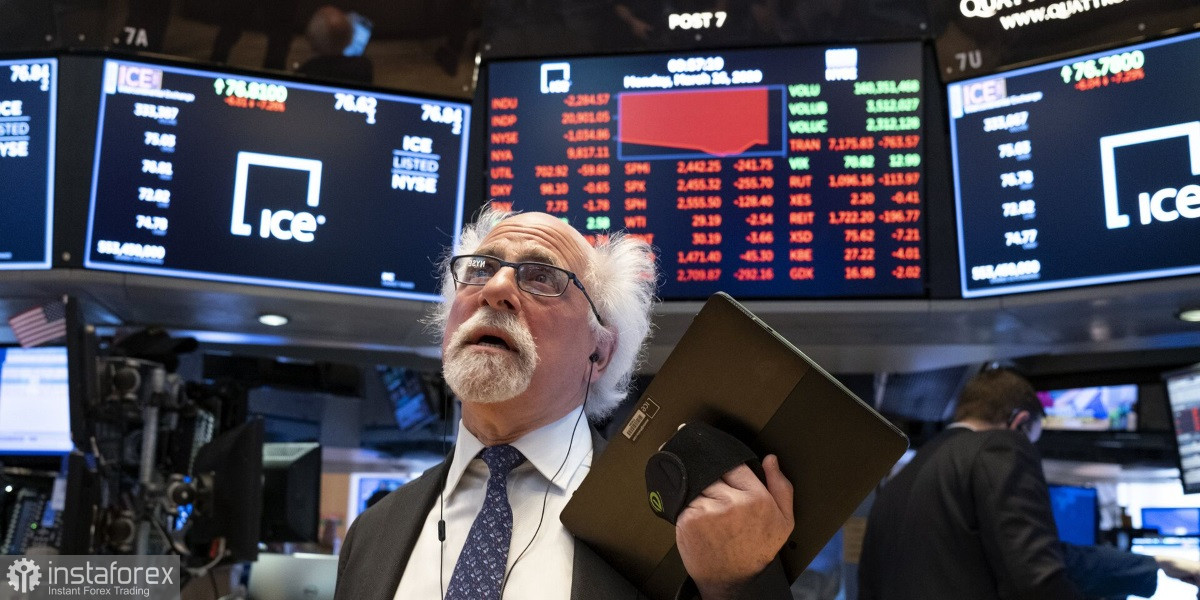 In a recent interview, Fed chairman Jerome Powell reiterated the US regulator's commitment to bringing inflation back to its target level of 2%. He admitted that it would not be an easy task due to the unemployment rate of 3.6%. "I would say there are a number of plausible paths to have a soft, as I said softish landing," Powell noted, pointing to the strong state of the US labor market. Overall, the US economy contracted by 1.4% in the first quarter of 2022 due to continuing supply disruptions.
The S&P 500 closed at 3,923.68 yesterday, falling by 18.6% from its intraday high of January 2022. A close of 20% or more below its all-time high would mark a bear market, its first since the March 2020 pandemic sell-off.
S&P 500 futures lost 0.8% today, while Dow Jones futures decreased by 242 points or 0.8%. Nasdaq 100 futures fell by 0.9%.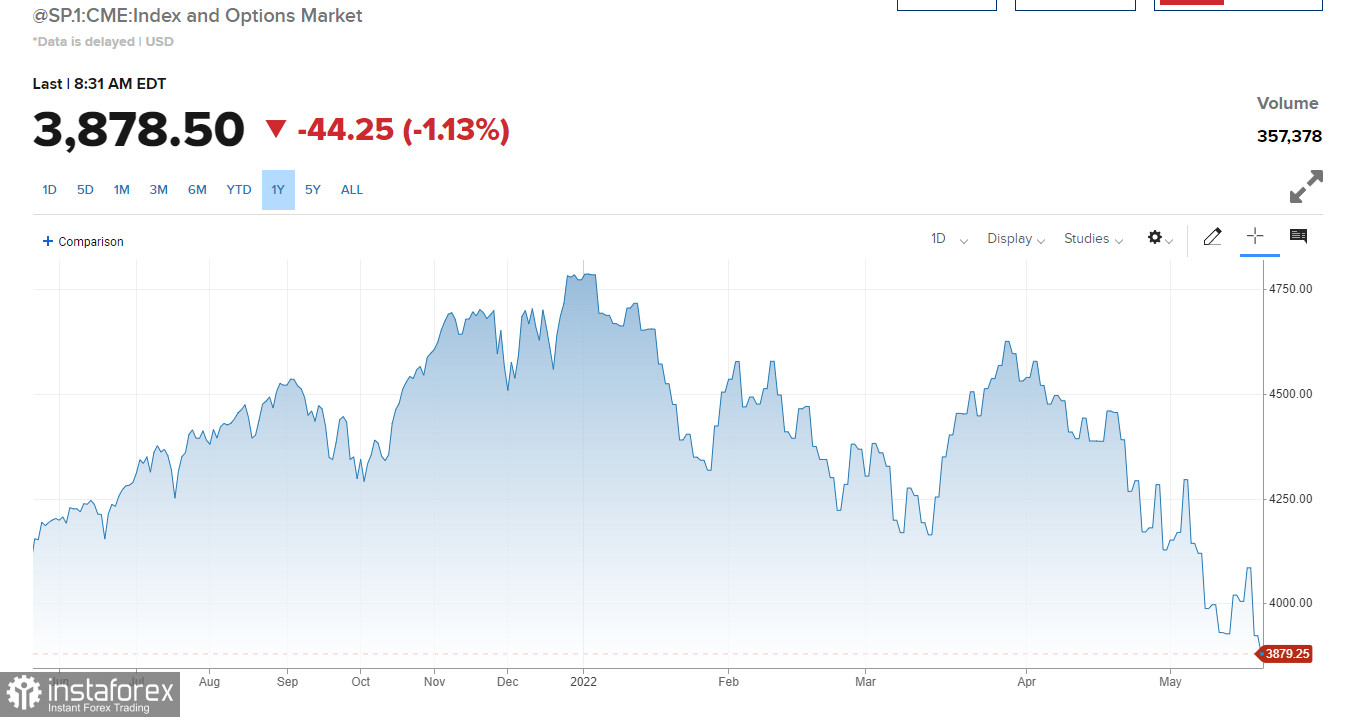 Back-to-back quarterly reports from Target and Walmart showed that higher fuel costs and lower consumer demand hurt the financial results of the US retail giants amid the hottest inflation in decades. Shares of Target plunged by 24% on Wednesday and continued to decline during today's premarket trading. The sell-off indicates that inflationary pressures have begun to affect earnings of major companies, realizing the worst fears of the Federal Reserve which did not move against seemingly "transitory" inflation earlier. The US economy faces an imminent recession in the near future.
"The issue now is there really appears to be nowhere to hide," BTIG's chart analysis Jonathan Krinsky told CNBC. "In other words, money is rotating into cash instead of between different sectors," he added. Several strategists issued grim forecast for the stock market should the Fed's rate increases push the economy into a recession. US GDP in the first quarter decreased by 1.4%. Many strategists fear a deeper downturn is ahead in mid-2022.
Premarket moversShares of Spirit Airlines decreased during premarket trading as the airline's board unanimously recommended its shareholders to reject JetBlue's (JBLU) $30 per share tender offer. A deal with JetBlue would have little chance of clearing regulatory hurdles, Spirit said.
Both Target and Walmart continued to slide down in premarket action following their biggest one-day drops since October 1987 after the release of their quarterly earnings reports this week.
Shares of Cisco dived by 10.7% after the company cut its full-year forecast. The US producer of networking equipment expects its revenues to drop due to COVID lockdowns in China and the war in Ukraine. Its competitors, Juniper Networks (JNPR) and Broadcon (AVGO), lost 4.6% and 3.8% respectively.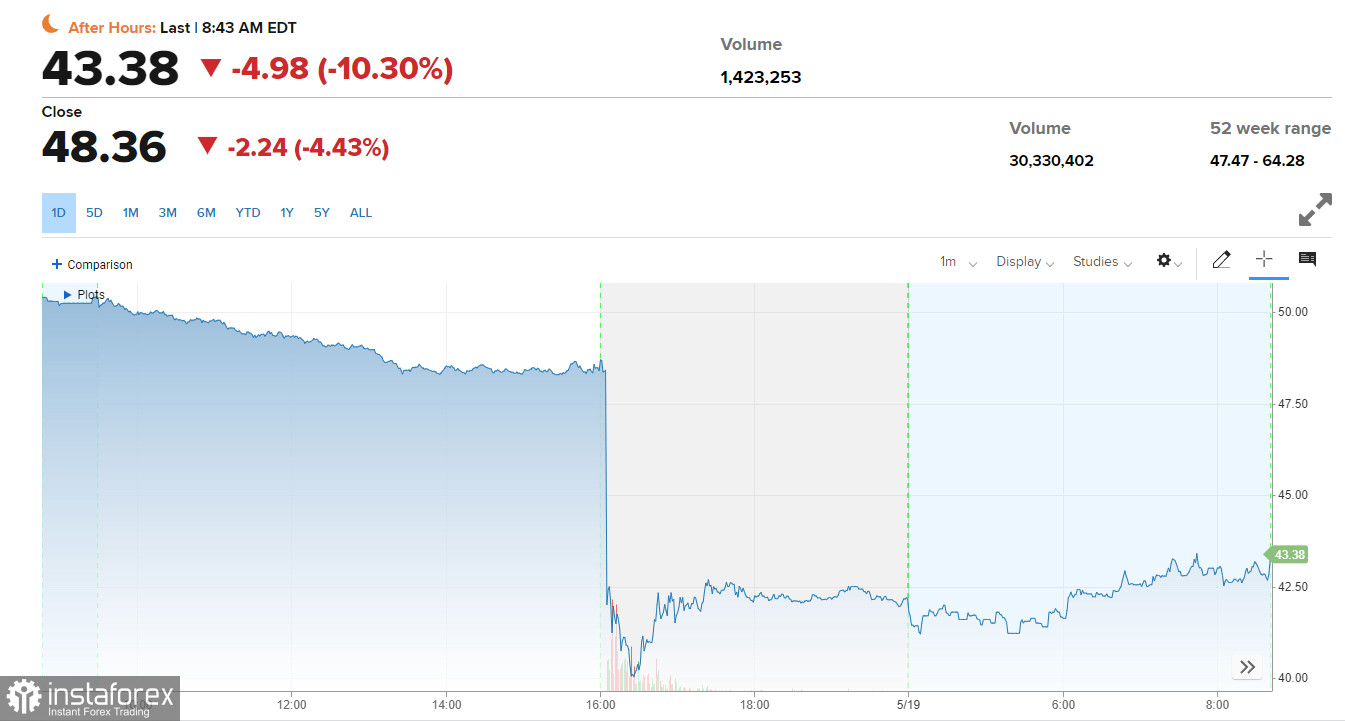 On the technical side, the S&P 500 is now firmly in a downtrend. New long positions for a possible upward correction could only be opened if the index regains $3,900 during the session. If the S&P 500 settles above $3,932, it could move towards $3,975 afterwards. Market pessimism and weak US economic data could send the index down to $3,860. A breakout below this index would open the way towards hitting the yearly low near $3,818, as well as $3,779 further below.