The market is very unpredictable at the moment
Hello, dear traders!
Unlike the euro, the pound strengthened versus the dollar yesterday. According to the chart of EUR/GBP, the sterling is getting stronger. The price movement of this cross pair has a significant impact on majors GBP/USD and EUR/USD. Speaking of yesterday's FOMC Minutes, the report has once again confirmed the Fed's intention to raise rates by 50 basis points at the next two meetings. It is possible that the regulator will then pause to see where it stands in terms of monetary policy. In fact, the report has had a different effect on GBP/USD and EUR/USD. Now, let's turn to the technical picture.
Daily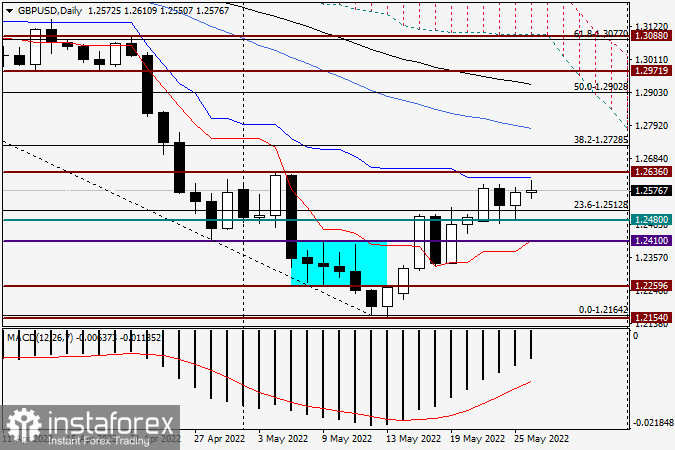 Yesterday, GBP/USD encountered strong support at 1.2480, reversed upward, and closed at 1.2572. This once again shows the intention of bulls to consolidate above 1.2600. This is actually not the easiest task given that the blue Kinjun line and the resistance level of 1.2636 are above the mark. Thus, the resistance zone is seen in the range of 1.2600-1.2636. The pair is likely to extend its upward move after a true breakout at 1.2636 only. Until this barrier is broken, the price can go in any direction. A bullish signal will be made should GBP/USD close above 1.2636 today. If a reversal candlestick pattern emerges in the outlined zone, selling could be considered. Anyway, the bullish scenario seems more likely.
H4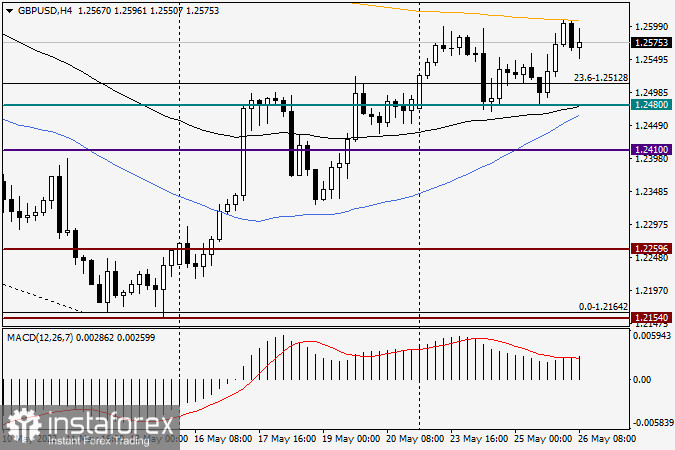 On the H4 chart, the orange EMA 200 provides strong resistance for the pair. The level of 1.2636 passes slightly above the EMA 200. This means that the upward move will extend should the quote break through both the orange EMS 200 and the resistance level of 1.2636. If so, long positions could be opened. If buyers fail to break through the barriers, bearish candlestick patterns will emerge in the range of 1.2600-1.2636 on charts H1 and H4, making a sell signal. In both cases, it is important to set closer targets because of the market's unpredictable behavior.
Good luck!