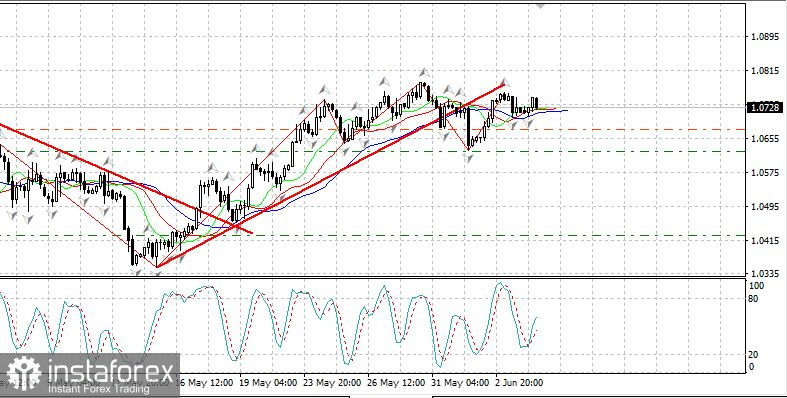 EUR/USD H4 chart
EUR/USD outlook
The EUR/USD pair stopped falling a long time ago.The last low of 1.0349 was recorded on May 13. The euro has been rising for almost a month. Moreover, it has reached the level of 1.0726, i.e. 400 pips during three weeks. That is considered an impressive result.
The upward reversal has two reasons. The first reason is technical. The euro rebounds from the multi-year lows. The fundamental currency valuations are probably taken into account.
Secondly, the euro anticipates that the ECB will finally pay attention to accelerating inflation in the EU and will focus mainly on curbing it instead of stimulating economic growth. Thus, inflation in Germany hit record highs in April, it rose by 7.9% in annual terms.
The ECB meeting is scheduled on June 9.The ECB will likely pledge to raise the interest rate or will raise it at this meeting.
It is possible that the euro will break through 1.0800 after the ECB meeting.
However, it is noted that the Fed plans to raise the interest rate and further euro's growth is ambiguous.
The Fed meeting is due next week. It is better to buy the euro from a strong pullback.
Notably, the US inflation report for May will be released on Friday. The forecast suggests that inflation will rise again to 0.7% from 0.3% in April. According to the forecast, these results are positive for the dollar and negative for the euro. Moreover, the Fed is more likely to take a hawkish stance concerning interest rates.