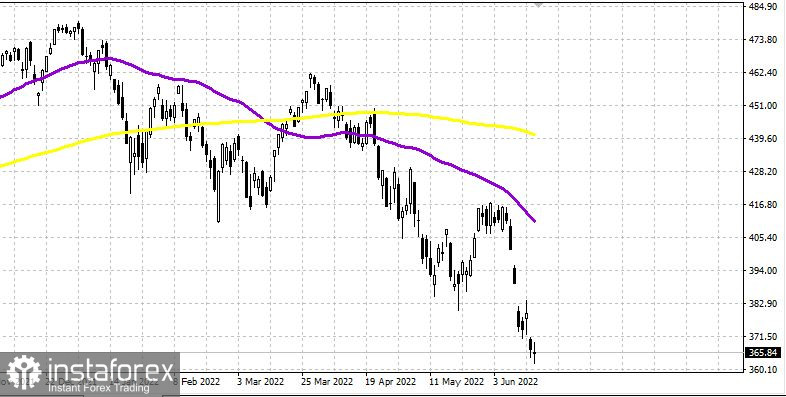 S&P 500
Review for June 6, 2022
The US stock market has hit new annual lows, notching its second straight week of declines. Oil prices tumbled.
Major US indices showed moderate gains at the end of the week: the Dow Jones Industrial Average remained unchanged, the NASDAQ Composite added 1.4%, the S&P 500 rose by 0.2%.
S&P 500: 3,675. Trading range: 3,630 - 3,750
S&P 500 futures kicked off the new trading day with a 0.5% gain.
Asian markets were mixed: Japan's market lost 0.8%, China's market added 0.5%.
The US market showed a strong drop. Over the past two weeks, the S&P 500 index has fallen by 12%, hitting one-year lows. Since the beginning of the year, it has lost almost 25%.
From a technical point of view, the market is clearly in a downtrend, but its decline is so significant that the market has every chance of entering an upward correction in the near future. Thus, you can try to buy. As for short positions, it is worth waiting for a strong rebound.
Energy: Oil had long ignored downbeat economic indicators and the negative news on the stock market. However, the asset did fall by about $7 last week, or more than 5%. Brent crude kicked off the new trading week at the level of $113.
European stock markets also fell by about 4-5% over the week.
The Bank of America gave a negative forecast at the end of the week. The bank estimates that the United States has a 40% chance of entering a recession in 2023, with a modest rebound in growth in 2024. The reason is the Fed's lagged campaign aimed at fighting against high inflation, which is likely to trigger a recession. The US regulator also downgraded its economic growth forecasts for 2023-24 and hiked its inflation estimate to 5.6% this year. According to expectations, the Fed's benchmark rate will end the year at 3.4%.
So, the risks are inflation and the Fed's rate increase. Inflation, in turn, poses risks of higher oil and gas prices and a food crisis.
Next week, European Union foreign ministers will discuss ways to free millions of tonnes of grain stuck in Ukraine. Besides, EU leaders are expected to evaluate whether to grant EU candidate status for Ukraine and Moldova at their summit.
In general, this week's macroeconomic calendar is bereft of any important releases from the US.
US electric carmaker Tesla is planning stuff cuts, which is a clear sign that demand is unlikely to be strong.
The US administration is ready to remove some tariffs imposed under Trump against Chinese goods to slow down inflation in the country. US President Joe Biden is also considering declaring a federal gas tax holiday in order to lower fuel prices.
Europe: French president Emmanuel Macron's party was "beaten and defeated" on Sunday after his new left-wing alliance made a strong showing in the first round of parliamentary elections.
Conclusion: It is possible to carefully open long positions, counting on a strong upward correction. As for short positions, it is worth waiting for a rebound.