EUR/USD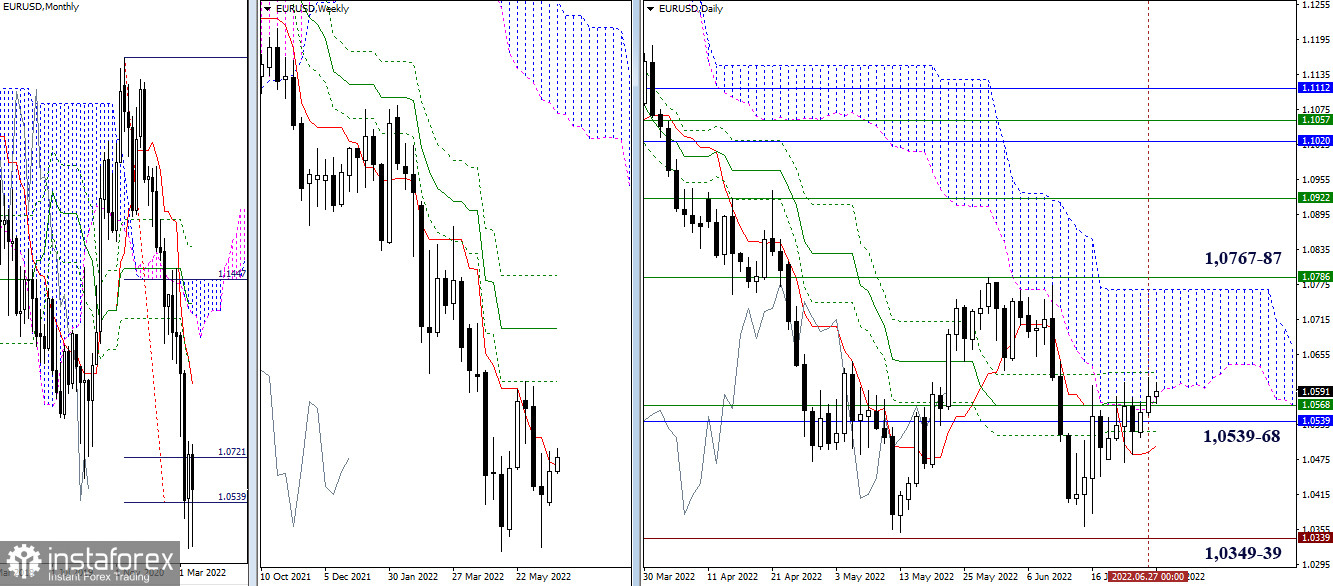 Higher timeframes
Bulls are trying to get rid of the attraction and influence of the accumulated levels around 1.0539–68. In order for the attempt to succeed, they need to eliminate the daily death cross (1.0624), securely entrenched higher. After that, attention will be directed to the resistance levels 1.0767 (upper limit of the daily cloud) and 1.0787 (weekly Fibo Kijun). Failure and keeping the position in the zone of influence of the daily cross, strengthened by the weekly short-term trend at 1.0568 and the monthly support at 1.0539, will provoke the opponent to the initiative and activity. In the current situation, the interests of bears will be focused on restoring the downward trend of higher timeframes, for this, the bears need to go down below the local lows (1.0349–39) and securely gain a foothold there.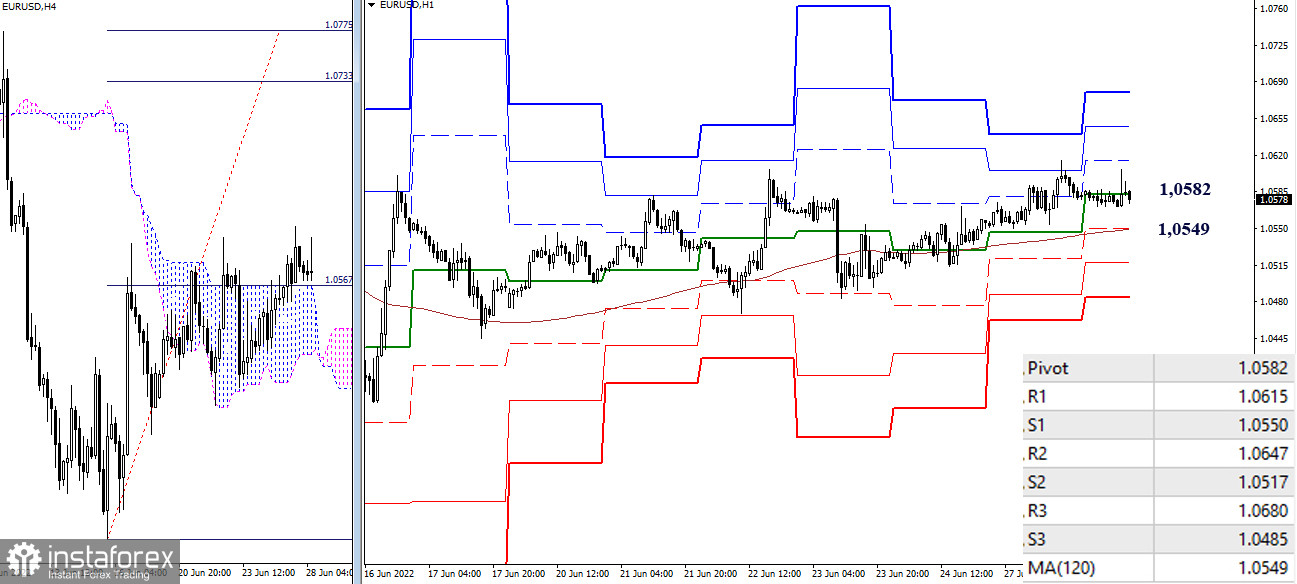 H4 – H1
Bulls retain the advantage on the lower timeframes, but they fail to develop the situation and achieve results. The pair is currently pegged to the central pivot point of the day (1.0582). The reference points for the continuation of the rise within the day are the resistance of the classic pivot points (1.0615 – 1.0647 – 1.0680). The key support of the lower timeframes today will defend the interests of bulls at the turn of 1.0549 (weekly long-term trend). Consolidation below will change the current balance of power. The next reference points for the decline will be the support of the classic pivot points 1.0517 and 1.0485.
***
GBP/USD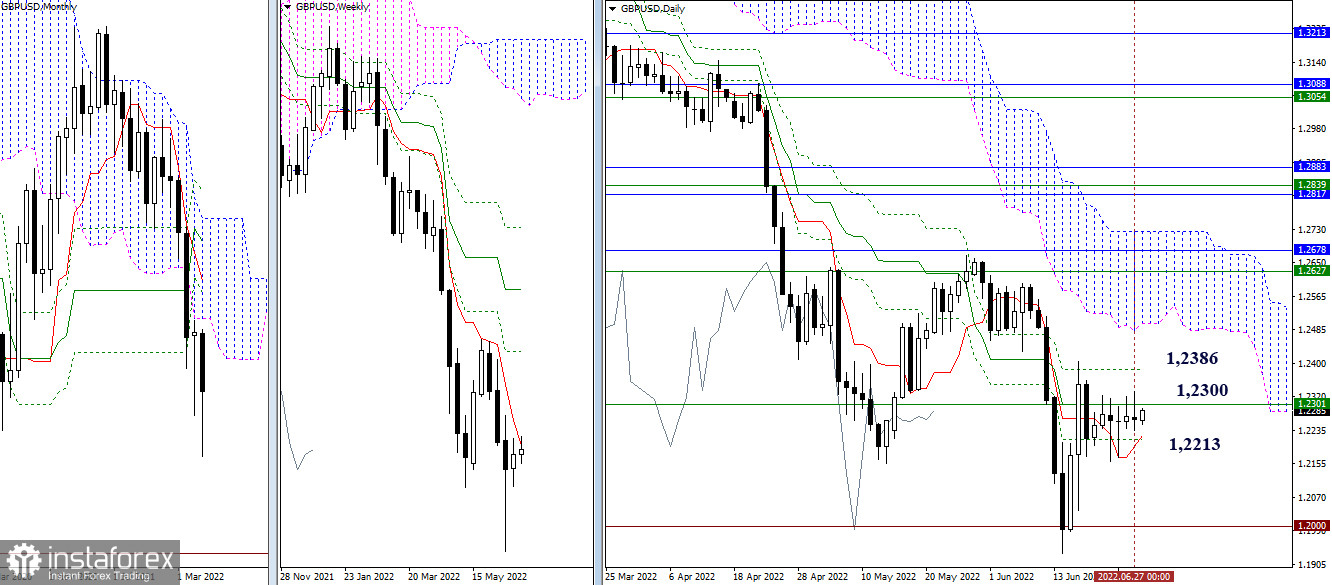 Higher timeframes
The daily consolidation in the area of the weekly short-term trend (1.2300) is preserved. Immediate support can be noted now at 1.2213, and resistance at 1.2386, these are all levels of the daily Ichimoku cross. More distant landmarks when exiting the consolidation zone retain their location and significance. So for bears, this is the support area of 1.2000 (psychological level) – 1.1933 (local low), and for bulls, this is the resistance of the daily cloud (1.2500 – 1.2727), reinforced by the weekly (1.2626) and monthly (1.2678) levels.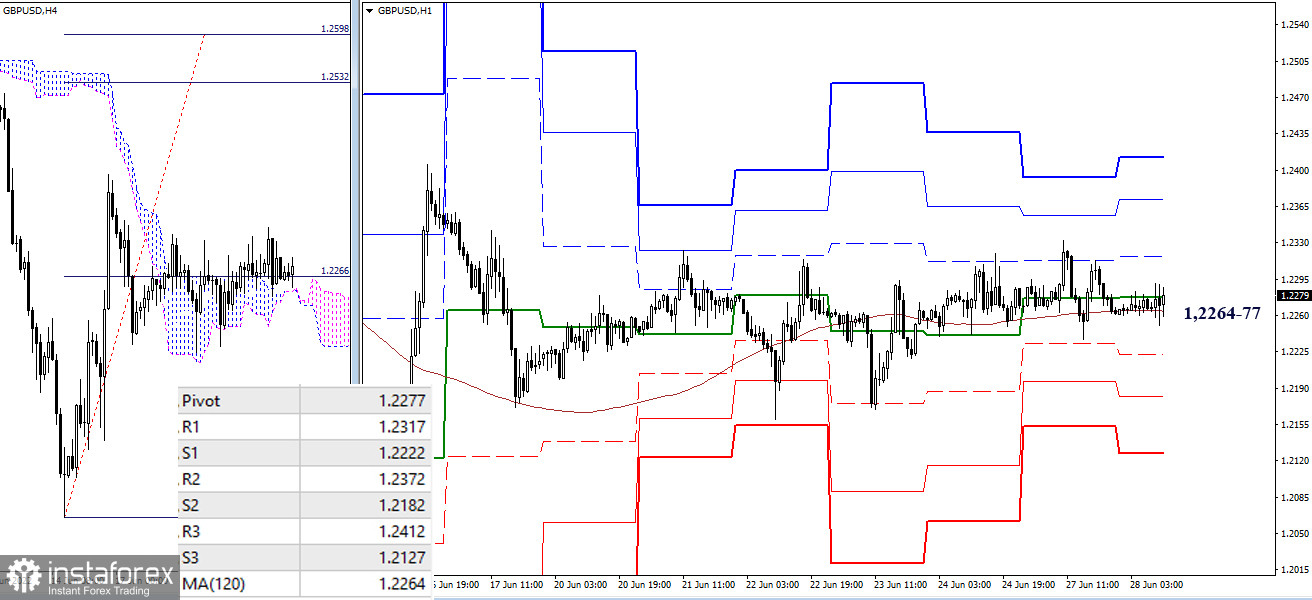 H4 – H1
The uncertainty of the higher timeframes is comparable to the uncertainty and lateral movement of the lower timeframes. The pair has been tied to the zone of attraction and influence of key levels for a long time, which today is located within 1.2264 (weekly long-term trend) – 1.2277 (central pivot point of the day). If there are changes and the development of the movement is outlined, then today the following reference points can be noted at 1.2317 – 1.2372 – 1.2412 (resistance of the classical pivot points) and 1.2222 – 1.2182 – 1.2127 (support of the classical pivot points).
***
In the technical analysis of the situation, the following are used:
higher timeframes – Ichimoku Kinko Hyo (9.26.52) + Fibo Kijun levels
H1 - Pivot Points (classic) + Moving Average 120 (weekly long-term trend)