Since last Friday, the situation in various markets has depended on the pound sterling, which unexpectedly slumped to all-time lows. This was the main driver for the US dollar rise, which led to a decline in stock indices and commodities. After an insignificant rebound in the pound sterling, the greenback continued gaining in value. The increase was caused by the BoE's announcement. The regulator said that it was not planning to take emergency measures. It means that the BoE will not raise the benchmark rate until the next meeting. In this light, the pound sterling started falling, thus dragging the euro. Since the macroeconomic calendar is not rich in events, the market situation will hardly change and the US dollar is likely to go on gaining in value.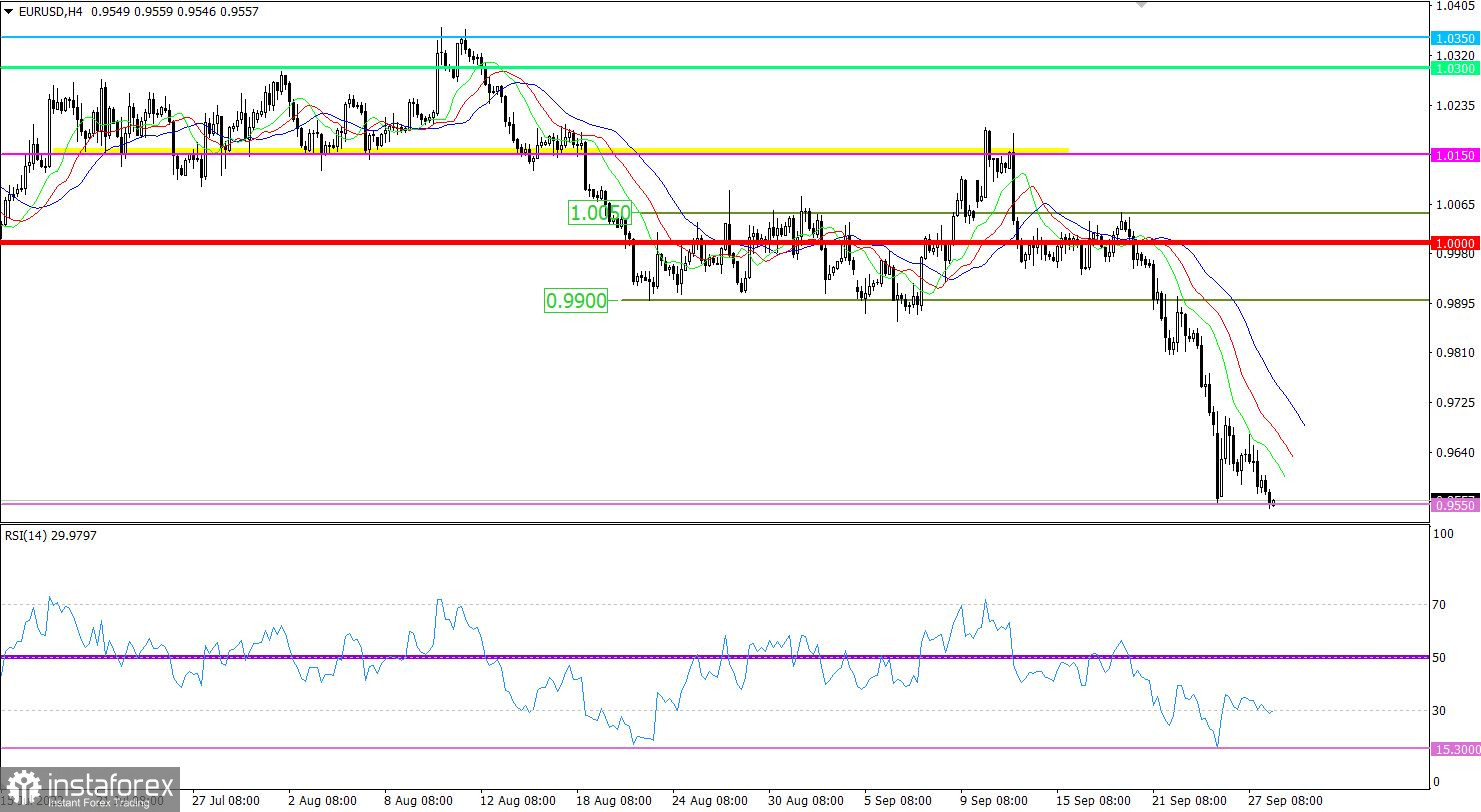 After a minor rebound, the euro resumed falling against the greenback. As a result, the currency hit a new swing low of the downward cycle located at 0.9553. This points to the prolongation of the downtrend.
On the four-hour chart, the RSI technical indicator is hovering within the oversold area, which corresponds to the signal of overheating of short positions. On the daily chart, the indicator ignored the recent rebound and continued moving below level 30. This points to bears' intention to maintain the existing trend.
On the four-hour and daily charts, the Alligator's MAs are headed downward, thus corresponding to the direction of the main trend.
Outlook
If the price settles below 0.9550, it will fall even deeper. In this case, traders may pay zero attention to the signal of overheated short positions. The pair may slide to the lows recorded in 2001 and 2000.
According to the alternative scenario, the euro/dollar pair may rebound from 0.9550 as it was at the beginning of the week.
In terms of the complex indicator analysis, in the short-term, intraday, and mid-term periods, technical indicators are providing sell signals since the downtrend continues.