Most capital of the financial markets is controlled by the US financial institutions, including various banks and funds. That is why if US traders have a day off, trading activity in the global market is very low. We saw this situation yesterday. While the US citizens were celebrating Thanksgiving Day, markets were stagnant. The most important thing is that today, the scenario is likely to repeat. Today, in the US, it is not only a shortened day but also the so-called Black Friday, which began yesterday. Today, people will hardly think about work even in such reputable organizations as investment banks and trust funds. People will be searching for the biggest sales to buy various goods in online stores. Against the backdrop, the market will remain stagnant. Trading activity will rise only on Monday.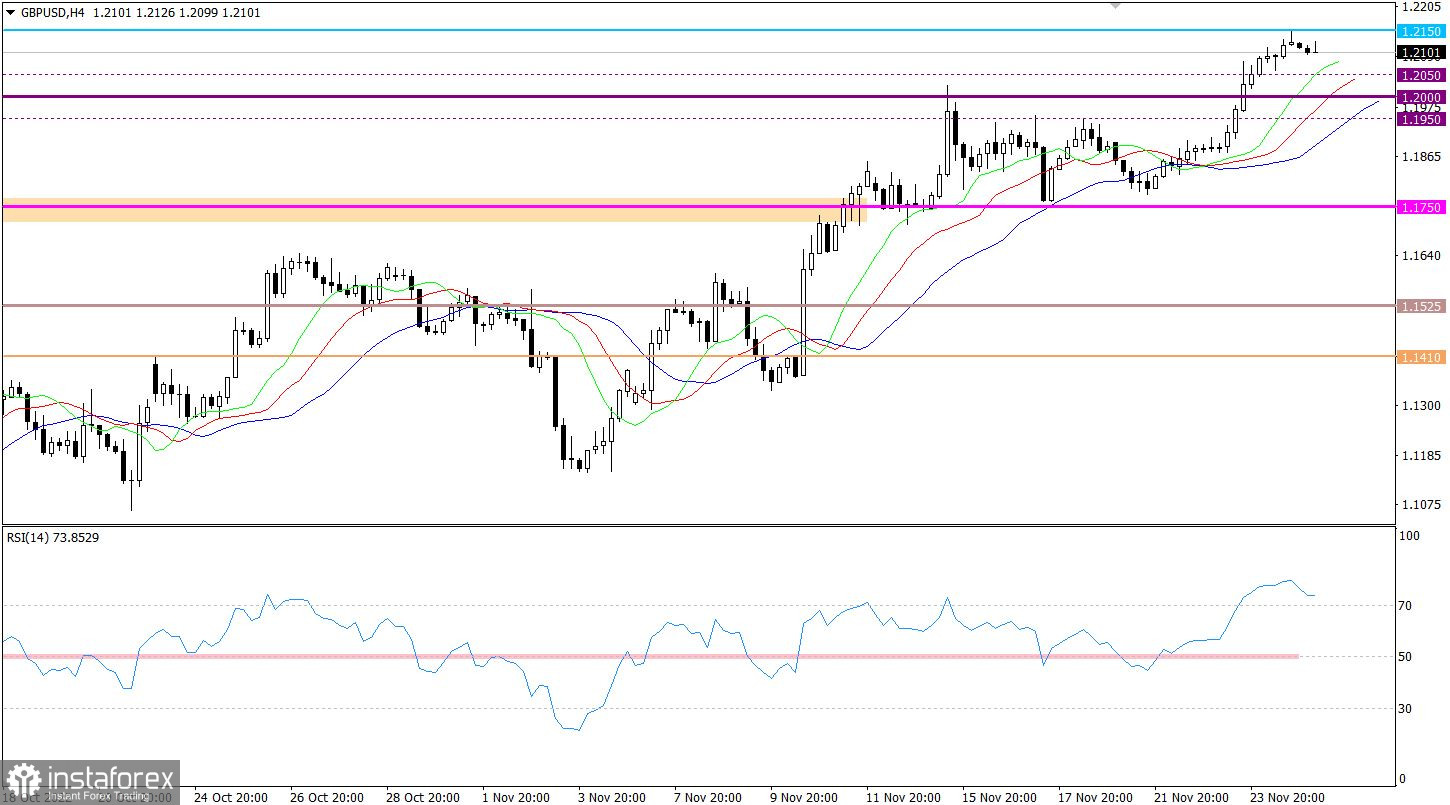 The pound/dollar pair reached the intermediate resistance level of 1.2150, where it stagnated in an attempt to consolidate. The absence of a full-scale bounce proves that the upward cycle is still in force. That is why the existing stagnation could be considered one of the stages of the change in the market sentiment.
On the four-hour chart, the RSI technical indicator is moving in the overbought area, which points to the overheating of long positions on the pound sterling.
On the four-hour and daily charts, the Alligator's MAs are headed upwards, which corresponds to the current upward cycle.
Outlook
Under the current conditions, we still see a technical signal of the pound's overbought conditions in the short-term periods. That is why the price may bounce. In this case, the pound sterling may slide to 1.2000.
The upward scenario will be considered by traders if the price consolidates above 1.2150 on the four-hour chart.
In terms of the complex indicator analysis, we see that in the short-term and intraday periods, technical indicators are providing mixed signals amid the stagnation. In the mid-term period, the indicators continue to point to the uptrend.