FX.co ★ Seven cool ways to use drones
Seven cool ways to use drones
Waiters

Today, drone waiters are not as rare as they were 6 years ago. They appeared in Singapore. Timbre, the local chain of restaurants and bars, is a pioneer in this field. It started employing a fleet of flying drones as waitstaff to cope with the shortage of personnel. Robotic waiters with a motor, a video camera, and infrared sensors were developed by Infinium Robotics. Importantly, drones do not take orders. They are responsible for flying the food from the kitchen to hungry customers. The aerial drone waiters look like a large flying tray, capable of carrying up to 2 kg of snacks, main dishes or drinks in a single trip.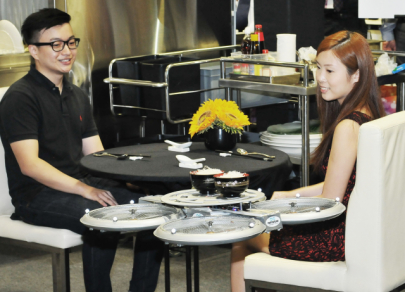 Shepherds
New Zealand farmers have also come up with an unusual use for drones. They were the first in the world to use drones as shepherds. Then, other countries picked up this idea. Today, drones help people monitor herds of cows, sheep, and deer. Moreover, some models are equipped not only with a camera but also with a loudspeaker that reproduces dog barking. Farmers note that the sounds familiar to animals enable them to gather the herd faster and bring it to the right place. Apart from that, drones constantly monitor pastures, checking the quantity and quality of grass.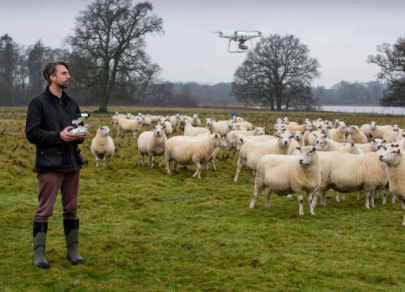 Pharmacists
Drones of US company Zipline have become widely known after their active involvement in the projects of the International humanitarian emergency aid organization - Doctors Without Borders. They delivered medicines, blood for transfusion, as well as organs for transplantation to African countries even before the pandemic. The coronavirus outbreak has significantly increased the importance of drones in this field. Nowadays, pharmaceutical deliveries by drones are used all over the world. They help organize contactless delivery of a large number of different items from personal protective equipment to life-saving drugs and COVID-19 vaccines.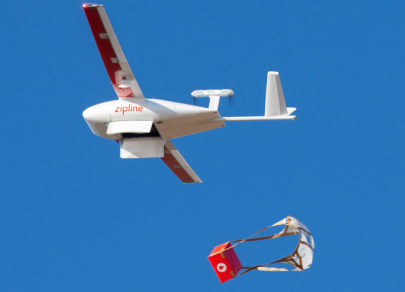 Lifeguards
The Little Ripper is a drone developed by Australians. Initially, it was supposed to track the movements of sharks and prevent their attacks on people. However, it turned out that the drone was also suitable for another no less important mission. In 2018, during the testing of the device, rescuers heard a signal for help from two teenagers who swam too far from the shore. With the help of a drone, they threw swimming floaties to them. The rescue mission took no more than 2 minutes. Since then, drones have been actively used by lifeguards on beaches all over the world.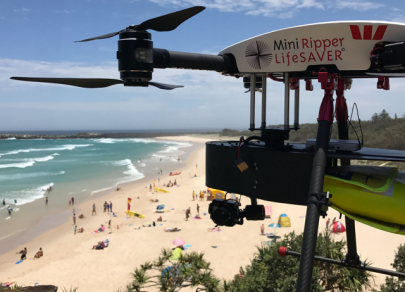 Pollinators
The world population of bees has dwindled by almost 50% due to climate change. Naturally, it adversely affected plant-pollinator interactions. However, scientists have proposed a wild solution: to use drones to pollinate plants. Literally, they have invented the first artificial insects to pollinate agricultural crops. Today, such artificial pollinators are used in many countries impacted by global warming. They are equipped with sensors and cameras to search for flowering plants. They are able to land on various surfaces, as well as collect pollen and transport it to another place.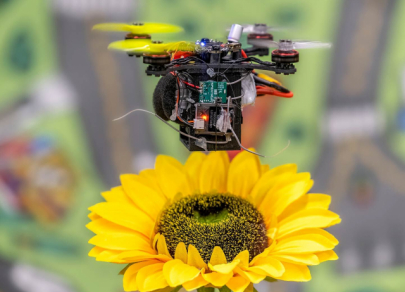 Graffiti artists
Drones have been used on the set of films, in theatrical productions, and at concerts for a long time. However, they are evolving. Nowadays, they pick up spray paint or a brush and become artists. The first model that was able to use paints was presented by Russian developers. In Turin, Italy, they staged an art performance with the help of 4 quadcopters who painted the wall of an automobile factory. The size of the graffiti was 12x14 m. It took about 900 kg of paint. The drones were controlled by a single central system.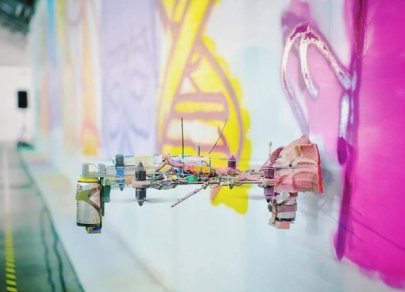 Electricians
SkySkopes came up with another unusual use for drones. The company was the first to propose the idea of using unmanned aerial vehicles to stretch power lines. Usually, the installation of power line wires is carried out by special workers or helicopters. Both methods pose risks to people. So, the safe option with drones immediately gained popularity.