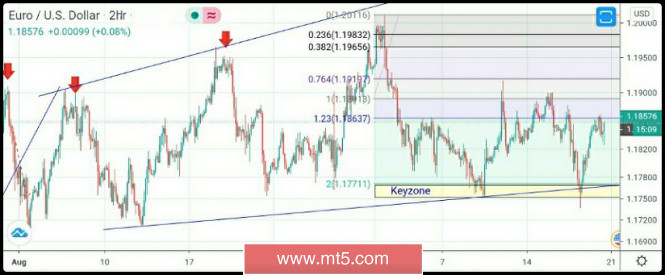 The EUR/USD pair has been moving sideways within the depicted expanding channel since August 3.
Previously, a temporary resistance level was formed around 1.1900 which prevented further upside movement for and forced the pair to have a downside pause for sometime.
On August 31, the EURUSD pair achieved another breakout above the previously mentioned resistance zone.
Significant SELLING pressure was applied around 1.2000 where the upper limit of the movement pattern came to meet the pair.
Recently, the EUR/USD pair has demonstrated a quick bearish decline towards 1.1800.
More downside movement was expected towards the lower limit of the movement pattern around 1.1770-1.1750 where a valid BUYING opportunity was suggested.
Initial bullish target was ocated around 1.1900 where price action should be watched for a possible short-term downside reversal.
A confirmed breakout above 1.1750 will probably enable further upside movement towards 1.1860, 1.1890 then 1.1920.