EUR/USD
The incomplete upward construction of the euro started on August 1. The last section of September 3 is still not completed. In the last 2 weeks, a correction is forming. The price is within the bounds of settlement support.
Forecast:
Today, it is expected to complete the current decline in recent days. Next, we should wait for the exchange rate and the growth of the pair's price. When turning, a short-term puncture of the lower support border is not excluded. The resistance zone shows the upper limit of the expected daily movement.
Recommendations:
Euro sales today are unpromising. It is recommended that the main attention be given to searches for signals to buy an instrument.
Resistance zone:
- 1.1070/1.1100
Support zone:
- 1.1000/1.0970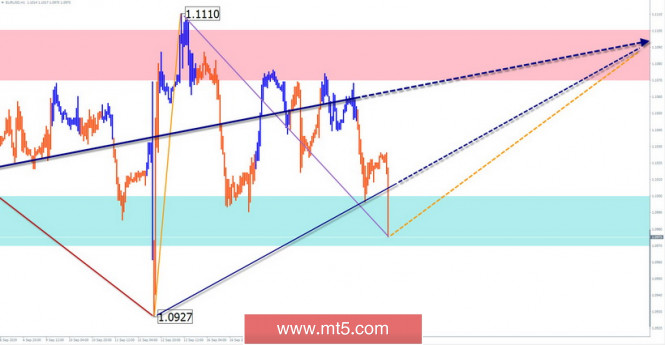 AUD/USD
In the unfinished upward wave of August 7, there was a complication of the structure. The bearish wave of September 12 exceeded the level of the rollback of the last part. It claims to be a full-fledged correction. The price has reached the intermediate support level.
Forecast:
There are no reversal signals on the chart. The main vector of the intersessional trend is directed downwards. In the coming sessions, the probability of a price pullback up is high. The limit level of the pullback is shown by the resistance zone. Further decline is expected to continue.
Recommendations:
Purchases of the pair are justified only when trading within the day. The trading lot is better to reduce. At the end of the upcoming rise, it is recommended to monitor the pair's sell signals.
Resistance zone:
- 0.6830/0.6860
Support zone:
- 0.6770/0.6740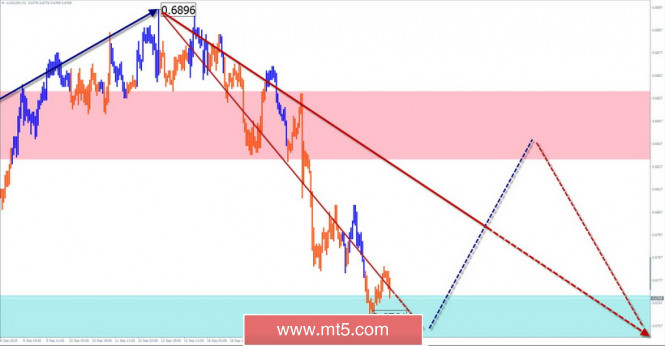 Explanations to figures: Waves in the simplified wave analysis (UVA) consist of 3 parts (A-B-C). The last, incomplete wave is analyzed. Zones show the areas with the highest probability of reversal. The arrows indicate the wave marking according to the method used by the author, the solid background is the structure formed, the dotted one is the expected movements.
Attention: The wave algorithm does not take into account the length of time the instrument moves.